Roma, Ti Amo: Woody Allen Sketches Snippets of the Eternal City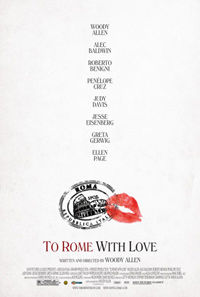 Say what you will about Woody Allen, but he's had an amazing decade with his Euro tour, wrapping it up in Italy with his latest effort, To Rome With Love. A film of four separate vignettes concerned with Americans, Italians, natives, and tourists and experiences they have shaped by the great city, it's too bad that Allen's latest feels like your travel day to get home—you just want to make it there and somehow pass the gulf of time that separates point A from point B.
Opening with a traffic cop informing us of both his bad English and the many different things that can be seen and stories that can be told in Rome, a loud car accident is heard off-screen (the irony of the traffic director's sloppiness and Allen's end product here should be fodder for many a joke concerning the film) and we're ushered into our first story centered around a tourist (Alison Pill) who falls in love with an Italian lawyer, and their whirlwind romance causes her New York parents (Judy Davis, Woody Allen) to come visit their soon-to-be in-laws. Whilst there, Allen, a retired talent manager that has significant fear of death, discovers that his son-in-law's father has operatic talents while singing in the shower, and concocts a scheme to manage him.
Then, there's an architect (Alec Baldwin) on vacation, who manages to interact with a younger version of himself (Jesse Eisenberg) from thirty years prior, guiding him through a romantic entanglement during a memorable time when he lived in Rome with his girlfriend (Greta Gerwig), but fell in love with her visiting actress friend (Ellen Page), and the profound effect this experience would have on him. Ozymandias Melancholia.
Also, we have a passive young man (Alessandro Tiberi) and his new bride (Alessandra Mastronardi), traveling from the small town to the city in order to meet his wealthy family. But during a salon snafu, she gets lost, and a mistaken prostitute (Penelope Cruz), accidentally mistakes the new groom for a client, setting up a classic Comedy of Errors scenario for the young man and his conservative family. And then we also have a common Roman citizen, Leopoldo (Robert Benigni), who suddenly wakes up one day to find that he is famous for being famous, and is hounded at every waking moment by ravenous paparazzi. Every benign aspect of his life is sought out with great excitement.
Between all four of these unrelated scenarios, the laughs are few and far between. True, there's an interconnected theme running through each sketch that seems to criticize the notion of fame and celebrity that even overrides the obvious Rome connection. There's Allen's talent manager desperately trying to create a sensation with his new muse; a famous Italian actor attempts to bed the naive, rural bride, and she agrees so that she has a story to tell her grandkids; Page is a flighty, con-artist actress, a home wrecker nonchalantly willing to ruin her best friend's relationship; and, of course, the rather slapstick farce of Benigni's common citizen famous for being famous, becoming addicted to the fame until the attention span of the media drops him quickly for the next best thing walking down the street.
To Rome With Love perhaps most resembles Allen's 1972 Everything You Always Wanted to Know About Sex*But Were Afraid to Ask, but the broad nature of this latest film flies fast and falls flat, moving everyone along at a nice pace, but going nowhere in particular. There's a few humorous twinkles by some of the A list cast, and nearly every segment has a scene stealer (Judy Davis, Alec Baldwin, Penelope Cruz), though no one gets to play an actual character. And worse, Allen's now peppered his cast with his youngest crew yet, though the likes of Alison Pill and Jesse Eisenberg seem sorely out of place. Gerwig falls tragically to the wayside, and, at moments, you can hear in Page's dialogue some of Allen's signature brilliance, but siphoned from the mouth of babes, rings hollow, with the phantom of Keaton clawing to get out of the youth tomb in which she's decoyed here.
Originally titled, Nero Fiddled, the generic title change posits the film as merely derivative of the city anthology films currently being made, but whereas films like Paris, Je t'aime (2006) at least profess to have something for everyone, To Rome With Love can't even afford that postage. Each segment cannibalizes the other until all are reduced to broad strokes or snippets of thoughts, ramshackled together, creating a confection that aims to be a Prada cupcake but ends up messy proletariat pudding. Sadly, that ill conceived Benigni segment, which can never manage to elevate itself beyond a lazy approximation of the temptations and trappings of fame and celebrity, fares the worst of the bunch, like a lame joke that doesn't know how to end. Sure, Allen's tourist eyes catches the beauty of the bustling and vibrant city, the spectacular ruins, but cannot capture the romantic beauty or harness the fleeting nostalgia with which his characters are supposed to be moved and motivated by. As Alec Baldwin quotes a "stupid" man in the film, "Stuff happens." Yep.