Scenes From a Marriage: Troell's Latest an Engrossing Character Study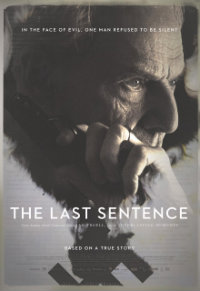 Swedish auteur Jan Troell, at 81, is thankfully still making films, and his latest, The Last Sentence, is a period piece centered on a somewhat obscure historical figure, more in the vein of Hamsun (1996) than the immigrant or social change narratives that Troell is perhaps most famed for, such as his last effort, a 2008 masterpiece, Everlasting Moments. Beginning his directorial career in the mid 60's, Troell was not only a contemporary of Ingmar Bergman but has often showcased many of Bergman's troupe, like Max Von Sydow and Liv Ullman (Sydow was purportedly first choice for this latest as well). Here, he assembles a distinct cast and digital black and white cinematography to offset this from his larger body of work, and the pay off his decidedly worthwhile.
Featuring the announcement of Hitler as Germany's Chancellor in 1932 via newsreel, Torgny Segerstedt (Jesper Christiansen), a prominent Swedish journalist, publishes a rankling article denouncing the fuehrer as "an insult." Newspaper publisher Axel Forssman (Bjorn Granath) and his wife Maja (Pernilla August) both stand behind their laureate author. But then, why shouldn't they? Maja, of Jewish heritage, is also engaged in a quiet but open affair with Torgny, much to the chagrin of Torgny's wife Puste (Ulla Skoog), who never quite recovered emotionally from the death of their son and who seems to hold the opposite political views as her volatile husband. While it's Segerstedt much vociferated criticism of Hitler that alerts the Swedish public about the dangers of Fascism, the real story here is not only Segerstedt's nearly obsessive fascination with the demise of Hitler, but also his rather unstable and insatiable love life. As Hitler's Germany invades surrounding countries, Sweden tries its best to remain neutral, at first championing Segerstedt's rational vocalizations, and then calling for his silence to avoid involvement. But it's Segerstedt's immovable opinion that silence would only condone the atrocity and savagery of the Nazi party.
Perhaps the most glaring problem with The Last Sentence is its striking similarities as the inverse of Troell's own 1996 film, Hamsun, in which Max Von Sydow stars as a famed Norwegian author whose hatred for the British after the way they treated Norway during WWI leads to his support of the Germans (which sounds a little like I See a Dark Stranger to boot) in WWII.
Setting that knowledge aside, however, this is a strikingly mounted endeavor on its own, and features a great performance from the Danish actor Jesper Christensen (who US audiences would recognize as Mr. White from two of the recent Bond films, or the most entertaining part of John Madden's version of The Debt).
For his supporting cast, Troell has filled the film with notable players, like Pernilla August, Ulla Skoog, Bjorn Granath, and Maria Heiskanen. And at its core, The Last Sentence is an examination of a marriage, and remains the film's most fascinating draw. Indiscretions, for the most part, seem politely acknowledged, until a suicide ends Segerstedt's love triangle and we discover he's a man incapable of having only one iron in the fire. While his outspokenness leads to his denouncement as a traitor in some camps, for his opinions pose a threat for Sweden's plans to avoid butting heads with Hitler, it also ends up being the ruling factor of his old age, the last moment in time he holds out for. Of course, with a title such as this, you'll most likely be wondering what indeed that last sentence is.
Reviewed on January 12 at the 2013 Los Angeles Scandinavian Film Festival. – 126 Min
★★★/☆☆☆☆☆