Lust, Actually: Lawson's Sexually Charged Debut Struggles with What Women Want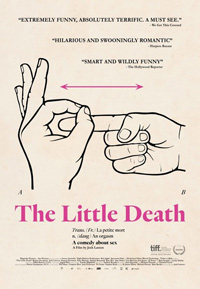 Taking home the audience prize at the 2015 SXSW Film Festival, Australian director Josh Lawson makes some decidedly risqué choices with his debut, The Little Death, which is basically an omnibus of alternative sexual practices rarely explored in the cinematic arena of the heterosexual. Mostly motivated by the complicated and sometimes controversial secret desires of women, the film, taking its name from the French idiom for orgasm, is sometimes refreshingly blunt as it navigates through several scenarios. However, it is just as often silly and unsubstantial, with an undefined purpose setting in as we close with an unseemly end to the common thread.
Maeve (Bojana Novakovic) and her boyfriend Paul (Lawson) set us off on in the circle. She's getting her feet sucked, but confides after their bout of lovemaking her real fantasy involves being raped. Except she wants Paul to do it and she doesn't want to know how or when. Baffled, but game, Paul begins to engage in a series of actions carefully calibrated to give Maeve what her little heart desires. Then, there's Dan (Damon Harrimon) and Evie (Kate Mulvaney), seeing a therapist to enhance their sex life and communication techniques. The therapist suggests role playing, and their first dabbling is quite successful, while Dan takes Evie's praise way too seriously and begins a cerebral journey as an aspiring actor, meanwhile abandoning the milquetoast persona he believed himself trapped inside.
Meanwhile, Rowena (Kate Box) and Richard (Patrick Brammall) are trying to have a baby, but the process has left her without an orgasm for quite some time. As she tries to figure out how to bring pleasure back into the act, Richard's father dies, and his tearful reaction causes Rowena to discover she suffers from dacryphilla—she gets turned on by tears. Thus begins an arduous process of constantly keeping Richard in a heightened emotional state. Another couple, Paul (Alan Dukes) and Maureen (Lisa McCune) are really in trouble—she's a harpy by day, and Paul is turned on by drugging her on a nightly basis in order to enjoy her inert body. Lastly, Monica (Erin James) plays a switchboard monitor at a video relay service offering to chat with folks for the deaf and relay the response via Skype. Sam (TJ Power) decides to call in to have Monica relay messages back and forth with a phone sex operator. And throughout it all, Steve (Kim Gyngell), a registered sex offender, has just moved into their quaint neighborhood and painstakingly attempt to introduce himself to his new neighbors.
Much of this hanky-panky examination of more uncomfortable sexual practices makes this feel like Roger Vadim's version of La Ronde (1964, aka Circle of Love). As a conversation starter, The Little Death is certainly unique, examining those particular moments between couples following the honeymoon period, when secret desires break free of their repressive clutches and either strengthen or end the relationship.
Lawson doesn't seem to be making any direct statements, outside of the importance of communication in a relationship and the difficulty or impossibility of realizing certain fantasies (at least in regard to expecting one other person to be solely responsible for them). And so, as much as Lawson's glimpse at these private places feels illuminating, it also feels suffocating. Yes, the exploration of female desire and men's fears in either satisfying or neglecting them is of interest, but the playing field is still limited and defined by a monogamous paradigm related at random and always for effect (for instance, Lawson chooses to sidestep difficulties by keeping the tone inoffensive).
Perhaps unintentionally, Lawson's film sometimes seems to hint, subversively, we're all offenders of sex in some shape way or form, at least in relation to our partner(s). So the presence of the gift bearing, registered sex offender feels handled with less finesse. Fluctuating between surprising sweetness between its more successful couples, and melancholy realizations between others, Lawson does manage a more meaningful examination of human sexual nature than ridiculous pop fodder like Fifty Shades of Grey (2015). But it's certainly a narrowly constructed angle on the endless pursuit of happiness.
★★½/☆☆☆☆☆