Reviews
What Happened, Miss Simone? | Review
Writing on the Wall: Garbus Offers Compressed Portrait of Soul-Gospel-Jazz Queen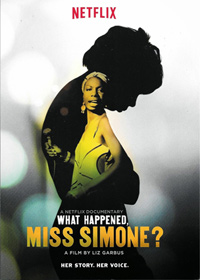 Nina Simone, a prominent musician-turned-civil-rights-activist, left behind a legacy in which the latter part plays out as a dramatic spiral into the background from what used to be a dazzling career. Her life evokes the old tales of fame gone wrong and the struggle against one's own demons. Though she considered herself a classical pianist and musician, she found herself a supporting character in the combative civil rights movement, which only appropriately projected the turmoil that thrashed within her. What Happened, Nina Simone? channels this self-conflict and docu-helmer Liz Garbus illustrates how it both motivated and ultimately destroyed a woman who lived her life at a constant extreme.
As Nina is first introduced in one of the pieces of archival footage, she steps out to the front of the stage, bowing deeply as her audience welcomes her back from oblivion. She takes her time, basking in their anticipation and the spotlight, before even settling in front the piano. Her confidence and natural aura of a performer is of course, best witnessed in person, but second-best through the footage that lures in those who are unfamiliar and affirms those who are. There is a powerful energy that emanates through Nina as she performs. But there is an even more visceral strength, most tangible as she personally recounts her career, her missteps, her violent marriage, and views on freedom, motherhood, and rights. Her daughter Lisa Stroud (who goes by her mother's own stage name) describes her mother's inability to separate her stage persona from her real life. Though she states this with light amusement, she changes her tone when she comments on the later stages of her mother's life: she had become so violent and volatile that her reputation and career began to suffer. Nina was later diagnosed as manic-depressive.
Having produced Love, Marilyn and Bobby Fischer Against the World, with such an elusive and multi-faceted subject, Garbus brings great intention to the details such as diary entries, candid interviews from Nina's family, friends, and confidantes. This attention greatly shapes the story and sheds a spotlight on a woman who found her voice despite racial currents and subsequently helped to stir voices with songs like "Mississippi Goddam" and "Old Jim Crow". The documentary accomplishes fairly what it sets out to do. What Happened, Nina Simone? is ultimately a documentary that does a fine job summing up and celebrating her life though it may not be able to extend past those already invested and familiar with her story.
Reviewed on January 24th at the 2015 Sundance Film Festival – Documentary Premieres
★★½/☆☆☆☆☆