Lebanese writer/director Ziad Doueiri (West Beirut – '98, Lila Says– '04) finally returns behind the camera for his third feature, an adaptation of the novel by Algerian writer Yasmina Khadra. A successful Arab surgeon living in Israel finds his life shattered when he finds his wife was involved in a suicide bombing thus sending him on a journey full of unintentional discovery. A thoroughly profound, layered and complex film, the Israeli and Palestinian conflict provides the backdrop for what is essentially a thriller with a love story at its core. With Ali Suliman in a dramatically anchor-heavy lead role, and equally strong perfs from supporting players Reymond Amsalem and Uri Gavriel, according to our four-star review, "this is perhaps the most humanistic take on the never-ending conflict to ever be presented on the screen, definitely an important and compelling film." The Attack [06.21 – NYC and Washington] received its world premiere showing at TIFF last fall where Focus World and Cohen Media Group tandemly picked up the title. I had the chance to sit down with Doueiri during his press tour.
Yama Rahimi: What attracted you to this project?
Ziad Doueiri: It originally started with my agent calling from New York when I was in Beirut that Focus Features wanted to develop something with you, this book, The Attack by Yasmina Khadra, would you be interested to look at it? I didn't know anything about the book and the author at the time. I said what's the story about? and she told me a brief description and told her that I'm not interested to do another film about the Mid-East because I was tired of it. My experience was that it's difficult to finance and get it made. She said why don't you read because they are serious about it. She sent it to me and I read it and found that it was a great novel with so many layers that interested me. There's a lot of elements to it, first it's a thriller, it's detective story, a great love story and issues at stake that means a lot to me. I totally understood the ideas he was talking about, what's it to be a Palestinian and to be an Israeli, the different perspectives. The book was written extremely well. So I called back and told her that I'm interested. I flew to New York and met James Schamus, the head of Focus, and we talked about it and that's how it started.
Rahimi: It's a powerful film that explores many of the issues at the heart of the Israeli and Palestinian Conflict. It's not an easy topic to depict.
Doueiri: It's a love story with the conflict in the background. This film is so bizarre that everybody interprets it in a different way. Some people see it with the Israeli perspective, some from the Palestinian, some see it as love story or detective story. It combines everything.
Rahimi: How is it been received in those countries?
Doueiri: So far the Israeli and Jewish audiences have responded very positively to the film, even though the film is not pro-Israeli neither anti-Israeli. At the same time, it's not pro or anti Palestinian. Because the Arab League put a ban on the film, it's only shown at festivals in Marrakesh and Dubai.
Rahimi: Do you know why it's banned?
Doueiri: Because they are stupid. That's it.
Rahimi: It seems so without reading the book or seeing the film because the film shows both sides. I think the moderates on both sides are being held captive by the extreme right which doesn't want peace in the region.
Doueiri: That's right. It's about a man's dilemma and at the end he doesn't belong anywhere because he's rejected by everybody.
Rahimi: How did the author Mohammed Moulessehoul (Yasmina Khadra) react to the film?
Doueiri: He was upset at first because I changed the ending but came around and now defends the film. He said if he wrote the book again, he would take elements from the film to incorporate in the book.
Rahimi: The film has to stand on its own from the source.
Doueiri: That's right. The cinematic medium is different than writing. I'm a camera man. I write but it doesn't come as easy. With a camera I can see easily.
Rahimi: How was the production? How difficult or easy was it?
Doueiri: We shot in Israel and Palestine. It was very easy and straight shoot. The same with the casting. I didn't know anything about Israeli cinema, so I watched a lot of films and found a lot of great films with a lot of complexity. I was somebody who didn't like Israel but I was pleasantly surprised by filming there and meeting all the people which changed my perspective.
Rahimi: How was it to work with Ali Suliman (Paradise Now, Lemon Tree, Body of Lies). He gives a tremendous performance!
Doueiri: It was difficult because he has dyslexia but he's a great actor. There was no improvisation. It was absolutely the way I wrote it.
Rahimi: What was the other challenges making the film?
Doueiri: Getting the film financed. We had half of the budget that we wanted but it's not unique. A lot of films have similar issues these, they all work with low budgets. This film was a complete struggle. The American studio, Focus Features, pulled out before we started production. They owned the script and wouldn't let it go. Then my French producers managed to buy it from them. Money talks in America.
Rahimi: Do you know the reason?
Doueiri: They never said why. I don't know. It has been five years and never heard from them but the film is doing well in America so far.
Rahimi: Tell me about your background! You are originally from Lebanon?
Doueiri: Yes. It's not more interesting than anybody else. I graduated from High School in Lebanon and moved to California where I studied film. I stayed here and started working on films. I'm somebody who doesn't like to confined to one place. So after that I went back to Beirut and Paris. I'm living in Paris but might move back here. I don't know where I belong. I keep traveling maybe because I don't fit so well in one place.
Rahimi: What films or filmmakers influenced you in your formative years?
Doueiri: I don't think there's one filmmaker. I think it goes beyond that. My father had a projector that doesn't exist anymore and don't know what it's called but projects a film strip, frame by frame. It was 35mm film and had a story. My father bought the projector in Bulgaria in the early 60's. I used to watch it all the time. Maybe that's where it started. I don't know. But Ron Fricke inspires me the most. What he does, nobody does it. It's incredible. He's an amazing filmmaker. Terrence Malick is another amazing filmmaker.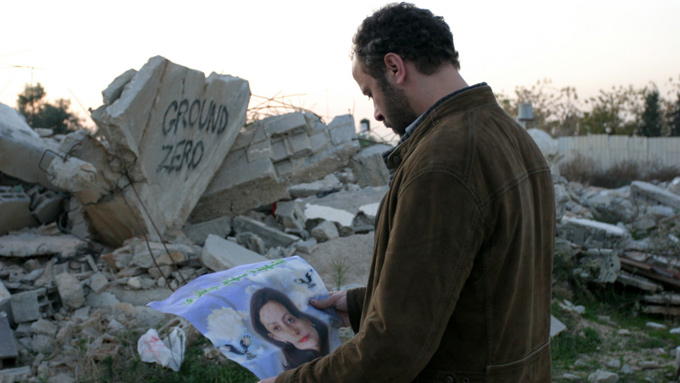 Rahimi: You started working in Hollywood in the camera department. How was that experience?
Doueiri: It was terrific. I did everything. I didn't care how much I was paid. I just wanted to get experience and learn the craft.
Rahimi: Did you go to film school? How important was it to your experience?
Doueiri: I went to film school in San Diego but it was not important to me. Maybe I went to the wrong school. Maybe it has changed but I didn't think it was a good school that's why I went to Hollywood to get experience. You don't learn really because most of the teachers never made films and are not filmmakers. They are just teachers that talk about films but never made one which is a big difference. I had only one teacher who was a documentary filmmaker. On the set is where you get the best experience.
Rahimi: Do you plan to go back to Beirut?
Doueiri: Of course. I have a script that's set in there. But this film was very difficult to make, and I want to take a break from the Middle East because of the Arab League.
Rahimi: Well I wish you all the best with this film. I hope it takes you to your next destination wherever it might be.