Reviews
The Mafia Only Kills in Summer | Review
Il Sciocco: Pif's Mafia Tinged Broad Comedy Revels in Pedestrian Frivolity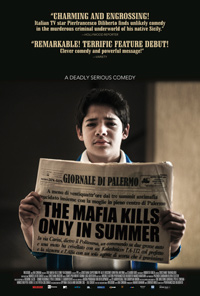 Apparently partially based on a true story, for whatever that statement is worth, The Mafia Only Kills in Summer, the directorial debut of Italian television personality Pierfrancesco Diliberto aka Pif, may certainly appeal to those who enjoy broadly comedic, romantically inclined narratives. Shamelessly simpleminded in scope, this mafia tinged, supposed black comedy never quite plumbs the dark depths of Italy's underbelly as it seemingly thinks it does. In Italy, Pif is a satirical news personality, and has taken great pains to create a film without the help of Mafia protection taxes, and within the film's credits, mentions its alliance with a movement whose mission statement publicly denounces the assistance of such illegal organizations. It's these more obscure elements and revelations that lend Pif's film a certain weightiness that its narrative never reaches.
Exploring a historical legacy of crime via flashback, we begin with the story of journalist Artruro (Pif) as he narrates his tale from the point of his conception, claiming the mafia has always had a stronghold over his existence, which is the way of life for all where he is from. In 1970's Palermo, we witness cartoon sperm race to fertilize Arturo's mother's egg while Mafia backed mayor Vito Ciancimino takes office and a massacre orchestrated by Salvatore Riina transpires. With 'mafia' being little Arturo's first word, we watch him grow into a young boy (Alex Bisconti) as he falls in love with schoolmate Flora (Ginerva Antona). While she remains aloof to his attentions, Arturo becomes obsessed with Italian Prime Minister Giulio Andreotti, who he believes is sending him special messages via newscasts and newspaper articles. Eventually, this leads Arturo into his beginnings as a youthful journalist. Flora's family relocates to Switzerland for less tenuous climes, leading Arturo to swear an undying love for her. As adults, they meet again by mistake, with Flora now in a position to enhance Arturo's burgeoning career as a political news caster.
If you were to close your eyes and listen only to Santi Pulvirenti's score, you'd swear this was a slapstick comedy. As grating as it is wading through the younger Arturo's puppy love days, Pif irrationally leads us to believe that grown Arturo has remained completely virginal thanks to his obsession with Flora. It's the film's overriding lack of logic and cohesive structure that detracts from Pif's more pointed observations about the very real, very terrifying acts of violence committed all over the nation by one of the world's most notorious groups of organized crime.
Those familiar with Matteo Garrone's 2008 film Gomorrah will find Pif's feature to feel incredibly paltry by comparison (though he does manage a cute nod to Sorrentino's Il Divo when the young Arturo dresses up as Andreotti for Halloween). Not nearly as powerful a statement as it could have been, The Mafia Only Kills in Summer may seem more relevant in its native country, as it won the audience award when it premiered at the 2013 Torino Film Festival.