Heavy, Heavy Hangs: Farhadi's Latest a (mostly) Worthwhile Endeavor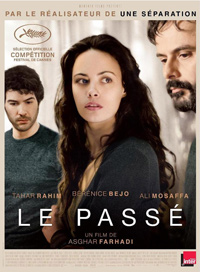 For his first film made outside his native country, Iranian director Asghar Farhadi unveils his latest exercise in domestic unrest with the French language The Past. Following hot on the heels of his critically acclaimed 2011 film, A Separation, anticipation has been high, and Farhadi nearly succeeds in equaling the compelling portrait of miscommunication and misunderstanding he has so brilliantly wrought in his previous film. Once again beginning with a couple on the verge of severing ties (though this time the separation has calcified into divorce), intertwining character arcs unveil an overly complicated scenario that unfortunately brings us to a finale that seems a bit little too late.
Ahmad (Ali Mosaffa) has returned to Paris from Tehran seemingly to grant his ex-wife Marie's (Berenice Bejo) request to divorce. While his presence wasn't necessarily required, it seems they intend on finally ending on good terms, even though they've resided apart for the past four years. Arriving at Marie's home, it's obvious she's in the midst of some domestic quandaries of which Ahmad had been unaware. First, Marie's teenage daughter Lucie (Pauline Burlet) has been giving her mother a hard time, acting out aggressively in reaction to her mother's recently announced engagement to another suitor. It seems Marie would like Ahmed to try to communicate with Lucie to find out what's wrong, and we learn that Ahmad is actually Marie's second husband, and not the father of her two daughters.
A young boy, Fouad (Elyes Aguis) now resides at Marie's and Ahmed discovers he is the child of her new fiancé, Samir (Tahar Rahim). Unnerved that Marie didn't bother to get him a hotel as he requested and has forced him to stay uncomfortably in this new situation, the stage has been set for Ahmed to become embroiled in a tiringly complicated scenario that has erupted between Marie, Samir, Lucie, and Cecile, Samir's wife, whose presence is aggravating the scenario.
To reveal any further details on The Past's tightly coiled plot would be like pulling the loose thread of a sweater that causes the whole garment to unravel. Once all the main players are introduced, we're treated to a sort of mysterious, even foreboding domestic drama that reveals itself throughout a series of compelling and well-staged interactions akin to the director's best past works, such as A Separation and the deliciously uncomfortable About Elly (2008). But after several turns of the screw, one can't help but feel that Marie and her increasingly agitated life at home turns into something a bit belabored.
Lack of communication, little white lies, the inability to express profound and uncomfortable revelations to one another, (both as a couple and the familial unit as a whole), are elements on display that Farhadi once again proves he has a knack at delving into with aplomb. But eventually a moment arrives when it feels like Marie, Lucie, and Samir just seem to be playing out a wicked kitchen sink drama, cruelly forcing outsider Ahmad into the situation. While he bluntly questions Marie as to why she insisted on bringing him to Paris under the guise of finalizing the divorce, her lack of explanation is never vocalized, which makes the enjoyably dense buildup utilizing Ahmed for the film's first half feel like a red herring.
Farhadi reunites with cinematographer Mahmoud Kalari from A Separation, and there's no question that The Past looks great, again focusing on harried, enclosed living spaces, both at Marie's home and Samir's Laundromat. In a role that was widely publicized as being offered first to Marion Cotillard, Berenice Bejo is quite surprisingly well cast here. While this isn't her first role since her much hailed Oscar nominated performance in The Artist (she has a fluffy supporting role in the crowd pleasing Populaire) Bejo finally gets to inhabit a fleshed out, multifaceted role. Her anxious face hovers uneasily on the screen throughout most of the film, finally erupting into a torrential fury, a potent scene that seems hampered by the continuous unspooling of the plot. However, she's as convincingly soft as she is shrill.
Tahar Rahim seems well suited for hellish domestic strife, as this follows on the heels of his callous portrayal of a somewhat cold hearted spouse in 2012's Our Children (aka A Perdre La Raison), and he's as equally believable here. However, it's Ali Mosaffa's kindhearted turn that feels the most effective, his shared sequences with both Bejo and Burlet making the overly long running time feel all the more worthwhile.
While The Past may not trump Farhadi's previous work, it's still an excellent piece of melodramatic cinema, with a finely staged script and engrossing performances. Concerned overall with the things we can't seem to let go from our past that continually hamper the future, Farhadi bookends the film with some blunt metaphors. Upon picking up Ahmed at the airport, Marie asks him to help look behind to see if it's alright to leave, and as the two stare out towards the back of the vehicle, the title is announced. You'll have to check out the film for a cliffhanger final moment that returns us to the same question posed by Farhadi, how do we forget the past and move forward?
Reviewed on May 17 at the 2013 Cannes Film Festival — MAIN COMPETITION.