Reviews
The Queen of Versailles | Review
Money Can't Buy Class, Only Versace: Greenfield Scores a Grey Gardens Sized Gem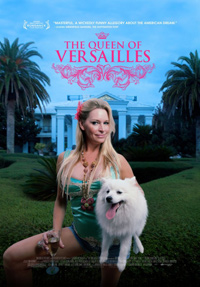 Documentary filmmaker Lauren Greenfield could very well have used the classic opening from A Tale of Two Cities to begin her latest film, an intimate glimpse at the perverted mutation of the American Dream as we follow an egregious billionaire family over the course of two years in The Queen of Versailles. It was the best of times, but now it's definitely the worst of times.
We're introduced to self-made billionaire David Siegel and his trophy wife, Jackie, as they're beginning construction on their infamous 90,000 square foot home in Orlando modeled after the chateau in Ile-de-France as well as the Paris Hotel in Las Vegas. Seigel made his billions by founding Westgate Resorts, the biggest timeshare company in the world, of which he still resides as CEO. He married wife Jackie after she won Ms. Florida. David has six other children from previous marriages, plus seven more with wife Jackie (not to mention an "inherited" child from Jackie's brother). When asked why they would build such an extravagantly large mansion/house (holding the record for largest single family house in the country), Siegel responded, "Because I can." Well, then that little economic crises happened, and after September, 2008, Westgate Resorts was nearly crippled. Versailles went on the market (only half completed) and the Siegel's were forced to lay off thousands of employees and, umm, make a few changes in their extravagant lifestyle. An unprecedented humbling occurs within the Seigel clan. After the crisis, what's captured intimately on film is a leveling, unprecedented scenario documenting their gross obliviousness, monetary exhibitionism, and their mighty, uncontrollable fall.
You'd be forgiven for a dismissive approach to The Queen of Versailles, which, at first glance, looks like a gaudy extension of the perverse lifestyle fascinations glutting television. But whereas The Real Housewives of Whatever look like Stepford with a vodka twist, Greenfield's documentary manages to be a compelling expose of the disgusting, dark, and foolhardy side of greed. The first half of The Queen of Versailles purposefully shows us that the Siegels are exactly what Countess Luann wisely warned us all about when she talked and sang about how money can't buy you class. And the Siegels stomp around like they don't have any brains either. Sure, Jackie Siegel seems 'down-to-earth,' or whatever that means, but she's quick to tell us the costly price of random items in her home as nonchalantly as she talks about ordering chicken nuggets (cracking jokes with her maid when trouble first strikes, to "look at the bright side," on losing Versailles, "you might not have to clean this place"). But Greenfield must've realized she hit documentary gold when the stock market crash happened while she was making her film. And even more amazingly, we're somehow led to sympathize with Jackie Siegel as we observe her going through this experience. You may not be led to pity, as Greenfield never mocks or brings disdain to her subject, but you'll definitely be happy not to be her.
As thousands are laid off at Westgate, so too, Jackie must lay off most of her household staff, retaining only two maids by the end. Their children are forced to take commercial flights, rental cars no longer come with drivers, and the great shocker, Jackie tells her kids they'll have to think about what they want to be when they grow up now, as it looks like they'll have to attend college. And, as things get more and more financially worse, the horror of applying for college loans looms near. "I never would have had so many kids if I didn't have nannies to take care of them," Jackie laughs. And then Greenfield interviews the Filipino nannies, one whose son is now 26 years of age back home. She hasn't seen him since he was 7, sending money to her family, still waiting to earn enough to return and build a home on the property she purchased there. One of the Siegel's friends, a man whose net worth was leveled by the crash comments, "Family and friends are all that really matter." And Greenfield immediately cuts to said nanny, holed up in a small house on the Siegel property the children used to play in, always and forever without her friends and her family. The Queen of Versailles isn't only about the flawed American Dream, it's about the white, moneyed, American belief in a just world, in which, whether rich or poor, a whole nation of people can't look beyond their own noses to see that even their meager comforts and ways of life are only possible due to the exploitation of humans who think that not being hungry and having a place to sleep is what matters most.
Certainly, Greenfield doesn't make mockery of Jackie and Don, but their utter ridiculousness speaks for itself. Don claims to be responsible for getting George Bush Jr. in office, even announcing this on television back in 2001. Now declining to state what he means exactly, since whatever he did wasn't legal, we might as well surmise that the 2000 elections should be called "We Bought a President." Framed photographs of the Siegels with Bushes, Clintons, and Sarah Palin (shudder) lend an air of hopelessness to those of us naive enough to believe that every vote matters. The blue collar dollars that funded Siegel's vacation based empire were the same dollars used to elect a leader that, whatever your opinion, didn't have their best interests in mind. Left to fend nearly by herself for her brood, the Siegel home quickly takes on a Grey Gardens wonkiness, her tumescent, fake breasts cartoonishly featured in every article of clothing, scooping up dog "ca-ca" from the carpet or trying to help the troubleshooter maid make spaghetti for ten. The Queen of Versailles is a deliriously enjoyable documentary, a warning about the ridiculous hubris of the American Dream, and how, like the trap of traditions, may very well be a nightmare.