The Unbearable Weight of Massive Talent | Review
The Cage Bird Sings: Gormican Gifts Nic Cage Meta Fan Fiction in Jaunty Caper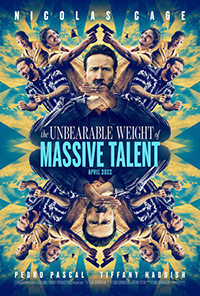 Not since Spike Jonze's send-up of John Malkovich's pomposity in Being John Malkovich (1999) has such a strangely tender homage sought to self-reflexively commend celebrity as in Tom Gormican's The Unbearable Weight of Massive Talent curious reputation, unspooling reality tinged meta analysis on the film industry enrobed in what amounts to a zany spy spoof. Going along with its somewhat neutered agenda, there's much to enjoy, particularly for fans of the enigmatic star prone to histrionics and exaggeration across an oeuvre filled with significant peaks and expansive valleys. An array of likable supporting players lends a sense of camaraderie in film showcasing the blissful virtue of not taking oneself too seriously, but no one comes close to eclipsing Cage's charisma, uniqueness, nerve and talent.
Nicolas Cage is ready to call it quits. After lobbying and failing to secure a major movie role which would have guaranteed not only a comeback to the A-list but also pull him out from under significant debt, he decides to put an ad in the trades announcing retirement. Ignoring the emotional fallout generated by his recent divorce from Olivia (Sharon Horgan) and the ever widening divide with his teen daughter Addy (Lily Mo Sheen), Nic agrees to make an appearance at a wealthy man's birthday party in Mallorca, which will pay him enough to crawl out from the bill incurred by his current temporary housing situation. Showing up to celebrate Javi Gutierrez (Pedro Pascal), whose favorite actor of all time is Nic Cage, the jaded star is disarmed by the man's sweetness, who has invited him to his palatial estate really as a way to fool Nic Cage into reading a script. But before Nic can get comfortable, he's lassoed by a pair of CIA agents (Tiffany Haddish, Ike Barinholtz) who are investigating Javi, who it seems is the head of a powerful cartel suspected of kidnapping a Catalan official's daughter to sway the next local election. In disbelief about his newfound friend's supposedly nefarious dark side, Nic agrees to act as a spy on Javi's compound, suggesting the two of them collaborate on their own script to bide more time. Eventually, it's confirmed nothing appears as it seems to Nic, Javi, or the CIA.
In essence, if it weren't for Cage playing a Freudian continuum of himself, (from his id, ego and superego, no less), Gormican and co-writer Kevin Etten's script otherwise plays some kind of Leslie Nielsen odyssey, and bears a certain similar energy to recent films like Snatched in its visual beats (which is likely due to Massive Talent sharing the same editor, Melissa Bretherton). Still, this is an elevated jump from Gormican's puff debut, That Awkward Moment (2014).
As bumbling CIA agents, Ike Barinholtz and Tiffany Haddish are mildly amusing, the former given nothing to do and the latter sending up the ridiculous conspicuousness of her character. Likewise, the effervescent Sharon Horgan scores points as Cage's long-suffering wife, and, surprisingly, Lily Mo Sheen manages to make a throwaway role more appealing than not as an angsty teen. Cameos from David Gordon Green (who directed Cage in one of his most underrated performances in 2013's Joe) and Demi Moore score chuckles, while Neil Patrick Harris pops up as Cage's detached agent. But the real sweet spot of the film is Cage himself, particularly when he's sharing scenes opposite his internal alter ego, Nicky, a stringy haired rock star persona who conjures the film's finest moment when Cage is called upon to make out with himself ("Nic Cage smooches good," he howls).
But Gormican's catalyzing energy is the bromance between Pedro Pascal's Javi and his favorite movie star idol (who would have thought a nod to Guarding Tess could be so funny?), the humanizing through line which is what ultimately allows this exercise to work as a film. Ultimately not as daring or as poignant as it could have been, this is still a testament to Cage's prowess even in the most risible indie projects he's been roped into doing. At the very least, it's an inspiration for one helluva triple feature idea in Face/Off (1997), The Cabinet of Dr. Caligari (1920), and Paddington 2 (2017).
★★★½/☆☆☆☆☆