Forever a Woman: Six Films by Kinuyo Tanaka Retrospective
One can't dig too deep in Japan's cinematic catalogue without confronting the talents of Kinuyo Tanaka. History has chosen to favor Tanaka's career as an actor, which is hardly surprising since she starred in 200+ film productions and appeared in timeless classics by Mizoguchi, Ozu, Mikio Naruse and Keisuke Kinoshita. But Tanaka bears an even more important distinction since she was the second woman in her country to direct her own feature film (the first being Tazuka Sakana, who directed one narrative feature, 1936's New Clothing).
Across a span of nine years, Tanaka would direct six of her own features from 1953 to 1962. Although her directorial features weren't championed abroad, she's the first Japanese woman to carve out her own body of work, focusing on the lives and predicaments of women in post WWII Japan before eventually dipping into historical gender disparities. All six of her features have been restored for a traveling retrospective, each confronting how women are forced to navigate a world controlled by men.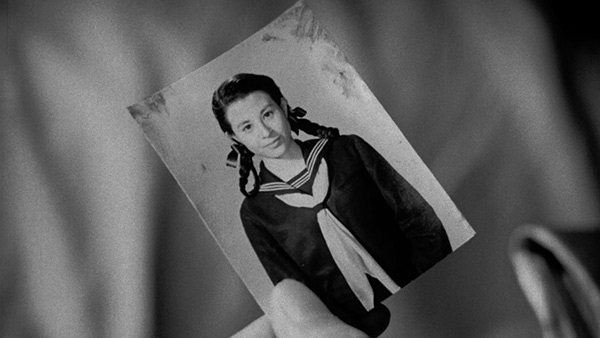 Love Letter (1953)
Fresh off the success of Mizoguchi's The Life of Oharu (1952), which was one of Tanaka's signature roles (as a cultural ambassador on a press tour through Hollywood, she was anointed the Japanese Bette Davis by the actor herself), Tanaka was accused of being Americanized, which affected her fan base. Along with her contract ending at Shochiku, she was allowed to choose her own career path, and so Tanaka commenced working on her first feature, Love Letter with the support of Keisuke Kinoshita, who penned the script (adapting from a novel by Fumio Niwa).
Premiering at the Cannes Film Festival, it's an impressive, nuanced depiction of emotional reconstruction in post WWII Japan. The complexity of those deemed 'fallen women' goes beyond the notion of sex work, where women were socially compromised by what they had to do to survive the war. Five years after the war, a lonely man named Reikichi (Masayuki Mori) takes a job as a ghost writer of love letters dictated by women, often who are corresponding or manipulating men who abandoned them during the war (American and French soldiers whose language they cannot speak). Reikichi is conflicted, disturbed at what he believes these women have allowed themselves to become. Secretly, he pines for Michiko (Yoshiko Kuga), a past love interest who was forced to marry another while he tended to his naval service. Clinging to a love letter she wrote to him on the eve of her wedding, he waits patiently to find her again knowing she's been widowed during the war. One day, Michiko suddenly shows up where he works, requiring a similar kind of letter needed by the type of women Reikichi has come to despise. Reminiscent of everything from Leo McCarey's Love Affair (1939) to later films like The Cranes Are Flying (1957), it's a technically astute, wonderfully adult examination of the impossible predicaments women find themselves in.
★★★½/☆☆☆☆☆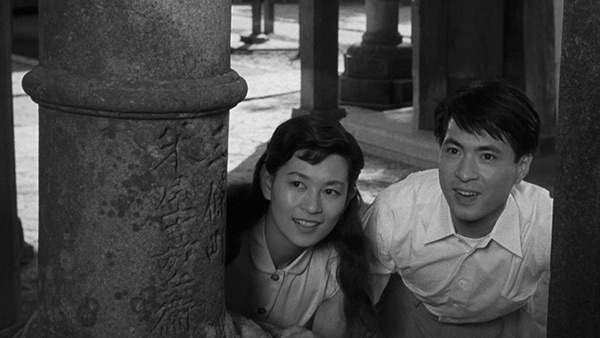 The Moon Has Risen (1955)
Tanaka's second feature would also be a collaboration with an old cohort, usurping Ozu's script for The Moon Has Risen to direct as her own. Arguably Tanaka's most traditionally assembled film as a director, it has Ozu's signature distillations stamped all over it, but Tanaka takes a different visual approach, focusing on movement as opposed to expression. Chishu Ryu of Tokyo Story (1953) is a widower with three daughters, each who has a somewhat complicated romantic entanglement they're trying to navigate. Eldest sister Chizuru (Hisako Yimane) is widowed, still youthful but unable to vocalize her desire to love again. Ayako (Yoko Sugi) îs the reserved middle child, and their world is somewhat ruffled thanks to the energies of youngest sister Setsuko (Mie Kitahara), who is trying to generate a liaison with a jobless intellectual, Shoji (Shoji Yasui). Shoji's best friend Amamiya (Ko Mishima) shows up one day on a work expedition examining broadcast towers and after making vague comments about remembering Ayako from his school days, Setsuko sees this as an excellent way to set up her sister while also forcing Shoji to reveal his own true feelings for her.
★★★/☆☆☆☆☆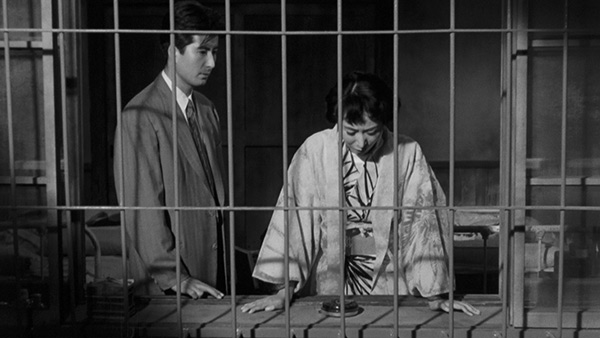 Forever a Woman (1955)
Tanaka's third feature, also released in 1955, was Forever a Woman (aka The Eternal Breasts), scripted by Sumie Tanaka, a regular collaborator of Mikio Naruse. Certainly a daring and complex film which fosters a whirlwind of tragedy for its female protagonist, there are contradictory elements in its examination of female sexuality and creativity eventually curbed by nature herself in the form of breast cancer. However, it's based on the life of tanka poet Fumiko Nakajo, who died from breast cancer in 1954, and wrote extensively about her illness and the trauma of losing her breasts. Yumeji Tsukioka stars as Fumiko, who has two children with a good for nothing, drug-addicted, unfaithful husband. Desiring to pursue a career as a poet, she divorces her husband (which requires her son be taken by him while she maintains custody of their daughter), moves in with her mother, and makes a name for herself in the literary world. Diagnosed with breast cancer, she stops writing. An admiring journalist named Otsuki (Ryoji Hayama) arrives, his publication hoping they will net an exclusive to her next poem. Reluctant to open up to Otsuki, Fumiko eventually relents, emotionally and physically, before the cancer consumes her.
★★★/☆☆☆☆☆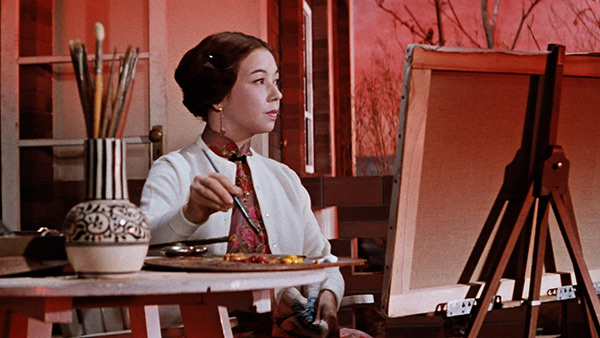 The Wandering Princess (1960)
Tanaka went out on a limb with her fourth feature, a sprawling period piece based on the autobiography of Aiishinkakura Hiro (aka Hiro Saga), a Japanese woman arranged as the consort with the younger brother of the Emperor of Manchukuo in order to build a bridge between both cultures in 1937. Since Manchukuo was a puppet state of Japan from 1932 to 1945, her life was besotted by turmoil caused by the rift between sparring cultures. Adapted by Kon Ishikawa's usual scribe, Natto Wada, it is perhaps Tanaka's least successful venture, spanning two decades in Hiroko's life while speeding through detrimental tragedy in its final frames. A central performance from Machiko Kyo (Rashomon; Gate of Hell) is certainly of interest, but this first color feature directed by Tanaka is defined by hand wringing, dependent on omniscient narration and mostly fascinated with a constant political turmoil which dictates one woman's traumatic experiences.
★★/☆☆☆☆☆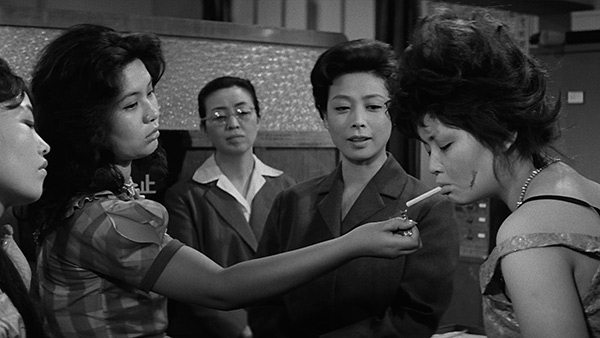 Girls of Night (1961)
Tanaka's finest hour as a director arrives in the sublime melodrama Girls of Night, reuniting with screenwriter Sumie Tanaka. Like the more hopeful sister film to Mizoguchi's earlier swan song, Street of Shame (1956), Tanaka takes aim at the 1956 Anti-Prostitution Law in Japan which changed the landscape of sex workers. With brothels closed and women forced into streetwalking, therefore vulnerable to plainclothes policemen, those arrested are confined to a ladies dormitory where they are cleaned up and shipped out for legitimate work. Only, most businesses refuse to hire these former ladies of the night. Tanaka focuses on Kuniko (Hisako Hara), who, try as she might, can't outrun her past.
★★★★/☆☆☆☆☆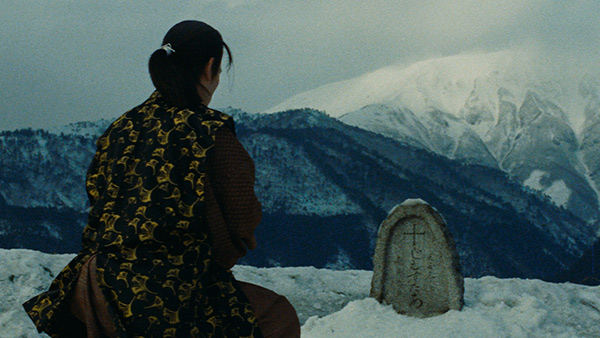 Love Under the Crucifix (1962)
For her final film, Tanaka returns to the realm of colorful period piece with Love Under the Crucifix, going all the way back to 1587, where Ogin (Ineko Arima of Ozu's Tokyo Twilight, 1957) the daughter of a tea master falls head over heels for Ukon (Tatsuya Nakadai, an Akira Kurosawa alum) a married feudal prince. Her love is instigated by their shared Christian faith, which also dictates their feelings can never be consummated. However, the Shogun bans Christianity, and those who refuse to renounce their faith will be crucified. An interesting concept runs in circles with a script from Toko Kon and Masashige Narusawa, with the central performances bogged down by anguished proclamations of desires never to be physically acted upon.
★★½/☆☆☆☆☆