Reviews
The Visit | 2015 Sundance Film Festival Review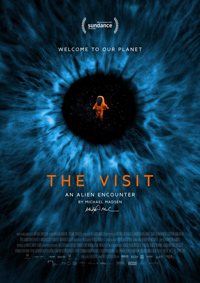 It's a story that hasn't happened yet. The Visit is advertised as a documentary but the label is rather limiting as it that dabbles in the "what if", specifically the event where man finally meets alien, under the pretense that it is currently happening. Rather than to pose the questions as hypothetical, the multiple subjects from NASA members to a social psychologist mull over the situation as though they're first responders, trying to grapple with situation where there is no precedent. Needless to say, Danish filmmaker Michael Madsen's approach and utility of the documentary form is unconventional which appropriately sets the tone for an equally unconventional scenario which extends into other outstretched tangents. As a result, this Scandi-docu stands as an experiment, creating an uncanny, lofty, and self-reflexive new sense of verite that is both intriguing and alarming.
Much in line with an episode of The Twilight Zone, the audience confronts the many existential questions that is rooted in possibility and yet borrows from reality. The vast range of subjects and their responses are cultivated by their respective fields. Public safety and perception are large concerns amongst many government officials and workers. Issues with potential contamination and what we share with them in terms of our culture and history are all valid anxieties that they examine and unfold on camera. Traditional talking heads are interspersed with segments that depict of a visual narrative of mankind: statues, architecture, museums. These artifacts are reminders that our products will live well past our own lifetime and that they collectively add to the grand tapestry of our existence. To examine them is the attempt to understand though a conclusion may never transpire.
Madsen's past work follows the human consciousness and its relationship with the larger world at hand. He delves into the issue of nuclear waste responsibility within Into Eternity deals with nuclear waste responsibility and collaborated in Cathedrals of Culture which considers the history of a building through its imagined viewpoint. The Visit seems like an unlikely and bold leap from his past work though his penchant for philosophical inquiry and examination remains a strong distinction. Utilizing high-speed cameras so that movement becomes slower and details heightened, Madsen invites the audience to enter an outer worldly perspective–the alien, so to speak–skewing familiarity in favor of the uncanny.
Ultimately, The Visit tries to answer the conjecture at hand without actually answering it; the inconsistency becomes rather trying. Its abstract content within its form easily runs tedious as it circumvents itself in a dizzying manner. Mind-boggling and ambitious, it quickly becomes a string of speculations which bleed into one another without an end point, a trying experiment in itself. Luckily, those with enough fortitude will glean value from an incredibly bold effort and statement.
Reviewed on January 27th at the 2015 Sundance Film Festival – World Cinema Documentary Competition Programme. 83 Min.
★★★/☆☆☆☆☆