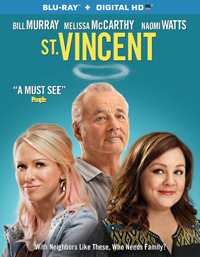 The independently produced dramedy from helmer Theodore Melfi received a mostly positive critical reception following its premiere at the 2014 Toronto International Film Festival (where it picked up the distinct of 2nd runner up for the People's Choice Award for Best Film) and saw the Weinstein Company position St. Vincent with a crowded October release date. Scoring a Golden Globe nod for Best Comedy, as well as a lead nomination for Murray as Best Actor in a Comedy/Musical, Naomi Watts also secured a surprise SAG nod for her comedic supporting turn, it managed a forty-four million take at the domestic box office, and was pitched as a return to form for Bill Murray.
For a few moments during its initial set-up, Melfi's directorial debut, seems on the verge of stumbling into schmaltzy cliché, giving us yet another one of those formulas where a tirelessly inappropriate old man mentors a nubile, naïve young boy in the ways of life. And for all intents and purposes, this is indeed what the film sets out to be, yet Melfi puts in a bit more elbow grease in this tried and true concoction, to make an effective, though utterly formulaic film. An arresting cast doesn't hurt, and some pleasing performances smooth over some of the film's more rudimentary life lessons and gimmicky assay into the nature of sainthood.
In the midst of a bitter divorce from her adulterous husband, Maggie (Melissa McCarthy) moves out and buys a home for her to live in with son Oliver (Jaeden Lieberher). Having just landed a new job at a hospital, Maggie is saddled with constant double shifts and is thus unable to be at home for her son and help him adjust to his new private school setting, which is generally affable as taught by Brother Geraghty (Chris O'Dowd). Though a school bully, Ocinski (Dario Barossa) seems to have it out for young Oliver. Help comes in the unlikely form of crotchety neighbor, Vincent (Bill Murray), a man with no kind words for Maggie after her movers accidentally ruin his already dilapidated mess of a fence. An old codger that lives alone with his beloved cat, Vincent has a predilection for gambling, which has him in hot water with loan shark Zucko (Terrence Howard), while a pregnant Russian stripper, Dacka (Naomi Watts), tends to lean on Vincent for emotional and monetary support. Seemingly vile and unpleasant, Vincent agrees to watch Oliver after school, though not without Maggie paying him. However, Oliver seems to have taken a shine to the old man, and soon they're gallivanting around bars and racetracks, a mentor passing on his knowledge about life's vices and virtues.
Initially, by the time all of our main cast members are at last introduced, St. Vincent has all the earmarks of a family friendly comedy trying way too hard to entertain. Never mind the foul language and the sexual references peppered throughout, this is a crowd pleaser through and through. But just when you're about to write it off, Melfi, mostly through the expert utilization of a grungy Bill Murray, turns all that around.
One would predict that Watts' Russian stripper would eventually grate, but you know what? She's kind of charming and funny here and there (unlike, say, Sally Hawkins' go at a Russian supporting character in All is Bright). McCarthy is nicely understated, a far cry from the buffoonery we're used to seeing her engaged with in other mainstream fare. But, not surprisingly, the film's most poignant moments transpire between Murray and Lieberher, since the main thrust of the film's success depends on them. And yet, there's nothing innately new going on here, the old curmudgeon that secretly has a heart of gold opening up to a young boy in need of a friend is innately the gist (look no further than last year's Bad Words for another recent example). One wonders what the female equivalent of the Bill Murray character would look like. Gena Rowlands in Gloria (1980)?
Disc Review:
Receiving a standard Blu-ray transfer, Anchor Bay's home entertainment package arrives in 1.78:1 widescreen, and the title looks and sounds just fine. A couple of extra features help make this worthwhile, including deleted scenes, and a segment devoted to Bill Murray.
Deleted Scenes:
Ten minutes worth of twelve deleted moments are included, many of which were excised to help streamline the narrative.
Bill Murray is St. Vincent: The Patron Saint of Comedy:
A twenty minute homage to the performer includes narration and an assembly of footage from behind the scenes as well as the premiere at TIFF.
Final Thoughts:
Entertaining, and never very daring, Melfi saves the sappiest moment for last with Oliver's little ode to Vincent in his school project, which contends that the man as has all the necessary saintly qualities. It's too bad we land in a moment of such broad catharsis, but St. Vincent should serve as a nice calling card for Melfi, and fans of Murray should be pleased as it's one of his most winning lead performances in quite some time.
Film: ★★★/☆☆☆☆☆
Disc: ★★★/☆☆☆☆☆