Got Milk? Cowan & Shomali See The Glass Half Full, Celebrating Community Action In Beit Sahour With Stop-Motion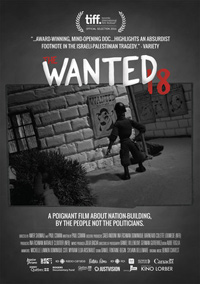 Paul Cowan and Amer Shomali's partially animated docu-drama, The Wanted 18, a film that ruminates on the quiet collective rebellion of the First Palestinian Intifada via the underground farming of dairy during the years of 1987 to 1993, oddly but astutely alludes to Jules Bass and Arthur Rankin Jr.'s classic stop-motion holiday special Santa Claus is Comin' to Town. In a throwaway clip of a stop motion Israeli commander that suspiciously resembles the fun hating kaiser Burgermeister Meisterburger, steps from his military jeep, much to his dismay, into a freshly made cow pie, just as the Burgermeister accidentally slipped upon a toy duck left by Mickey Rooney's youthful Kris Kringle in a covert effort to enrich the lives of the town's children.
Consciously or not, that Christmas classic is a perfect analogue to Cowan and Shomali's tale of military oppression through the ban of keeping life sustaining livestock, but unfortunately, covertly distributing milk proves less entertaining than intended.
Employing his usual amalgamated visual style of archival footage, interviews, omniscient narration and dramatized reenactments he previously put to use in films like Westray and Paris 1919, Cowan has teamed with newcomer Shomali, who adds a mix of comic book-like storyboards and stop motion animation meant to lighten the tyrannized mood, to tell the story of a small group of Palestinian insurgents – doctors, butchers, teachers, students, etc. – in the West Bank town of Beit Sahour who, in trying desperately to foster economic self-sufficiency, decided to pool their resources to buy eighteen cows for the production and cooperative distribution of milk within their oppressed community. The idea seems banal, but the livestock was declared by the repressive Israeli militia, who controlled the flow of sustenance within their village, as "a threat to the national security of the state of Israel" and the insurgents were forced to conceal the cows and distribute the milk on the sly, knowing that doing so was to risk imprisonment or worse.
Recounted by a surprising number of those who actually helped in the efforts of this operation, the story is presented as a sort of docu-thriller in which cows are smuggled in and around Beit Sahour to avoid military confiscation. The presence of so many primary subjects is the film's greatest strength, but their impassioned nostalgia about their involvement is narratively punctuated by stop motion sequences that attempt to humanize their beloved cows (and painfully fail) by presenting them as cinematic characters with poorly conceived speaking parts. The effect is tonally catastrophic.
Simple gestures of communal assembly through dairy farming and the non-violent rebellion of refusing to pay unjust taxes in the West Bank and Gaza during the late 80s and early 90s are portrayed as fruitless and foolhardy exploits that reverberate today with the sting of daily news headlines that prove it so. Crude claymation cows do nothing to convey the severity of the Palestinian situation, nor do they reframe the situation as a comedy of moral errors, despite the inherent absurdity of the Israeli military mobilizing a full scale cattle hunt.
While The Wanted 18 certainly cares for its subjects and admires their brave attempt at self-sustenance through non-violence and community action, it tries to paint their very real struggle as a comedic caper with dire results.
★★/☆☆☆☆☆
Reviewed on September 6 at the 2014 Toronto International Film Festival – TIFF Docs Programme. 75 Mins