In The Garden Of Garage: Hansen-Løve Recounts Brother's Coming of Age During the Rise of House Music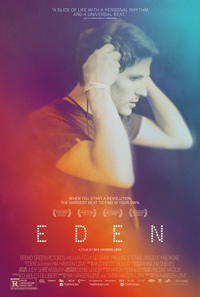 Thanks to her brother Sven's involvement in the popularization of French house music as a young DJ and club promoter throughout the 90s, director Mia Hansen-Løve grew up baptized in the propulsive wash of beats and samples that make up garage music. Her latest film, Eden, fictionalizes her brother's Inside Llewyn Davis-esque music career with an authentic eye and ear for the electronic dance music scene as it metamorphosizes over the course of twenty rough and tumble years of spinning soulful dance tracks, snorting copious amounts of blow and trying desperately manage to both finances and romances.
Deeply personal in its portrayal of artistic passion and the intimate repercussions that come with banging one's head against a metaphoric professional wall, Hansen-Løve's film aches with nostalgia and heartbreak and still balances with subtlety on the fact that everyone grows up eventually, but not everyone who makes music becomes rich and famous.
Simultaneously a coming of age story of a teen and a modern take on the aging musician reckoning with the fallout of his professional career, Sven's rise and fall is portrayed through his on screen surrogate, Paul, who's played with reserved personality by Félix de Givry. The actor has a natural onscreen generosity that allows Paul to bear significant promiscuities without becoming oppugnant or victimized. Fascinatingly, the film marks only Givry's second onscreen appearance after his debut in Mia's auteur husband Olivier Assayas's Something in the Air.
Hansen-Løve unsurprisingly shares her husband's impressionistic style of story construction, their recent narratives both butt fleeting moments of emotional experience together without tightly tied chronologic relation. This editorial effect works wonders within, painting a comprehensive portrait of the Parisian club scene while documenting Paul's personal tribulations like glimpses of movement caught in fleeting strobe lights.
Much like her previous film, Goodbye First Love, the extended passage of time, documented subtly with the slow shift in wardrobes and the adaptation of new technology, highlights how relationships flux, fade and occasionally reappear newly formed.
Paul's rotating social circle expands and deflates as his DJing partner Stan (Hugo Conzelmann) and friends like visual artist Cyril (Roman Kolinka) and promoter Arnaud (Vincent Macaigne) throw rave after rave in gritty basement bars and warehouse clubs. As years go by, new contacts bring new opportunities and diverging interests. More poignantly, his intermittent romantic relationships with the likes of an American named Julia (Greta Gerwig) and a Parisian hipster named Louise (Pauline Etienne) pinpoint how perspectives, tastes, ideals, and even morals can change with time.
Thanks to Sven's deeply rooted connections to the scene, the film benefits immensely from cameos by the likes of house La India, Tony Humphries and Daft Punk themselves (though acted by Vincent Lacoste and Arnaud Azoulay) and a lengthy and legitimate soundtrack that includes early garage tracks like Aly-us's R&B inflected "Follow Me" and massive mainstream hits like Daft Punk's game changing "Da Funk". One track entitled "Rivolta" by a fairly new Parisian group called Polo & Pan carries on the house tradition for a new generation and at the same time subconsciously suggests that, as Paul breaches his mid-30s, his time behind the tables has come to a close. His journey from bedroom production to massive dance halls and back again is a bittersweet, highly enjoyable though slightly over long saga of love, loss and addiction bathed in euphoric beats and pulsing neon lights.
Fittingly, the opening line from Daft Punk's recent smash "Get Lucky" aptly summarizes Eden's agreeably unresentful ethos – "Like the legend of the phoenix / All ends with beginnings".
Reviewed on September 14th at the 2014 Toronto International Film Festival – Special Presentations Programme. 131 Minutes
★★★½/☆☆☆☆☆