Reviews
The Whispering Star | 2016 Japan Cuts Film Festival Review
The Human Factor: Sono's Somber Allusions to the Allegory of the Cave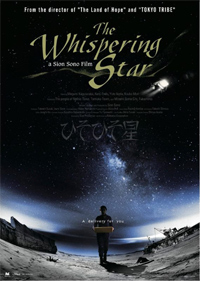 When one contemplates the continuously expanding filmography of Japanese auteur Sion Sono, hyperbolic visualizations of sex and violence sprinkled over gonzo narratives usually dominates the conversation. But the astoundingly prolific filmmaker (rarely does a year go by without at least one new project from him—and in 2015 he unveiled six) also regularly envisions more humanistic stories, including several notable titles attempting to process the horrors of the Fukushima nuclear disaster in 2011. One of his latest is a graceful, black and white lo-fi science-fiction odyssey, The Whispering Star, which plays sort of like the post-human chapter of a rough trilogy comprised of his other post-Fukushima notables, Himizu (2011) and The Land of Hope (2012). To define this as the director in a minimalist mode would be an understatement, but it is a poetic visualization regarding acts determining the nature of humanity, and the irrelevant traditions engaged by a species even as it's forced to contemplate a swiftly approaching extinction.
Sometime in the impending future, humans have become mostly eradicated, the universe now composed of 80% androids. Orbiting around earth is a forlorn spaceship inhabited by Yoko (Megumi Kagurazaka), a female android who runs on battery power working for a corporation known as SPS. Her mission is to deliver packages across the universe, which sometimes takes years to accomplish. She's left alone to interact with various gadgets on board to occupy her time between constant domestic work, her main source of interaction shared with an analog tape recorder, which she uses as way to process her own thoughts on the current state of things. Additionally, she receives specific delivery instructions for the recipients of the packages, and her retreats to the surfaces of various terrestrial locations are in desolate, abandoned spots, where semblances of mankind exist.
Clearly, Sono is making a statement about the way the world is headed using the aftermath of Fukushima as a historical backdrop by placing all of Yoko's visits in actual locales devastated by the nuclear disaster. One of Sono's recurring muses, Megumi Kagurazaka (it's hard to imagine her outside of a Sono landscape, at this point) is transfixing as the quiet, methodical robot, a woman who recalls both Delphine Seyrig as Jeanne Dielmann and Doona Bae as the title object in Hirokazu Koreeda's Air Doll (2009), but without the sex work—a being trapped in specific, endless service to the dying vestiges of the human race.
The high-contrast black and white cinematography from famed DP Hideo Yamamoto (Audition) further enhances what stands as one of Sono's most mature and quietly contemplative works. The exterior landscape scenes take on an ambience similar to Wim Wenders' The State of Things, which details a film crew struggling to remake a Roger Corman sci-fi film, and Yamamoto's frames feel as visually experimental.
As far as narrative goes, there's little to observe beyond Yoko's quietly reserved efforts to get through each day, the film broken into disproportionate segments only labeled by days of the week, in which Yoko makes tea, washes dishes, or records herself in endless succession. In a moment where she tears up her flight computer, The Whispering Star becomes reminiscent of Tarkovsky's Solaris in its existential angling. A beautiful, final stop finds Yoko tasked with visiting one of the last places inhabited entirely by humans. Given ample time to prepare for the delivery (humans are now unable to withstand loud noises), she treads carefully through a hallway of human shapes in constant motion behind paper walls lit from behind. Each of the shadows are engaged in readily recognizable forms of human behavior, such as a father playing ball with a child, a woman gazing at her face in the mirror. It's a melancholy and endless cycle (indicated by a sudden, arbitrary jump in time), and Sono ends this majestically with what seems a logical regression to Plato's allegory of the cave, and a lonely android who is as close to a dying reality she'll never truly experience.
Reviewed on July 16 at the 2016 Japan Cuts Film Festival – 100 Mins.