Go Tell It on the Mountain: Trengove Recruits Nakhane Toure for Defiant, Profound Debut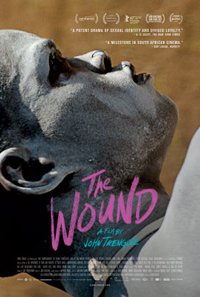 South African director John Trengove tackles the compelling subject of black masculinity for his brazen feature debut, The Wound, which also serves as a cinematic introduction for famed singer Nakhane Toure. Examining the traditional homosocial rituals amongst an increasingly marginalized black community, Trengove takes pains to include the problematic perspective of privilege by filtering this narrative through the lens of an outsider. The intersection of masculinity, the notion of manhood, and the taboo of homosexuality congeal into an increasingly tense cocktail which manages to hit a surprising chart of emotionally charged moments ranging from tenderness to outright hostility, a textured, intimate portrait of how doggedly holding onto archaic traditions allows for the majority to force the marginalized apart.
Factory worker Xolani (Nakhane Toure) has been specially requested by an old family friend to act as the 'care-giver' in the next community Ukwaluka ritual, a traditional initiation into manhood by the Xhosa people of South Africa twice a year. When Xolani underwent his own ritual, he had been seen as a 'soft' initiate, one who wasn't assigned a personal care-giver, which resulted in his tent being raided by a rabid dog. The initiate in question is Kwanda (Niza Jay Ncoyini), a boy whose parents have moved away to Johannesburg, which further alienates the young man from the other adolescents. Accepting the job, we learn this biannual ritual is the only way Xolani is able to see Vija (Bongile Mantsai), his childhood friend who was initiated at the same time and is also his secret lover.
"Tradition is not the worship of ashes, but the preservation of fire," said Gustav Mahler, a sentiment which exemplifies the double edged sword of a marginalized populous struggling to maintain community identity, as well as the destructive force which consumes those who aren't able to conform to the inherent rigidity of tradition or a communal belief system. Trengove constructs a troubled triangle (or, perhaps upside down triangle) of conflicting desires between Xolani, his down low lover Vija, and the new initiate Kwanda (all of the actors besides Ncoyoni were familiar with Xhosa tradition). Murmurs of Xolani's sensitivity, which has led to his special pairing with Kwanda, already position them as the outsiders or runts of the pack. And of course it's meant to be an ironic twist when we realize the initiate is the one guiding his teacher about what being one's own man means.
The inherent sadness of Xolani's character is evident in every single frame featuring Toure, whose mournful gaze is always seeking the attention and affection of Bongile Montsai's Vija, an alpha male pack leader stuck in a similar cycle of discontent, their perennial manhood ritual the only way to be in close proximity. Their unions are initially violent, insensitive, with Xolani seeking an intimacy and affection Vija isn't able to give. But there's a subtle shift in these intimate interactions ("We do this every year," bemoans Xolani), which leads to The Wound's greatest moment of tenderness. For his acting debut, Toure is quite transfixing as Xolani, a man who wears his heart on his sleeve, devoting himself to a cycle of stagnation for the possibility of one day being united with the man he loves.
The controversial Ukwaluka ritual and the resulting period of isolation, reflection, and masculine posturing makes The Wound an interesting conversation piece with something like Ousmane Sembene's last film Moolaade (2004), about a woman in Senegal shielding young girls from female circumcision, as well as a prominent and compelling portrait of queer identities on a continent where many countries are marked and scarred by the virulence of homophobia. DP Paul Ozgur (Sam de Jong's Prince, 2015) utilizes the lush mountainside foliage as the backdrop for a startling sensuality between Toure and Montsai.
Increasingly somber and melancholy, the circumcision wounds these men received during their own ascension to manhood may have healed, but the emotional bond between them is the wound still weeping. In a more universal sense, The Wound also depicts how gay men, like women, have been conditioned to tear each other down in order to stay in favor amongst the masculine majority, which is exactly how and why tradition continues. A devastating final act severely underscores the hopeful backdrop rolling us into the end credits.
Reviewed on January 20th at the 2017 Sundance Film Festival – World Dramatic Competition Programme. 88 Mins.
★★★½/☆☆☆☆☆