Reviews
Tonight, You're Mine | Review
Mackenzie's Music Concert DocuRomCom Has All the Chemistry of an Arranged Marriage.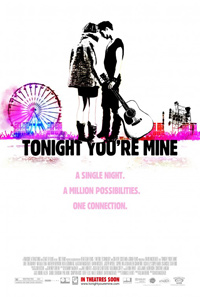 David Mackenzie's second title from 2011, Tonight, You're Mine opens only several weeks after his poetically cerebral apocalyptic romance, Perfect Sense, and couldn't be more different. Filmed in less than a week during the 2010 Scottish music festival, T in the Park, the energy of the music festival experience is readily apparent, however, the narrative filling plays out like an impromptu film school assignment.
As one of the world's largest film festivals is about to kick off, Adam (Luke Treadway), the lead singer of electropop band The Make, has an altercation with Morello (Natalia Tena), the lead singer of a post-punk riot girl band, The Dirty Pinks. A groovy preacher witnessing their bitchy confrontation has both the band's members hold hands in a prayer circle. But when the two singers can't seem to kiss and make-up, the preacher jokingly handcuffs them together, stating that musicians are meant to change the world, darting out in a golf cart before the two have time to register what's happening. As they eagerly needle each other while they set out to find a way to remove the cuffs, each of their significant others gets huffily involved, including Adam's drug addict recovered model girlfriend, Lake (Ruda Gedmintas), and Morello's dull banker boyfriend, Mark (Alastair Mackenzie). While Morello's forced to play her set attached to Adam (who creates a scenario on stage that music festival attendees must live for) the two, of course, discover that they have more chemistry with each other than with their respective counterparts. Enter snippets of supporting moments from various band members, hand held footage of drunk festival attendees, and, best of all, some live performances from some of the festival line up and all mixed together you get an 80 minute feature.
Even on paper, this seems like an oddball project for David Mackenzie, an interesting filmmaker who directed the innovatively poetic apocalyptic drama Perfect Sense, and Natasha Richardson in a tragically beautiful performance in 2005's Asylum. What seems like an innovative way to capture the amazing energy of the music film festival plays out like a contrived device that wears thin before it even gets off the ground. The best parts of Mackenzie's film are bits of live performance from real bands, while the fictionalized counterparts, The Make, and The Dirty Pinks, don't fare quite as well (though Natalia Tena is part of the band Molotov Jukebox, one can only hope she's not as daffy as her character here).
As for Luke Treadway, it's more significant to note that this is his second film about rock music where's he attached to someone (his 2005 film debut was as one half of a Siamese twins rock duo in Brothers of the Head). And while the supporting characters are mildly entertaining, most of their screen time seems like unnecessary filler. Ridiculously, we have to swallow the dueling divas' futile efforts to remove their cuffs, and then watch them fall into what we have to call love, and then have uncleanly looking sex. Throw in a last minute titch of drama when Morello finds out that Adam might've known how they could've gotten the cuffs off sooner and, like predictable text, Adam uses the audience when on stage to dedicate his band's hit song, "Tonight, You're Mine," to the grungy post-feminist. Through body surfing and what has to be the most accommodating and understanding security team ever to work a music fest, the two lovers unite on stage for all to cheer. But hold on a minute. This treatment of love seems rather bleak, no? Are we, as humans, really so simple as to fall in love with any persons (providing they fall into our orientation) we're handcuffed to if we only have to share the same interests with them? If you're tempted to say no, that's not realistic, then you'll also see through this shallow gimmick of a film that would have been better served as a documentary about T in the Park, 2010, rather than shackling us to a doofy, clichéd motif about love.