It's Easier For a Camel: Curran's Curious Reenactment of a Strange Journey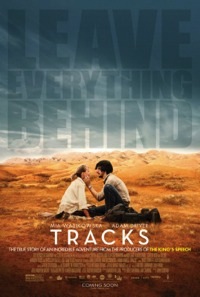 Early on in John Curran's Tracks, which charts the 2,000 mile journey of Robyn Davidson across the desert in 1975 Australia, you're bound to ask yourself, "What's the reason for all this again?" Inevitably, Curran can't quite seem to answer that either, positioning Davidson's rationale as nothing more than a prolonged extension to avoid human contact as she made a beeline for the Indian Ocean. Striking the cultural zeitgeist back in the mid 70's due to National Geographic's coverage of her journey, Davidson would go on to write the book upon which this film is based. Still, there doesn't seem to be any real justification for the resurrection of her adventure, yet Curran's film somehow ends up being an utterly watchable characterization of a strong-willed woman with little need for human interaction. A striking performance from Mia Wasikowska imbues the film with necessary gumption, at least to the degree that you want to see where exactly all this was going. In the end, it prizes the adage; it's not the destination but the journey that counts.
Perhaps on her own rendition of a walkabout, in 1975 a young Robyn Davidson (Wasikowska) finds herself determined to snag a trio of feral camels, (which Australia had the largest population of even though the creatures aren't indigenous), and trek from Alice Springs across the hot, lonely desert to the Indian Ocean. Without any real sort of clear motivation, she's met with polite derision as she learns to tame camels and save up funds for the trip. A staunch animal lover, Davidson seems to yearn only for the attention of her black lab, Diggity, eschewing the comfort of human interaction. Introduced to an overreaching yet charming photographer, Rick Smolan (Adam Driver), Davidson is rewarded sponsorship for the trip via National Geographic on the condition that she has to allow Smolan to photograph the process of her journey. While they interact in surprising ways, their developing relationship is anything but typical. "I think you have a problem with people," he succinctly informs her during one of many stubborn bouts.
By the time we follow Tracks to its inevitable conclusion, something feels a bit off about the whole thing. Robyn Davidson proves to be a formidable presence, but beyond adamantly shirking societal validation and sanctioned gender norms, her journey seems more borne out of antisocial anxiety than anything else. Sure, there's something fascinating about her tale, though since her trek, many others have accomplished far greater feats and for actual causes.
If it weren't for the laudable performance from Wasikowska, Curran's film would feel lost at sea, though Mandy Walker's gorgeous cinematography is worthy of praise here, as well. And let's not forget those charismatic camels. Wasikowska's built an impressive filmography over the past four years, an unconventional presence in a business that tends to prize the conventional, bringing conviction to a scenario that doesn't seem to have any.
Adam Driver's career has also blossomed considerably, here churning his cutesy charm into an uneasy composite of the ambitious yet cloying artist, the type of human behavior Davidson despises. Despite the curiosity it inspires, Tracks doesn't make a very deep imprint, but that doesn't mean it's not worth checking out.
★★★/☆☆☆☆☆