Black Holes and Revelations: Gilliam's Cluttered Dystopia a Mixed Return to Form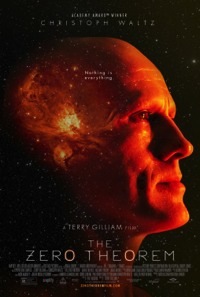 In what stands as his best film since 1998's Fear and Loathing in Las Vegas, director Terry Gilliam's The Zero Theorem still isn't quite the dystopic juggernaut one might have hoped for, though it does slightly resemble one of his most noted works, 1985's Brazil. However, this isn't quite that state of mind, though it does in fact revolve mightily around the state of its protagonist's conflicted existence and his unrequited search for meaning in a world that instead contends there absolutely is none. Being treated to a demure theatrical release over a year after its premiere at the 2013 Venice Film Festival, it's being handled as a boutique title, likely to wallow into the same nether regions as Gilliam's last several titles, like the valiant exercise The Imaginarium of Doctor Parnassus (2009) or the wayward cloud that was Tideland (2005).
Working as an 'esoteric data cruncher' for a large corporation known as Mancorp, Qohen Leth (Christoph Waltz), pronounced Cohen, desperately wishes to continue his line of work 'crushing entities' in what appears a video game styled manner, exclusively from home. Claiming he's dying, Qohen eventually receives his wish, but in turn, he is assigned to solve the Zero Theorem. Engaged in virtual therapy with a corporate therapist (Tilda Swinton), and involved in an ever deepening dalliance with a virtual call girl (Melanie Thierry), Qohen eventually begins to lose focus on his objective, more and more obsessed with the real reason he wishes to work from home, that being so he doesn't miss the mysterious phone call he's been expecting from someone that he is sure will tell him what he's actually meant to do with his life.
The Zero Theorem represents Gilliam's most unfettered production in years, proving the power of his distinctive style when not being plagued by budget issues (though The Man Who Killed Don Quixote has excitingly been greenlit once again), studio interference (The Brothers Grimm), or the death of its lead star (Heath Ledger in Parnassus). Apparently, it's also one of the lowest budgets he's commanded in some time, which is mostly and impressively not evident, even despite a majority of its running time trapped in the palatial church in which Qohen resides. Initially, Christoph Waltz is a rather troubling mess of tics and troubles, though we eventually settle into his weird existence the more we come to understand Qohen's drive.
There are flashes of genius throughout the narrative, namely the Zero Theorem itself, the project Qohen is assigned when Management agrees to let him work from home so he can receive that mysterious phone call. Zero equals one hundred, which means that there is no real meaning to anything, or so implies the titular theorem, a worldview that Qohen already holds to be true even though he's in prolonged denial concerning it. Eventually, the film itself begins to reflect the hypothesis of the Zero Theorem. Gilliam's pronounced visual style, including a mise-en-scène jam packed with agglomerations of objects, colors, textures, and lighting doesn't exactly put one in mind of the future's sterility. Instead, Qohen looks to be stuck in a hoarder's haven, stepping out into the dirty streets lit to distraction by a barrage of useless technological artifice. The Zero Theorem works better if viewed as a metaphor for the mind of the future human, cluttered up and maxed out from a barrage of stimuli. But as a portrait of the rummaged miscellany of human consumption, the film already feels a bit visually dated.
While Waltz may command the screen as Gilliam's most worthwhile protagonist in years, other major supporting players aren't quite as memorable, particularly Lucas Hedges as Bob, Management's son. As a prostitute hired to distract Qohen, French actress Melanie Thierry is initially a breath of fresh air, though the script's inability to really utilize her character relegates her to a device of titillation and nothing more. It's a shame since Thierry is an interesting screen presence, though often cast in underwhelming fare (she can also be seen this year as the least objectionable presence in An Eye for Beauty, an absolute embarrassment of a film from Denys Arcand).
David Thewlis shows up briefly as Waltz's supervisor, though quickly disappears from the proceedings. Other notables, such as Matt Damon as the imperious Management and Tilda Swinton as a virtual therapist are rather fun, though their roles are little more than healthy cameos. A host of other names whirl briefly through the film, like Rupert Friend, Robin Williams, Ben Whishaw, and Peter Stormare, though to mostly unnoticeable effect.
When playing to its strengths, it's a film about the eternal search for meaning in a seemingly apathetic and perilously meaningless world, a paranoid allegory that begins to encroach into Kafkaesque territory. The future as a neon infused Grey Gardens styled dilapidation comprises the feel of The Zero Theorem, a film that hopefully anticipates the hope of an even greater return for Terry Gilliam.
★★½/☆☆☆☆☆