Goya's Ghosts: Boyle's Twisty Tale Fails to Hypnotize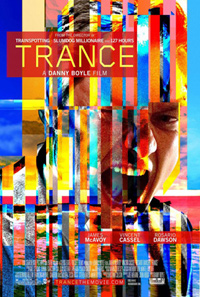 Danny Boyle re-teams with scribe John Hodge (co-writing with Joe Ahearne) for Trance, their first collaboration since 2000's The Beach. A pulpy return in novelistic filmmaking for Boyle, this labyrinthine narrative has a few too many ridiculous turns of the screw to feel like the intelligent mindf*ckery it really wants to be. Its lofty aspirations give it a unique flavor, like Inception meets Mamet's Heist, but there's an aggravating aura of smugness to this mystery thriller that reduces the sum of its parts to a mere marriage of convenience.
Simon (James McAvoy) is a fine art auctioneer that's the victim of a vicious head injury during an audacious heist of a prized painting by Francisco Goya, the eerie Witches in the Air. After Simon is released from the hospital, ruthless gang leader Franck (Vincent Cassel), demands to know where the painting is, and we learn that Simon was part of the heist all along. Only he now suffers amnesia (proven by the fact that he has most of his fingernails ripped off and still cannot recall where he placed the painting) and there's no telling when his memory of that day will return. Desperate, Franck demands that Simon consult a hypnotherapist, and so Simon chooses the services of Dr. Elizabeth Lamb (Rosario Dawson), seemingly at random.
At first lying to her and stating he can't remember where he left his car keys, Dr. Lamb soon picks up on the fact that there's something fishy about Simon, and she manages to finagle her way onto Franck's team as well as scoring an equal cut of the profits should her methods work on Simon. Of course, the more Simon remembers, the more we learn not only about his own motivations, but those of Dr. Lamb as well.
The significance of Goya's Witches in the Air seems significant, a painting noted for being one of the first to depict male witches, here three of them carrying their victim away while an onlooker attempts to escape below. But whatever ominous, and potentially terrifying implications possibly evidenced in Goya's painting are unfortunately completely dispelled by the film's rather trite finale. While there's a certain amount of suspense undeniably well executed as we're left to decipher what's really happening and whose hypnonightmare we could very well be trapped in, this dread gets weighted down with asinine character motivations.
While a booming, pulsing soundtrack nearly threatens our eardrums to get us invested in its elaborate action sequences, visually, the film is connivingly successful, and Boyle wisely brings back Anthony Dod Mantle (who won an Oscar for cinematography for Slumdog Millionaire), whose work on Trance aligns it more with his significant work on several Lars Von Trier titles.
Nightmarishly sweating itself into one particularly Cronenbergian moment, it's the excellent visual scheme that elevates McAvoy's overly persistent protagonist from being another carbon copy of several other characters he's played (check out this month's Welcome to the Punch for further evidence of this). Dawson is saddled with the trickiest character here, for as the plot slugs along, we uncover her less than satisfactory motivations, slowly diminishing our anxiety about whether she's a greedy femme fatale or some kind of guardian angel. It's a testament to her screen presence that she manages to give a great performance in a role that's ultimately very silly. Cassel, as per usual, is more than capable in his role, a menacing presence that has to be one of the most patient underworld gang leaders we've ever witnessed.