Butt, I Won't Do That: Cornack Redefines Anal Retentive in Crass Comedy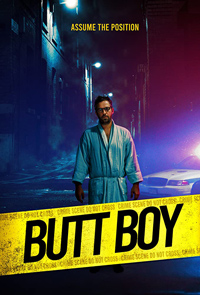 Although it requires a healthy suspension of disbelief in order for it to plunge into its third act climax, director Tyler Cornack's sophomore feature Butt Boy is a generously escapist oddity in its heteronormative examination of the ass play suggested by a title which simultaneously indicates its own unwillingness to take itself too seriously.
Combining a variety of elements, from body horror to mystery thriller to gonzo sci-fi tropes, Cornack leans into the weirdness of his narrative without depending solely on gross humor, which is perhaps the most intriguing element of a film which hovers between a mixture of a Lynchian parallel universe and late night comedy (though really, it's mostly the latter). Less repulsive than something as dire as The Greasy Strangler (2016) and more vibrant than the Patrick Wilson castration comedy Barry Munday (2010), Cornack's offering sometimes feels akin in tone to a Greener Grass (2019), at least in its bizarro ambience and exaggerated approximations of social cues. It's fun enough to be a unique calling card for Cornack, the success of which might allow him to really unfurl his freak flag in future productions.
IT Engineer Chip Gutchell (Cornack) finds his boring life suddenly upended during a routine prostate exam. The pleasure he experiences from the exam is unlike anything he's ever felt, despite his marriage to Anne (Shelby Dash), with whom he has a preadolescent son. Soon, he's sticking all kinds of objects into his anus, but nothing ever seems to come out. A puppy is followed by a baby, and the ensuing search for the child leads Chip to seek help for his compulsion by joining Alcoholics Anonymous. When he becomes a sponsor to a young detective, Russell Fox (Tyler Rice), Chip finds himself delving into bad habits. The disappearance of another child during a father-child day at his office ends up causing a lot of problems as Fox finds Chip's behavior suspect.

Cornack casts himself as the hapless Chip Gutchell, an otherwise milquetoast stereotype of white, middle-class suburbia flouncing around in an equally characterless marriage. However, Butt Boy accelerates quite quickly as Chip's anus ends up apparently bottom-less (pun intended), starting out like the anal fixated version of Swallow (2019) in the realm of compulsion masquerading as agency before it goes completely off the rails. In this sense, Butt Boy is perhaps best viewed as a companion piece to Bad Milo (2013), in which Ken Marino stars as an equally foolhardy heterosexual male afflicted by a demon who lives in his anus and comes out to kill people (and, if we're going even further, these could be companion pieces to other B-grade horror trash like 1990's Baby Blood from Alain Roback, or even earlier Frank Henenlotter titles). But one almost wishes Cornack really went for extremes with this ludicrous scenario, which seems to stop short of fully embracing its tendencies once the narrative switches to the perspective of the investigating alcoholic detective played by an otherwise likeable Tyler Rice (who appeared in Cornack's 2016 debut The Pocketeers).
An ambient score (which was also created by Cornack and his co-writer Ryan Koch) assists in creating a perverted mood of a neon-electric world crackling with energy but run perilously amuck.
★★½/☆☆☆☆☆