Reviews
Where Do We Go Now? | Review
Nadine Labaki Gives Peace a Chance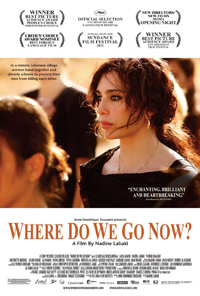 Caramel director Nadine Labaki returns with her sophomore effort, the much hailed Where Do We Go Now?, a trite drama with broad, comedic fissures undermining the dramatic impact of its unsophisticated social message. It's easy to see why Labaki's latest is a crowd pleasing hit, innocuous as it is in its approach to themes like religious intolerance, the treatment of women in Christian and Muslim cultures, and war. But one can't help but see that this well meaning (and for all intents, engaging) film is a naive fantasy, and an unjustifiably simple treatment that suckers the ignorant masses into false hope pertaining to human decency and the resolution of religious differences.
In a remote Lebanese village comprised nearly equally of Christian and Muslim residents, the women must band together to prevent the hostile environment in surrounding areas from visiting their own doorsteps by distracting the men. As news reports glance across the communal television sets and blaze across the newspaper headlines of violent, religious uprisings, café owner Amal (Labaki) and the mayor's wife, Yvonne (Yvonne Maalouf) lead the charge by disabling the television set and burning the papers. But when these efforts are not enough and the men start pillaging each other's places of worship, the women become desperate and hire a group of Ukrainian prostitutes to pose as stranded celebrities in order to distract the men. And when even that is not enough and the accidental death of one mother's son sparks unavoidable turmoil, the women concoct yet another noteworthy plan to the end the senseless violence and the deaths of all their men.
Labaki manages to get a lot of laughs from comedic scenarios, with performers exhibiting some excellent comic timing. However, the mixture of the light hijinks with the extreme threat of palpable violence comes across a bit jarring. Just when we think that a group of women overcoming religious and social odds (Ukrainian prostitutes in a Night of the Iguana fashion drop in—how progressive) we're quickly reminded of how little agency these women have, their own adult children violently grabbing and screaming at them in the name of whatever religious hubbub. In further evidence of ungainliness, there are two out of place musical numbers that seem siphoned right out of a French romantic drama, and a poorly attended romance between the Labaki's Christian café owner and the Muslim carpenter working on renovations of her establishment. Under speculation, the proceedings seem rather clunky. Of course, what Where Do We Go Now? ponders is, if peace were given a chance, where would we go from there? How would our world look? Unfortunately, the very divisiveness of religion (and we aren't even talking about fundamentalists) means we'll never know that answer. Labaki could have given us a science fiction ending to her fantasy and made up an answer. Sure, it's refreshing to see a group of diverse women coming together against all odds, but the downside is, all the men are depicted as nothing more than mere animals unable to help themselves, like dangerous bulls that only need to be sedated or have blinders on, consistently manipulated by the wiser sex. So, instead, one is left to wonder, frustrated, why aren't the women asking the obvious question—why don't we go now?