No.7 Cherry Lane | 2019 Toronto Intl. Film Festival Revew
Remembrance of Things Cats: Yonfan Sketches a Rebellious Love Letter in Animated Debut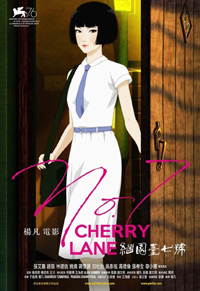 The multifaceted Yonfan returns to feature filmmaking for the first time in a decade with an audacious departure–his animated debut, the erotic period piece No.7 Cherry Lane. After becoming a famous celebrity photographer in 1970s Hong Kong, Yonfan has charted a multifaceted filmography, his early works featuring the likes of Maggie Cheung and Chow-yun Fat (Late Romance, 1988), while 1998's Bishonen was a groundbreaking Chinese depiction of an explicitly homosexual relationship. Yonfan continues mining historical narrative possibilities with his latest, which explores complex sexualities through period lens, not unlike 2001's thirties set The Peony Pavilion and the forties/fifties placed Prince of Tears (2009). But his latest is something a bit more fantastic and novel as it explores an offbeat love triangle between a handsome young English tutor and the impassioned emotions he inspires amongst a mother and daughter amidst the backdrop of political upheaval in 1967 Hong Kong.
A student at the University of Hong Kong, Ziming (Alex Lam) is commissioned to tutor Meiling (Zhao Wei) in English. While the precocious schoolgirl quickly develops a crush on the hyper articulate Ziming, her mother Mrs. Yu (noted Taiwanese actress Sylvia Chang, who recently starred in Bi Gan's Long Day's Journey Into Night, 2018), a single mother and exporter of luxury goods to Taiwan, has already developed an interest in him through his devotion to Proust and Cao Xuequin. While his romance with Meiling is furthered by their foray into English language literature, the tabooer attraction to Mrs. Yu is allowed to flourish through their trips to the cinema, where Simone Signoret and A Room at the Top (1959) provide a conduit with which they can explore their mutual attraction. Meanwhile, the world outside becomes increasingly topsy-turvy, engendering an energy of erotic possibility in their subtle triptych.
Yonfan's foray into anime is as loquacious as it is visually striking. As the moody palettes of a fiery yellow and bruised purple skylines outline the backdrop of a city steeped in turmoil, their own emotional interiority generates delirious musical montages and shape-shifting romantic personas, something as equally studied occurs in the verbose narration and thoughtful exchanges concerning literary texts and period cinema which these characters use as vehicles for escapism and shorthanded passion play. Yonfan includes whole swaths of animated reenactments of Simone Signoret and her Academy Award winning performance in A Room at the Top, which turns out to be a guidebook of sorts for Ziming and Mrs. Yu, as it allowed them a mirror in which they could see themselves, an older woman carrying on a romance with a younger man. Yonfan's loving script as passionately pays homage to the blues aligned cigarettes of Signoret as it does with the timeless passages of the Bronte sisters, Marcel Proust and Cao Xuequin, all whose works allow for connection between Ziming and these women (Jane Eyre and Wuthering Heights are the bonding vehicles with Meiling, while Ms. Yu is drawn to him through Remembrance of Things Past and Dreams of the Red Lantern).
Whilst mired in the historical context of leftist riots occurring between police and anti-colonial demonstrators, Yonfan often abandons this bleak realism for fanciful bursts of playfulness and surrealism. At times, No.7 Cherry Lane is strikingly erotic, framing Ziming early on as a homoerotic object in a shower room whilst being clandestinely admired by a peripheral character, who returns in one of the films most striking moments involving hallucinogenic moon pies supplied by the ornery upstairs opera diva Mrs. May (voiced by Kelly Yao), whose coterie of cats feature heavily as comedic asides (a bizarre conflagration of cats and sexual expression recalls Eiichi Yamamoto in a late staged sequence where three of Ziming's admirers are personified in feline form). From Doctor Zhivago to Blow-Up, Yonfan stages a stellar intertextual dialogue in his heady dip into adult animation, and the result is endlessly fascinating, beautiful and exciting.
Reviewed on September 7th at the 2019 Toronto International Film Festival – Special Presentations Program. 125 Mins.
★★★★/☆☆☆☆☆