The Moneychanger | 2019 Toronto Intl. Film Festival Review
Money Ain't for Nothin': Veiroj Turns to Political Period Caper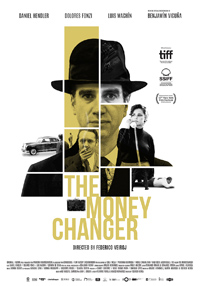 A common saying in Montevideo, Uruguay, meant to succinctly condense the city's appeal and cement its eternal draw is "Because no one here is better than anybody else." Such may be the subconscious charm to the oddball protagonist of the fifth film from Federico Veiroj, The Moneychanger, (Así habló el cambista) adapted from a 1979 novella by Juan Enrique Gruber. One of Uruguay's leading contemporary auteurs, who landed in Cannes with his 2008 debut Acne and competed in San Sebastian with The Apostate (where he also snagged an award in 2010 for his most well-traveled title, A Useful Life), Veiroj seems poised for greater international acclaim with his latest, which plays like the unassuming, more realistic Latin American counterpart to something like the Tom Cruise starrer American Made (2017), a Hollywood studio flick concerning a notorious drug-runner during the Iran-Contra Affair. Although the driving force may be the same, but wherein the opportunity to make oodles of money is concerned, for those at the right place at the right time, political upheaval goes a far way to ensuring success, at least for a time.
Uruguay was a kind of 'port of shadows' in the mid-1970s thanks to significant upheaval in South America's economic crisis. The government was run by a military junta, and many a nefarious businessman was able to flourish in Montevideo. One of these, Humberto Brause (Daniel Hendler), became poised to appreciate such opportunities, groomed by a man who specialized in money laundering through 'offshore investing,' who would become his stepfather after he wooed and married his daughter Gudrun (Dolores Fonzi). Fast forward to 1975, and Humberto, who became financially successful, is approached with a suspiciously large amount of money to launder. Sometimes things are too good to be true for a reason, but hindsight is always 20/20.
"Money brokers—we are the root of all evil," Humberto tells in voiceover as he recounts the odyssey which brought him from an innocent young man to full-fledged criminal in the time span of 1956 to 1975 Montevideo, where he learned the tricks of the trade from a pro who would remain an unlikely ally in the form of his begrudging father-in-law. Veiroj crafts The Moneychanger as a comical pursuit of self-interest, the handsome Hendler metamorphosized into a tweedy, graying phantom of a man whose virility (literally) is drained by his pursuit of money.
Not unlike Scorsese's Wolf of Wall Street, a central, troubled performance with a beautiful woman remains a looming factor in this economically defined narrative (an untimely STD provides one of the film's more novel exchanges). As Humberto's staunch supporter, Dolores Fonzi, who more or less has assumed the role of an Argentinean Romy Schneider, manages to be a droll counterpoint to the anxiety riddled Hendler, though it's clear Gudrun might have ulterior motives for his survival (a running joke following Humberto's heart attacks involves his inability to order coffee at any conceivable location thanks to his wife's staunch, preemptive interventions). Theirs isn't so much a love, but a symbiosis, which tends to be more compelling than the usual disruptive scheming in these types of stories which causes the eventual downfall of its protagonist. Humberto, is, of course, approached with a scheme wherein he inherits the wind as an eventual target for other interested parties who know he's got the loot.
In spiritual essence, the jaunty tone feels akin to French crime sagas of the 1950s, which swayed more into the sinister side of things, but Touchez Pas au Grisbi (1954) comes to mind, as do a flurry of other titles which tend to highlight the absurd ambitions of such men, who almost never come out on top despite the tiring commitment to professional endeavors which might make them rich but will leave them physically spent. Cinematographer Arauco Hernandez Holz (who lensed The Apostate as well Veiroj's 2018 title Belmont and Adrian Biniez's Giant, 2009) captures Montevideo as a crumbling façade, an unassuming free-for-all, which was, as we're told, was sandwiched between and influenced by the economic turmoil of Argentina and Brazil during this period.
Though Fonzi doesn't have as much room for characterization (at least not compared to her 2015 breakout, Paulina), Daniel Hendler manages to be quite entertaining as a gone-to-seed broker whose comportment and various ailments are reminiscent of early Dustin Hoffman. Although likely to be a winning combination of familiar narrative tactics and subject paired with ambitious, period-defined political intrigue, The Moneychanger doesn't conquer any new territory. But then again, perhaps no film is better than any other, either, respectively.
Reviewed on September 8th at the 2019 Toronto International Film Festival – Platform Program. 97 Mins.
★★½/☆☆☆☆☆