Reviews
You Will Be My Son | Review
The Meek Shall Inherit: Legrand's Familial Conflict a Seething, Elegant Drama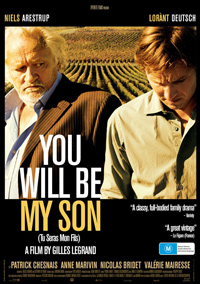 French director Gilles Legrand, (though perhaps better known as a producer on titles for Jean-Pierre Jeunet and Patrice Leconte) scores an uncomfortably vicious drama with his third feature, concerning a father's hated for his heir with You Will Be My Son. Operating like the patriarchal flipside of a the main motif behind a 2007 Isabelle Huppert vehicle, L'amour Cache, Legrand twists the discomfort unrelentingly, which may strike many as over the top or even melodramatic. But the patriarchal poison on display here, while perhaps just a titch predictable, is nonetheless as elegantly made as the fine wines that fuel the narrative.
Paul de Marseul (Niels Arestrup) is a successful winemaker, whose vineyard may not be the most financially stable, but who has an uncanny ability to make (and detect) fine wines. However, his son and only heir to the business, Martin (Lorant Deutsch), has always been considered a foppish, sniveling weakling by his father. While Martin may have attained a degree in winemaking, as well as bending over backwards to please his father, nothing he can do seems to ease their awkward interactions. For his part, Paul wrote off his son long ago, never holding back from a litany of passive aggressive comments that demean and belittle Martin, whose "spiky" wife Alice (Anne Marivin) also resides at the estate, bitterly despising the abusive Paul. But when the estate manager of the de Marseul vineyard, Phillippe Amelot (Nicolas Bridet) succumbs to cancer, his son, Francois (Patrick Chesnais) leaves behind his California job at Coppola's vineyard to see to his ailing father. As equally gifted and confident in all the areas that the awkward Martin is not, Paul quickly develops an idea to hand his vineyard over to Francois and adopt him as a son, literally asking Martin to take a hike. While this may be a large pill for Martin to swallow, Philippe Amelot seems to find this even more difficult to handle.
It almost goes without saying that the noteworthy Niels Arestrup (who thankfully has enjoyed some awards attention due to some recent Jacques Audiard films) is absolutely mesmerizing, and provides Legrand's film with a deliciously wicked portrayal of a monstrously callous father. While it may be in the same vein of some of Arestrup's other recent performances (like his turn in Joachim Lafosse's Our Children), he manages to dispel these parallels, expertly managing to inhabit another character that could have very easily become a caricature. While You Will Be My Son may very well be unsurprising and even predicatble in its eventual outcome, it's nonetheless an elegantly told tale that's both aggressively uncomfortable and engrossing. While Arestrup may be the main draw, it should be noted that both Deutsch and Marivin, playing his son and daughter-in-law, are also captivating. Exploring the discomfort and hatred that fester in the breeding grounds for such expressions, familial ties and archaic traditions, those who enjoy emotionally provocative cinema will definitely enjoy this import.