Reviews
Zero Motivation | Review #2
Band of Girls: Lavie's Acerbic, Confident Debut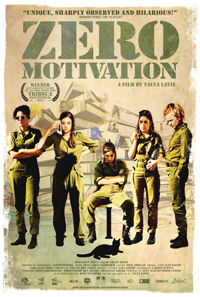 Exacerbated ennui is explored to comedic effect in Tayla Lavie's striking directorial debut, Zero Motivation, which explores life on an Israeli military base through the perspective of several female soldiers. Groups of humans not taken seriously and treated with demeaning abandon tend to disengage from rational behaviors, and Lavie explores the rampant pettiness born out of being kept in certain positions without any opportunity to grow. Some have criticized Lavie for abstaining from composing the film as a more complicated and transgressive portrait of the reductive nature of war, in general. Coming from an area where cinematic offerings are saturated and inflected with the constant, aggravated unrest transpiring there, Lavie's film is already a subtly wicked statement, and her focus on the trivialities of one group of women on one military base serves as the subtle microcosm for the enduring conflict at large—a massive machine of banal goals, paltry triumphs, and empty dreams.
Each assigned a series of achingly tedious tasks for which they are responsible for on a daily basis, a cluster of sullen and complacent female soldiers wage their own tiny conflicts to fritter away their days until the end of their service in a small, isolated desert base. Daffi (Nelly Tagar) and Zohar (Dana Ivgy) seem to have struck a close friendship, but mostly due to the latter's perseverance. Daffi, who is basically in charge of paper shredding, is desperate to get to Tel Aviv in order to be closer to the city life she feels she deserves to be a part of. They're at odds with the other women, two of whom seem only concerned with singing pop songs, while an angry Russian transplant, Irena (Tamara Klingon) hates them all equally. A surprise addition to their crew, Tehila (Yonit Tobi), has Daffi convinced that her transfer to Tel Aviv has been approved. However, a tragedy involving the new recruit reveals she was not Daffi's replacement, which proves to exacerbate their already frustrated commanding officer (Shani Klein), a woman not taken seriously by her male peers and supervisors whilst being blatantly disrespected by her female crew.
A vibrant slew of titles have debuted throughout the year from Israel, many of them from burgeoning female directors, such as Ronit and Schlomi Elkabetz's Gett: The Trial of Viviane Amsalem, Shira Geffen's Self Made, and Suha Arraf's Villa Touma (which recently was treated to a labeling sanction from Israel when officials balked at the film's listing as a Palestinian film entry at festivals). Zero Motivation took home the Best Narrative Film Prize at this year's Tribeca Film Festival for Lavie's surprisingly comedic take on this group of bored women engaging in their own reductive sparring, motivated only by subconsciously sabotaging one another rather than fostering an encouraging, uplifting environment. The pattern seems to be the usual rationalization that the system is irreparably broken, so it's everyone for themselves, with little regard for the lives or welfare of others.
We're first involved in Daffi's self-involved predicament, which starts the film off on a darkly comic route that hinges on parody. But divided into several chapters, the figure of Zohar takes over as we drift over suicide, attempted rape, and women undermining women. Audiences familiar with Israeli cinema should recognize Dana Ivgy, who starred famously as Or in Keren Yedaya's Or, My Treasure (2004) and more recently in Eytan Fox's extra sugary Cupcakes (2013). Her Zohar may be less inept than the other females whom she holds in general contempt, but she's an apathetic black hole, and Lavie's often comedic observations are often imbued with a sinister edge, like a showdown towards the finale involving two old friends and a pair of trusty staple guns. Boredom, apathy, and contempt are the ingredients swirled about in Zero Motivation, and the results make for an indelibly entertaining film.
★★★½/☆☆☆☆☆