A "Staple" Female-centric Portrait: Lavie Adds Dark Charm to Bureaucratic Military Milieu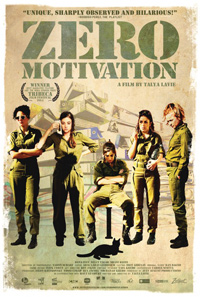 With a subject so entrenched with weight and political correctness, there seems to be unspoken set of expectations that come with the territory of any narrative involving the testosterone and blood-drenched subjects of military, war, and combat. These expectations shape but also restrict the genre itself: as a romantic comedy is to the female audience, so is the war film to the male one. By creating a darkly comedic template and by utilizing a fully-fledged female ensemble, Talya Lavie artfully subverts such expectations in Zero Motivation, and by doing so, redefines the boundaries of the genre and the potential of its reach without sacrificing great storytelling.
At an isolated Israeli base camp in the middle of the desert, best friends Daffi (Nelly Tagar) and Zohar (Dana Ivgy) struggle to find their footing in a place that only seems to fuel their boredom and desperation for a world beyond their own. Their lives relegated to humdrum as they push pencils and track down paperwork in their own oasis of an island: the human resources office, Daffi daydreams about the metropolitan life while Zohar strives to beat her own best score in Minesweeper. It's a bit like Office Space meets M*A*S*H. When newcomer Tehlia (Yonit Tobi) arrives, Daffi is thrilled that her barrage of letters for a location reassignment has paid off. Zohar, on the other hand, is not and as the two split up, she continues her own rebellion against the frustrating and increasingly claustrophobic bureaucratic system.
Lavie's aptitude with comedy and strong character writing shines through in her earlier repertoire of short films. Zero Motivation borrows from and expands upon Lavie's preceding short film The Substitute and though there is a seven year stretch between the two works, the strength and spirit is preserved within the feature. The film is divided into different sections which reflect the time before and after Daffi's transfer. A choice which could easily doom the narrative's trajectory into meandering, Lavie exhibits a sense of deliberation and purpose belonging only to seasoned players. Exemplified by the small gestures such as when Daffi dramatically threatens to kill herself by drinking White-Out which her colleague aptly supplies, Lavie proves a prospering brilliance in the darker aspects of hilarity.
This is a portrait of a niche world that is usually ignored or dealt with in more or less the same manner. Instead of combat, the world of military bureaucracy is visited and instead of camouflage-clad men, women are in the forefront. Although it's not entirely fair to compare Zero Motivation to other films with similar subject matters, its originality and approach sure is refreshing. And even though the film leans towards comedy rather than drama, there are mentions of the more difficult aspects of wartime as when their commanding officer berates Zohar for her nonchalant attitude in the midst of dying soldiers. One could argue that the film could push the envelope on such matters but by doing so, would have missed its intention.
★★★★/☆☆☆☆☆