The Shadowless Tower | 2023 Berlin Film Festival Review
The Polite Stuff: Lu Searches for Redemption Through the Walking & Talking Cure
In the strangely alluring The Shadowless Tower, (Bai Ta Zhi Guang) the fourteenth feature from Korean-Chinese filmmaker Zhang Lü, a handful of characters search for a more authentic way of living, even if they can't quite articulate this struggle to themselves or others. A middle-aged divorcee with a somewhat irregular living situation suddenly finds himself on the precipice of redefining his role in life as a father, a son, an ex-husband and, if he's lucky, a new boyfriend to a much younger woman.
Traumas from the past and familial estrangement suggest an inherent invisibility to both themselves and maybe others, weaved together into the metaphorical subtexts of the film regarding shadows as the kind of baggage we carry but also as conduits of substance, objects taking up space while moving about the world. Lightly humorous and not without some strident sentimentalism when it comes to the characterization of children, Lu's latest is often enchanting and moreover meaningful in its lessons on settling with the past.
Food critic Gu Wentong (Xin Baiqing) is a divorced father living on his own, his young daughter Smiley living with his sister and brother-in-law. Ouyang Wenhui (Huang Yao) is much younger, having collaborated on several of his articles as an accompanying photographer. Ouyang finds the older gentleman intriguing, and after a night of drinks and jibes, it seems a mutual flirtation has blossomed. Little by little, they learn about one another, discovering they both have significant traumas from their youth. Ouyang was sent to an orphanage in her hometown of Beidaihe, nearly two hundred miles from Beijing. This also happens to be where Gu's father lives, a man he has not seen since he was five years old. Gu's mother threw his father out of the home following his being charged with molesting a woman on a bus, which was considered a serious crime during this time period, for which he served a year in a labor camp despite his denial of the charges. Just as Gu's brother-in-law presents him with his father's phone number, he also begins to explore a potential connection with Ouyang, leading them both to a sense of reconciliation.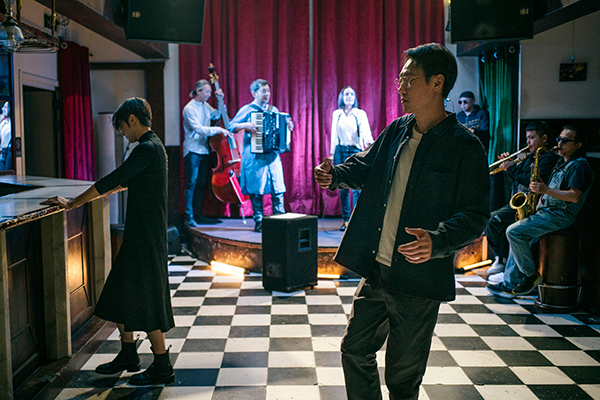 By its final frames, The Shadowless Tower bears similarities to Akira Kurosawa's 1952 classic Ikiru (recently remade in English as Living, 2022), where an aging beaurocrat suddenly seizes on the meaning of life before it's too late, singing the film's meaningful theme song, "Gondola no Ute," regarding enjoying life before it's too late, sitting on a swing in the park he'd built while the snow drifts softly around him. Winter is also used as an ending phase for Lu, a way to put an end to one season of discovery, at least for Gu Wentong. The titular tower, a looming White Pagoda, hovers in the sky above them, like a beacon which generates some peculiar wavers in the soundtrack, seemingly whenever Gu moves closer to a new kind of self-actualization. It's not so much this tower doesn't have a shadow, but their proximity doesn't allow them to see it.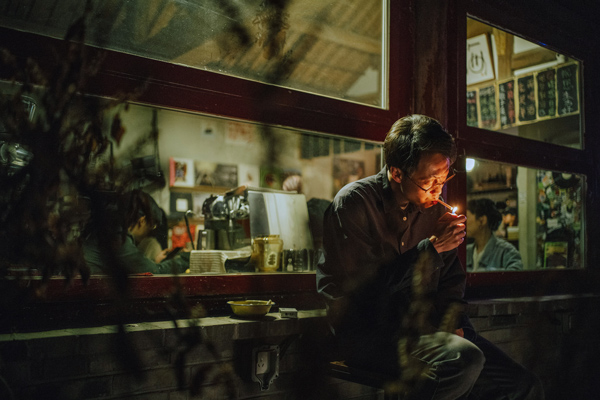 Initially, his flirtation with the vibrant Ouyang Wenhui seems like a non-starter. He's already left a sexless marriage, citing politeness between both parties as the rationale (though we come to find there are more intimate details he's leaving out), but Ouyang is determined, despite their significant age difference, to explore the possibility, often with droll humor (in particular, one scene where she role plays being his daughter, much to his chagrin).
Many of the film's best scenes are shared between them, mildly cajoling one another, each pushing the other in different ways. Lu edits some time lapses in the film, like the exploration of an abandoned orphanage Ouyang lived in as a child, the flower she's named for growing through the cracks in the edifice. It's these visual and aural flourishes which add a sense of emotional and narrative mystique to their journey. The real reconciliation arrives (at least faster than expected) thanks to her meddling, leading Gu Wentong to visit his father, attempting, perhaps for the first time, to contextualize an impossible situation from his father's perspective. Throughout it all is the notion of how politeness negates authentic communication, prohibiting any real connection. One must confront the problematic or inconvenient always lurking in the thoughts and feelings we conceal. As Turkish playwright Mehmet Muran Ildan wrote, "To speak with the shadow, you must know the language of the darkness."
Reviewed on February 20th at the 2023 Berlin International Film Festival – Competition section. 144 mins.
★★★½/☆☆☆☆☆