The Penalty (1920) | Blu-ray Review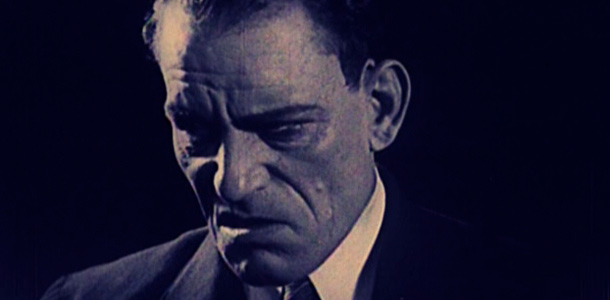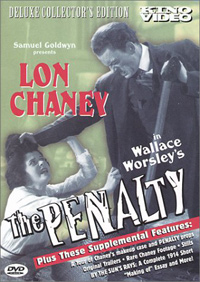 Lon Chaney fans can revel in Kino's Blu-ray transfer of The Penalty, featuring one of the thousand faces that first catapulted the extremely talented performer into one of the most celebrated careers in film history. As a double amputee, Chaney is in top form, the motif of the disenfranchised, the butchered, the mutated, the unloved outstretched in full glory here, once again, to the detriment of his own health.
The film opens with a title card announcing that there's been "A victim of the city traffic," and we see a young boy has been seriously wounded. A young Dr. Ferris (Charles Clary), however, has mistakenly amputated the boy's legs, a fact indiscreetly announced by the physician's older colleague, Dr. Allen (Kenneth Harlan). The young boy overhears their discussion and Dr. Allen's plan to lie to the boy's parents by saying that the amputation saved the boy's life. But even as the young boy insistently tries to tell the truth, there's nothing that can be done. Decades later, the young boy has grown into a ruthless lord of San Francisco's underworld, now known as Blizzard (Lon Chaney). He runs strange rackets, including holding a number of women as hostage employees that weave straw hats. Anyone that leaves his employment is murdered, and we're witness to his ruthlessness when he has a stray lady, Barbary Nell, assassinated in public. But the police are aware that Blizzard has some far reaching, nefarious operation currently underway ("That cripple from Hell," they refer to him), and they send in a female operative, Rose (Ethel Grey Terry) to wheedle her way into Blizzard's private life. Rose discovers that Blizzard has a passion for music, and often has his current favorite ladies dispatched to pump the piano pedals for him. As Rose gains his trust, Blizzard discovers a way to finally complete his plan, which is to force the original doctor that maimed him to transplant new legs on him, which he will then use to enact a horrible crime on the city. Dr. Ferris' daughter, Barbara (Claire Adams) has recently placed an ad looking for people that think they look like Satan to pose for a sculpture. Blizzard seems a prime candidate, and since he fixes it so no one else answers the ad, he gets the job, much to the chagrin of Barbara's suitor, whose legs he wants, and her father, who recognizes who Blizzard is immediately. Thus, all the pieces are in place for a crash course with fate, and someone has a penalty to pay.
Chaney, who always concocted his own crazy make-up for his on screen personas, certainly outdoes himself here, his legs strapped behind him in a complicated contraption while he walks on his knees. The pain was so significant that he often couldn't wear these for more than ten minutes at a time, and he ended up causing permanent damage to his lower leg muscles (similarly, he would permanently damage his eyesight with the homemade "growth" he placed over one eye to play Quasimodo). But here we have him, as the lead character in a feature length film, hobbling around, crawling up walls, and you forget he actually has legs stuffed up in there. Blizzard is a violent, nasty, and insane character, yet we can't help but feel he's justified with his intentions. Posing for the spoiled Barbara, watch his pained face as he relates how he knows so much about sculpting, from a father that rejected him cruelly after he became crippled, and you'll catch one of many moments that showcases Chaney's inimitable talent for sadness, pain, and rage. And The Penalty isn't without racy innuendo as there are those ladies he has under his feet, pushing pedals so they can "make beautiful music together." Boldness. You'll realize that everyone else falls to the wayside when on screen next to Chaney, his evil plotting here nearly as silly as those plans of power hungry comic book villains. What's interesting to note is that not only here, but in many other characterizations, his villainous creatures were the driving force of the film, and not some bland do-gooder acting solely out of altruistic vagaries. Chaney was the enraged, the embittered, the unsatisfied legion. Nowadays we have the fantasy of the superhero, but Chaney was the star of an array of characters that wanted acceptance, vengeance, or both.
Disc Review:
Kino presents us with this mastered print in HD from a 35mm restoration from the George Eastman House Motion Picture Department, and includes a new musical score by the Mont Alto Motion Picture Orchestra. The result is a beautiful package that would be appreciated by any silent cinema fan, but especially for any Chaney nuts out there. Additionally, there's some interesting special features of note, including a video tour of Chaney's makeup case and the "double amputee" costume from The Penalty, a 1914 one-reel Western starring Chaney, "By the Sun's Rays," as well as the only surviving footage of a 1919 film, The Miracle Man. Also there are two theatrical trailers for Chaney vehicle The Big City and While the City Sleeps.
Chaney's Secrets Remade
Michael F. Blake, a Chaney historian, leads us through interesting tidbits of Chaney's life and makeup artistry as we explore the box with him. He gives us an in-depth examination of the costume used by Chaney for this film.
By the Sun's Rays
Chaney plays a small time bad guy in this straightforward little Western short. There's not much of interest besides his small role here.
The Miracle Man
The only surviving footage for this 1919 feature is an intriguing snippet of what looks like a lost classic, with Chaney playing a fake cripple trying to trick a man that claims to heal the sick.
Trailers
Two trailers, for The Big City and While the City Sleeps (both 1928) are also some intriguing tidbits for Chaney fans, but, like the "reconstructed from photo stills" 1927 film London After Midnight, released in a Lon Chaney collection from TCM, one can't help but be saddened by the many films that will forever be unavailable to see starring the great Chaney.
Final Thoughts:
The disc is a must have for Chaney collectors, and director Wallace Worsley would go on to direct Chaney several times, including The Ace of Hearts (1921) and the iconic The Hunchback of Notre Dame (1923). But really, this would make a great companion piece to one of the Chaney's best features, Tod Browning's 1927 The Unknown. Browning also collaborated several times with Chaney, and wanted the actor to star as Dracula in his film version, though Chaney died shortly after making his only talkie, The Unholy Three (1930). But in The Unknown, Chaney stars as Alonzo, the armless knife-thrower, in love with a woman (Joan Crawford!) who is terrified of mens' hands. Legless, armless, but never heartless, whatever the film, you watch it for the amazing Lon Chaney. And The Penalty is certainly worth your time.