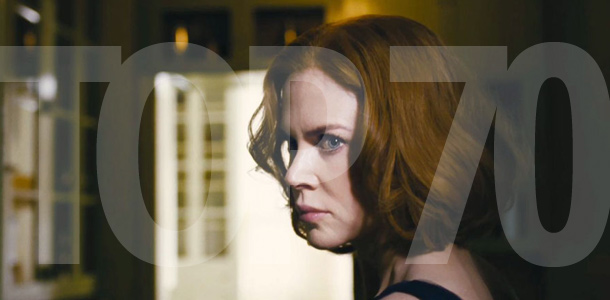 Despite having shown a pair of his films (Old Boy and Three…Extremes) at the 2005′s edition, I would normally not have even consider including Stoker and its all-star cast of Nicole Kidman, Mia Wasikowska, Dermot Mulroney, Matthew Goode, Jacki Weaver, Lucas Till and Alden Ehrenreich for this Sundance predictions line-up, but once Fox Searchlight flagged this as a February 28th release, my first thought was: where else besides Berlin would this Chan-wook Park might hit? The trailer gives us the impression that is his first English language project is a moody, stylized one and certainly would be a main attraction for the fest. Chances are slim.
Gist: Written by Wentworth Miller, after India's (Wasikowska) father dies in an auto accident, her Uncle Charlie (Goode), who she never knew existed, comes to live with her and her emotionally unstable mother (Kidman). Soon after his arrival, she comes to suspect this mysterious, charming man has ulterior motives, but instead of feeling outrage or horror, this friendless girl becomes increasingly infatuated with him.
Production Co./Producers: Michael Costigan and Scott Free's Ridley and Tony Scott (R.I.P)
Prediction: Premieres section
U.S. Distributor : Fox Searchlight
Eric Lavallée is the founder, editor-in-chief and film critic at IONCINEMA.com (founded in 2000). Eric splits his time between his home base in Montreal, NYC, and is a regular at Sundance, Cannes and TIFF. He has a BFA in Film Studies at the Mel Hoppenheim School of Cinema. In 2013 he served as a Narrative Competition Jury Member at the SXSW Film Festival. Top Films From Contemporary Film Auteurs: Almodóvar (Talk to Her), Coen Bros. (Fargo), Dardennes (La Promesse), Haneke (Caché), Hsiao-Hsien (Three Times), Kar-wai (In the Mood for Love), Kiarostami (Taste of Cherry), Lynch (Mulholland Dr.), Tarantino (Pulp Fiction), Van Sant (My Own Private Idaho), von Trier (Breaking the Waves)
You may also like...
Trieste Kelly Dunn
"I focused on feeling wronged and that something was taken from her, and that taking it from someone else who deserved it felt heroic and right, despite it being wrong and irrational." Read more

Review

Interviews

In Theaters

18 Apr

11 Apr

04 Apr

02 Apr

28 Mar

21 Mar

14 Mar

07 Mar

28 Feb

21 Feb

Masthead

Facebook