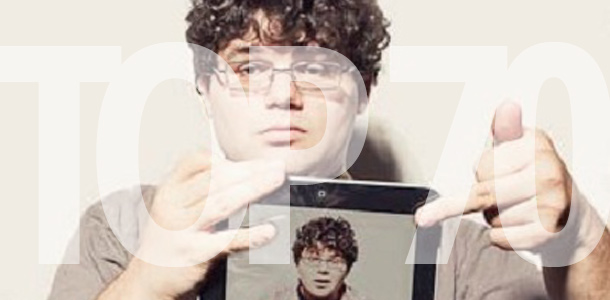 Before directing his debut feature film this past July in Los Angeles, Jacob Vaughan (pictured above) came from a background in editing (working for Duplass Bros. projects including the Sundance accepted Baghead, Cyrus and Black Rock). Coming across like a twisted version of The Beaver, Milo is a comedic horror film featuring Ken Marino in the lead alongside Patrick Warburton, Peter Stormare, Gillian Jacobs, Stephen Root, Jonathan Daniel Brown and Mary Kay Place.
Gist: Penned by Vaughan & Benjamin Hayes, this centers on a man (Marino) with intense stomach trouble who learns to his horror that he has a demon living in his intestines. When he gives it permission to come out during a therapy session, the man names it Milo and tries to live a life in which he, not his demon, is in charge. Jacobs will play Marino's wife, and one of the stresses in his life. Stormare plays the man's shrink.
Production Co./Producers: New Artists Alliance's Gabriel Cowan and John Suits, Adele Romanski (The Myth of the American Sleepover) and the Duplass brothers.
Prediction: Park City at Midnight and/or a SXSW showing.
U.S. Distributor: Rights Available
Eric Lavallée is the founder, editor-in-chief and film critic at IONCINEMA.com (founded in 2000). Eric splits his time between his home base in Montreal, NYC, and is a regular at Sundance, Cannes and TIFF. He has a BFA in Film Studies at the Mel Hoppenheim School of Cinema. In 2013 he served as a Narrative Competition Jury Member at the SXSW Film Festival. Top Films From Contemporary Film Auteurs: Almodóvar (Talk to Her), Coen Bros. (Fargo), Dardennes (La Promesse), Haneke (Caché), Hsiao-Hsien (Three Times), Kar-wai (In the Mood for Love), Kiarostami (Taste of Cherry), Lynch (Mulholland Dr.), Tarantino (Pulp Fiction), Van Sant (My Own Private Idaho), von Trier (Breaking the Waves)
You may also like...
Andrew Droz Palermo (Rich Hill)
"This extended into the treatment of the kids, as much as humanly possible – I was on the ground shooting up and wide at them – trying to make them look larger than life, like heroes." Read more

Review

Interviews

In Theaters

08 Aug

23 Jul

18 Jul

11 Jul

09 Jul

04 Jul

02 Jul

27 Jun

Masthead

Facebook
Coming Soon
09/30/14
10/24/14
11/14/14