Urbane Safari: Ben Drew's Debut an Exercise in Abject Miserabilism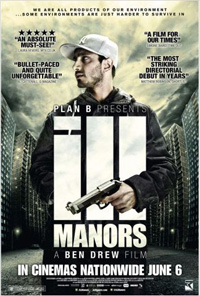 British musical artist Ben Drew, aka Plan B, makes his directorial debut with a story of the mean streets, iLL Manors, a misery tinged tale concerning a handful of characters residing in East London's Forest Gate. Locale aside, Drew's feature easily conjures itself as kin to some of the grittiest and best examples of cinema examining life in an urban ghetto, and is equally as bleak as a host of recent titles coming out of Russia, the heavyweight champ of cinema depicting life as an endless cycle of dejection. With pronounced stylization, Drew's cinematic debut is as completely engrossing as it is often off-putting, and heralds an excellent new authorial voice in cinema. A rampage of blood, drugs, and dead dreams, this is the poetry of souls lost.
Our eight main characters whose paths interweave throughout the narrative are introduced with a song that fills us in on their terrible, bitter histories. Drew's hit single of the same name opens the film, a protest song about the London Riots, setting the stage for the anger and frustration we're about to see. Dealers Ed (Ed Skrein) and Aaron (Riz Ahmed) flee from the cops, who detain Ed, but not before he transfers his stash and phone to Aaron. But when Aaron accidentally leaves Ed's phone at a slum house, junkie prostitute Michelle (Anouska Mond) takes the phone and loses it, causing a violent and degrading encounter with the two dealers upon Ed's release. Then there's the ex-drug dealer and crack addict, Kirby (Keith Coggins), newly released from prison, trying to readjust to the streets, where Chris (Lee Allen), previously Kirby's protégé, is now a big time local gangster. Kirby's thoughtless victimization of another dealer, Marcelle (Nick Sagar), sets off a chain of events involving a young teenager, Jake (Ryan De Lacruz Indianda), a new recruit whose murderous assignment results in a tragic, accidental death. And then there's Katya (Natalie Press), an illegal immigrant who has recently escaped her Russian sex traffickers with a newborn in tow. Crossing paths with Michelle, Katya finds a friend, but when she's discovered trying to flee the city via train by the traffickers, Katya is forced to leave behind her baby, which just so happens to be on a train car where Aaron is riding. Carrying an illegal weapon he has recently come upon, Aaron takes the baby to hide the weapon, which sets off a final chain of events that decides the fate of our intersecting characters.
Based on Drew's short film, Michelle, he has created a sprawling feature length street saga that, despite even it's most repulsive elements, bears the refrain that the individual choices we make shape our everyday lives. A majority of the actors are unprofessional, though Drew casts up and coming actor and well known music artist Riz Ahmed as our sympathetic protagonist, perhaps the only beacon of humanity intent on doing the right thing on display throughout the narrative. As much as Ahmed stands out here, the under-appreciated Natalie Press is featured to excellent effect in the latter half of the film, her downtrodden motherhood a moving counterpoint to her very memorable role in Andrea Arnold's 2003 short film, Wasp. Drew's background in music videos is quite evident throughout iLL Manors, his aggressive styles coordinating perfectly with the blighted locales and desolate subject matter.
If there's any drawback to the film, it's not the excessive miserabilism on display, for the daily grind of these characters, based on people Drew has encountered in his own lifetime, feels uncomfortably realistic. Rather, there's an unfortunate amount of convenient intersecting of narrative strands that can't avoid a sense of cliché, no matter how brutal or creative the excellent packaging. And some of the characters (in particular, Kirby) end up feeling a bit crudely hewn, with only fragmented snatches of a song depicting their plights, wishes and dreams, and nothing else.
While Drew doesn't leave us completely without hope for everyone in iLL Manors, there's an unavoidable sense of apathy for the lives played out for us on screen. "Truth is here, we're all disturbed," he tells us in the song of the same name. And for those unlucky enough to be stuck in the slums, there forever will be a cycle of disturbance, broken adults breaking in their children, with a new generation viciously brooding to take the reins as soon as the elders in control inevitably fall.
Reviewed on September 09 at the 2012 Toronto International Film Festival –VANGUARD Programme.
102 Min.