A Nazi At My Table: Puenzo's Latest an Eerie Reimagining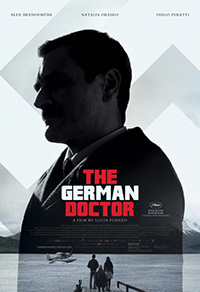 Argentinian director Lucia Puenzo once again adapts one of her own novels for her latest offering, an intriguing period piece, The German Doctor. Whereas her 2009 adaptation of The Fish Child unraveled itself with a series distracting narrative flourishes, her latest effort is a bit more reserved, a simple and straightforward tale that manages to build a sinister simmer, even distracting us from what audiences familiar with historical accuracy already know will happen. While avoiding the use of Nazism and the perverse case of Dr. Mengele as an exploitative element, the rather demure narrative only hints at the possibility of the notorious and despicable terrors residing underneath the calm visage of a stranger that upends one unremarkable family's livelihood.
Set in early 1960's Patagonia, a man by the name of Helmut Gregor (Alex Brendemuhl), becomes fascinated with an underdeveloped twelve year old girl named Lilith (Florencia Bado), and he follows her family as they happen to be on their way to a remote village where her parents will be renovating and opening a hotel. Enzo (Diego Peretti), Lilith's father, happens to have a passion for making porcelain dolls, his goal to instill each unique doll with its own beating heart.
Wheedling his way into their good graces, first by offering to fix Lilith's titular doll of the title, Helmut smooth talks his way into being their first guest, and it's not long before he convinces Lilith's mother Eva (Natalia Oreiro) into treating her daughter's stunted growth with hormone injections. But Enzo doesn't quite trust the sinister man and forbids the treatments, which, due to some good old fashioned bullying by Lilith's callous peers causes Eva to break down and seize Helmut's handout. Of course, Eva happens to be pregnant with twins, and the good doctor can barely contain his excitement at the thought of treating the gullible housewife. However, Enzo isn't the only suspicious denizen, as the local photographer, Nora (Elena Roger) discovers that Helmut is really Dr. Josef Mengele.
Puenzo leaves behind the queer elements that have defined her previous works (her debut was the very well received 2007 film, XXY) for this understated fictional account of one family's run in with the notorious Angel of Death. While Mengele did indeed spend some time in Argentina, he died in Brazil in 1979, so we are well aware that Puenzo is hardly trying to recreate history for dramatic thrills (especially not in the vein of the surprisingly effective 1978 horror film, The Boys From Brazil in which a first rate Gregory Peck plays the mad doctor).
Those well versed in WWII history that are aware of the unspeakable experiments Mengele performed on twins, his favorite obsession, not to mention the well documented experiments he continued to practice on pregnant women while he hid out in South America, will perhaps find Wakolda all the more chilling. Others will find Puenzo's marked lack of character development makes the film a bit muted. And while Enzo's porcelain dolls and their mechanical hearts serve as a glaringly obvious metaphor, one can't help but appreciate the lurid flourish of the disguised monster convincing the doll maker to abandon his idea of making each and every doll unique. "You should mass produce these," he suggests, even offering to invest in the project. The broken doll The German Doctor also serves as a representative of the film as a whole, a fabricated heart that has no pulse, but is at least fashioned unlike any other.
Reviewed on May 22nd at the 2013 Cannes Film Festival – Un Certain Regard.
Note: This was originally review under the title Wakolda.