1, 2 Step: Griffiths' Debut Features Solo Frost in Winning Performance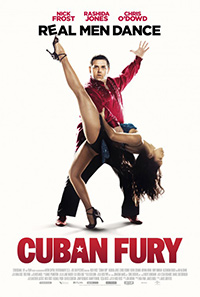 Though it may not command a notable shelf life in your memory, and even as it wins you over with its affable pleasures it may still not seem entirely probable, James Griffiths' directorial debut, Cuban Fury, features a handful of winning performances, notably led by Nick Frost, stepping out as lead from under the sidekick shadow of Simon Pegg. Suckers for romantically inclined comedies should be roped right in, but it's got enough charm to overcome the sticky trappings of its generic formula. More surprising is how charming Frost is on his own and in a role that he's clearly put a lot of work into (even if the use of a body double seems apparent in more strenuous scenes).
In 1987, 13 year old Bruce Garrett was a Salsa dancing sensation. But a devastating incident of bullying caused him to leave behind his passion, angering his committed coach, Ron Parfait (Ian McShane). Now 22 years later as an unhappy adult working at GFD Engineering, Bruce is an overweight slob who leans on his equally unmotivated sister (Olivia Colman) and two besties (Rory Kinnear and Tim Plester) for moral support. But the arrives Julia (Rashida Jones), a new sales chief that hails from the US and Bruce finds himself smitten, though the resident asshole, Drew (Chris O'Dowd) already has his sights set on conquering her. When Bruce learns that Julia is a committed Salsa dancer, he looks up his old teacher to brush up on his old passion, which soon reenergizes him.
While the look of Cuban Fury is considerably bland, considering that cinematographer Dick Pope (who's worked on several high profile Mike Leigh films) was on hand, it moves along at an engaging enough pace to bypass it's minor flaws. However, while an entertaining dance-off between Frost and O'Dowd (which features a surprise cameo) does induce a few chuckles, it also serves to highlight that, even with the preparatory work put in by Frost, he's not quite believable as a Salsa sensation. Likewise, Rashida Jones, who has proven time and again an aptitude for playing charming beauties whose sensibilities exist on the cuff, isn't allowed quite enough room to make her blossoming romance seem believable. Sure, Bruce can dance, but what else does she (or do we) really know about him?
Some of the talented supporting players aren't quite utilized to their potential, such as Alexandra Roach (soon to be seen in a winning performance in One Chance) and the extremely talented Olivia Colman (who does get to look fierce as her brother's dance partner in the third act). McShane and Kinnear get a bit more dramatic heft out of their handful of scenes, while O'Dowd is an effectively smarmy antagonist. But it's Kayvan Novak who steals the show with his turn as a flamboyant sidekick to Frost. A role that could have been played for cheap laughs or moronic punch lines supersedes it's trappings as mere moral support for the film's heterosexual hero with Novak's heartfelt and hilarious turn.
While it doesn't bypass cliché, Cuban Fury at least uses them to its own advantage. Though it shortchanges us on some characterization (which would really help Novak's character seem more than the thankless GBF), it achieves its aim of leaving you with a pleasant aftertaste.
★★ 1/2 / ☆☆☆☆☆