Reviews
Young and Beautiful | Review
Airy & banal, Ozon's Latest is as Indistinct as its Title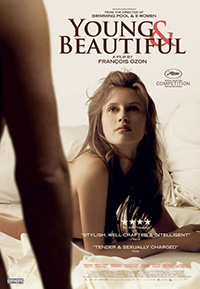 Moving right along the trajectory we're all well familiar with by now, François Ozon makes yet another sexed-up François Ozon film with this tale of a year in the life of a nubile seventeen year-old prostitute. With plenty of beautifully photographed flesh to prevent a heavy onset of boredom, Jeune et Jolie suffers from a sterile first half that feels just like any other erotic French drama; attempts at characterization are actively avoided, and it makes for a removed viewing experience – however intentional it may be – that does the film few favors. At times resembling a watered down Catherine Breillat film or a less idiosyncratic remake of Julia Leigh's Sleeping Beauty, only a 2nd act tonal shift toward lighter Ozon territory livens things up, before fluttering to a landing (or two…or three…) that reveals Ozon's struggle to arrive anywhere meaningful with this ultimately superficial affair.
Ozon actively deceives viewers on numerous occasions, starting things off with a standard coming of age set-up that sees Isabelle (portrayed by the strikingly perfect – anatomically speaking – Marine Vacth) courting a hunky German body surfer. He quickly pops her cherry, which sends the film into a new season, and Isabelle into an unexplained venture into prostitution – all of her clients ranging from middle-aged to 'on their way out.' The lack of motivational insight would be more striking were Isabelle's (or anyone's) gestures as humans even remotely curious, but with Vacth often imitating a walking mannequin and her clients playing model stereotypes of wealthy old fellas who pay for sex with hot girls, there isn't much to get excited about beside the almost Gregory Crewdson-esque gloss of Pascale Marti's almost Vogue-grade lensing.
Once the nature of Isabelle's double life is unveiled to her family and friends, the film takes a refreshing turn toward lighter territory. The idea that she could and would sleep with anyone and everyone (even her step-father) is hardly suffocating or used for dramatic nonsense; Ozon is aware of the awkwardness of the young girl's exposure, and milks it in a tone that feels both one with and outside of where the film had been heading. The traumatic incident which called the end to her addictive occupation makes the new-found humor feel even more dissonant and bizarre, and at least there was now something in the film to grab on to. Isabelle's normalization as an every-teenager progresses the film to a new form of banality as we await an impending relapse, while M83 and Crystal Castles tracks break away from Philippe Rombi's Mahler-esque score (which vaguely evokes Visconti's own tale of tragic lost youth, Death in Venice), to further emphasize her return to life of an 'average' seventeen year-old girl.
While he's crafted a technically stunning and handsome package, Ozon's intentions only reveal themselves to be mysterious and marginal; it's all rather unsatisfying once the credits roll. Several false endings bring the film to a final moment – a bit out of nowhere – surely meant to be poignant but that registers as unearned and empty. Vacth ought to get plenty of notices if not for her restrained performance than at least her physique, while Jeune et Jolie itself should join the line of recent Ozon films that fail to capture his old spark and relevance.
Reviewed on May 16th the 2013 Cannes Film Festival – Main Competition section
93 Mins.