The Florida Project | Review
Zip-a-Dee-Doo-Dah: Baker Offers A Portrait of the South Like No Other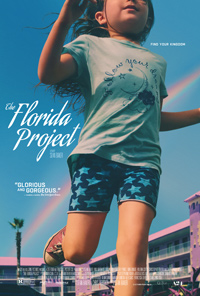 This time out we can move away from lazily defining  Sean Baker's cinema as "micro". While the term characteristically describes the film's diminutive stars, Baker's sixth feature film's production value and economy of means are limitless in scope.
An apolitical and infectious dramedy that doesn't attempt to sugarcoat the fate of its inhabitants or worse, define itself with a miserabilism template for dramatic weight purposes, The Florida Project certifiably makes the argument that the bonding and commonality found in friendship and stronghold notions of community make for a unified front. Comprised of a mix of non-professionals (Baker excels in giving us first-rate performances derived from first-timers) and a Willem Dafoe who remarkably shines in what is an assertive, buckle-up supporting character role, for its sincerity, aliveness and big on life stance, this character set will remain engrained well past the film's runtime.
An escapist gateway prior to Disney World's opening in the early 70s, the sunshine state does have a boundless vacation like quality about it even for the fringe class, or at least this is how Baker and co-scribe Chris Bergoch confection the young protagonist's immediate world. Playtime, too much time and nothing to do, the paradox of being so close to the magic kingdom is copiously referenced. In parking lots with missteps from lost tourists, unkept wilderness that is real estate ventures that went south, and the commodification of the land with outlets filled with empty souvenirs, in essence, dreams come true but, for those who can afford it.
Shot in wide angle 35mm, including some choice low to the ground child's-eye view set-ups, Beasts of the Southern Wild's child protagonist comes to mind, but here, the quick on her feet cursing drunken sailor shaped (Brooklynn Prince) Moonee's quotidian and her off the beaten path is part fantasy and, heavy dose of reality. We quickly establish that the amount of freedom a child has access to might be a determining measuring tool for good parenting, and while mom (an exuberant and off-the-cuff Bria Vinaite) has tattoos that shout bad life choices, there is indeed a difference between carefree and, careless. Because of the multi floor structure it means, play friends Scooty and Jancey are either on a couple of doors down we become first hand participants in acts of generosity and tension.
Outside that protective barrier and within "spitting" distance, is a world meant for exploration, an alienating almost sci-fi in nature (think David Gordon Green's George Washington) landscape is perhaps more childproof than inner motel rooms with blaring infomercials and a parking lot where heated debates can easily break into a fight. Beyond fixing ice machines, or giving a new coats of paint, the character of Bobby (Dafoe) becomes a pivotal figure. The amount of upkeep needed to avoid decay means this book per night places were never imagined as long term family unit.
With the exception of a brief pair of encounters with Jack (Caleb Landry Jones) suggesting that his former union ended in separation, there is very little in terms of backstory provided but what is empathically underlined is that Bobby might know a thing or two about loss, or at least being on the outs. Luminous backdrop of the sky from balcony vantage points with freshly lit cigarette are rare moments of reprieve but not dialed down responsibility. He is a fascinating character with a heart of gold, who is both groundkeeper and keeper of the peace.
Minimalist in terms of plot, and harkening back to his earlier films, text and dialogue push forth an agenda that focuses on fleeting sense of happiness. Enough trappings to keep a person submerged, they even have their own Julia Roberts' Pretty Women moments, even bathtub time of innocence pushes forward the beauty in ugliness agenda.
Coincidently on point with the fringe population that will be further penalized and marginalized in Trump's America, this endlessly fascinating and moving non-overtly towards a cathartic final act, Baker effortlessly gives us one last reprieve from a chapter that no one is in a rush to visit. This sequence avoids any ambiguity about their fate, and perhaps makes a stronger case that life outside the Magic Kingdom's limits where playing with food, mixing strawberries and raspberries (wink to Amelie Poulin) makes a strong case that there should be a common ground for fantasy and survivalism. Comparatively, Alexis Zabe's low angle mastery, and magic hour pure naturalism in Carlos Reygadas' Post Tenebras Lux is refashioned here for child exploration and zestful wander.
With a strong palette and winning performances, this is a personalized cinema that carries some of the DNA found in his is previous efforts prior to Tangerine and with a fundamentally more glossy aesthetic, The Florida Project sees Baker serve up what will be one of the most talked about samples of American indie in 2017, while Dafoe serves up one of his best supporting performances in his filmography.
Reviewed on May 22nd at the 2017 Cannes Film Festival – Directors' Fortnight. 112 Mins.
★★★½/☆☆☆☆☆