Features
2014 Sundance "Trading Cards" Series: #19. Aaron Katz (Land Ho!)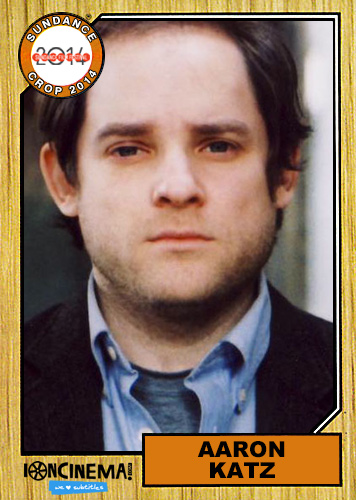 Eric Lavallee: Name me three of your favorite "2013 discoveries"…
Aaron Katz: Calvados (apple brandy from Normandy), Tzolk'in: The Mayan Calendar (a great new board game), Rattlesnakes (a 1984 album by Lloyd Cole and the Commotions), and, as this is a baseball inspired idea, I'll add Matt Harvey as a fourth pick.
Lavallee: You've co­-directed a project before so that was not foreign to you. I was wondering how you and Martha agreed to come together on Land Ho! and what was the working process like during the writing phase?
Katz: Because we were viewing the project as somewhat of an experiment, and we agreed right off the bat about what the parameters should be, the collaboration was very smooth. In the writing process we passed things back and forth. At first a collection of ideas and pictures and then, after visiting Iceland to scout, Martha wrote an outline of everything. From there, I wrote the first draft and then we passed it back and forth to refine.
Lavallee: With Aaron Katz, Keegan DeWitt was born and now he belongs to the film world (his paws are on Listen Up Philip as well). Could you discuss what were some of the challenges (in terms of compositions) you brought to him for Land Ho!.
Katz: Keegan and I have worked together on all of my movies, but this one was a different kind of challenge. We wanted the score to have elements of 80s pop without getting too campy about it. We listened to a lot of music — everything from Richard Marx to T'Pau — to find the right inspiration. Eventually the score evolved into something that was rooted in the kind of music you'd find in an 80s road trip movie, but executed with a thoughtful and contemporary sensibility.
Click on the card below!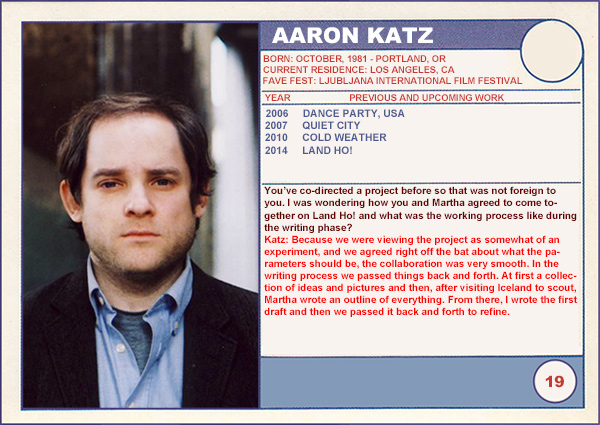 [related]2014 Sundance Trading Card Series[/related]