Features
2014 Sundance "Trading Cards" Series: #5. Alex Ross Perry (Listen Up Philip)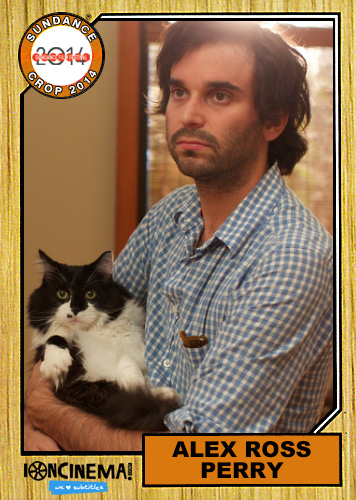 Eric Lavallee: Name me three of your favorite "2013 discoveries"…
Alex Ross Perry: 1) I finally saw Jean-Luc Godard's Histoire(s) du cinema (10/30/13). Words fail me, but after sitting in a theater watching it for nearly six hours, I felt like the total sum of cinematic achievement had passed through me like a beam of light. 2) Trance a/k/a Der Fan (10/31/13, VHS at home). Very ashamed that this had eluded me for so long. This was the perfect finale to a small Halloween marathon. It seemed perilously not like a horror film, despite the looming certainty that something awful could happen at any moment. Eventually it does. 3) The Immigrant (10/09/13). I felt watching this film on a cold October morning a mere two days after finishing a five week film shoot that I was seeing a new classic. A film that will live a very long time and be very meaningful to many who see it. James Gray does it again!
Lavallee: What's the genesis behind Listen Up Philip? I imagine you've had writer's block struggles of your own but which facet comes easier to you: the fleshing out of dialogue, characters or narrative denouement?
Perry: Throughout 2011 when The Color Wheel was playing at various festivals, I noticed the extent to which I was becoming an absence in people's lives, both people I cared deeply about and people I didn't care about at all. It became interesting to me to think that the "better" things were going for me, the less I saw of people, the less time I spent at home, and so on. In tandem with this, I was reading William Gaddis' novel The Recognitions and it touched on similar issues to the ones I was experiencing. It is 1,000 pages long and the main character becomes a phantom for at least 500 pages in the middle. It deals with the artistic milieu in New York and although it is from 1955, it felt as current and urgent as anything.
Once I had this idea for a sort of absence-driven movie, it was clear that the 'New York movie' ideas I had been tinkering on for some time were well suited for this framework. The characters were there, the structure was there and everything else just sort of appeared.
Lavallee: You managed to pull Eric Bogosian from the out of the woods. How did you cast the Talk Radio figure and could you discuss the creative use/inclusion of narration in this project.
Perry: I don't know if he was in the woods, I think he was just home in Tribeca. I believe he has been focusing on theater work recently, reworking his monologues and performing them on stage. One of our producers, Josh Blum, has a long standing relationship with Bogosian and that made him becoming our narrator possible. The idea behind having a narrator is simply that it is a seldom-used device in films and I personally love it. While editing The Color Wheel I became frustrated with the limitations of the way a 'normal' film plays out, meaning that a scene between two characters must begin with some sort of dialogue driven explanation of their relationship in order to orient the audience to what is about to take place. At that time I said to myself that my next film should have a third-person narrator who enriches and enlightens the interactions we see taking place. It is a pretty simple novelistic device and for a film about novelists, couldn't have seemed more appropriate.
Lavallee: This is your all important third feature film what would you say were vital lessons that carried over from Impolex and The Color Wheel?
Perry: I consider this my third first film, since each one has been so different in terms of experience, size, scope, and so on, I really have not ever made anything that wasn't exponentially larger than the thing before it. Impolex taught me how to pull a movie together, organize the production, see it through to completion all by myself, and so on. The Color Wheel taught me the rules and limitations of traditional narrative filmmaking but more importantly taught me a lot about how careful we should be when it comes to making sure that every single person involved with your film gets it, and is on the same page.
Each film has a different pulse. Impolex was made with five of my closest friends. We all breathed as one. I wanted Listen Up Philip to return to that feeling, which was nerve wracking since I would be working with well known, professional actors for the first time. I have to give them all the credit because every single one of them couldn't have been more in step with the material than if we'd all written it together.
Lavallee: What's your favorite festival?:
Domestic: Maryland Film Festival. The best, most communal and inclusive experience any filmmaker can have on American soil. The exact right size, best hotel, amazing programming, and the best food options of any festival. International: Festival del film Locarno. Sort of the same experience but writ large, minus the good food. Nothing but opportunities to spend time with and get to know every other attending filmmaker every single night.
Click on the card before!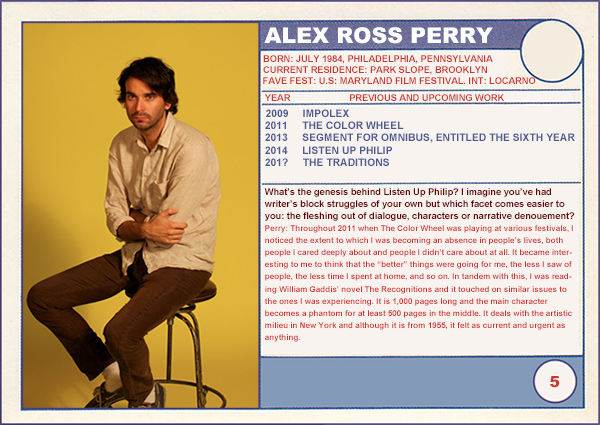 [related]2014 Sundance Trading Card Series[/related]