Features
Best of Fest – Docs: Citizenfour Continues Historic Run, Patricio Guzmán Makes Triumphant Return
Award season as come to a close, and we've all been witness to what is a historic unprecedented run for one urgent film. The ripple became a wave when we were on hand to witness Laura Poitras collect multiple awards at the Cinema Eye Honors, and as predicted, the Academy Awards capped off a historic awards season run with an Oscar win. Here is our roundup and recap of the previous month's film festival and award season headlines related to the docu film world.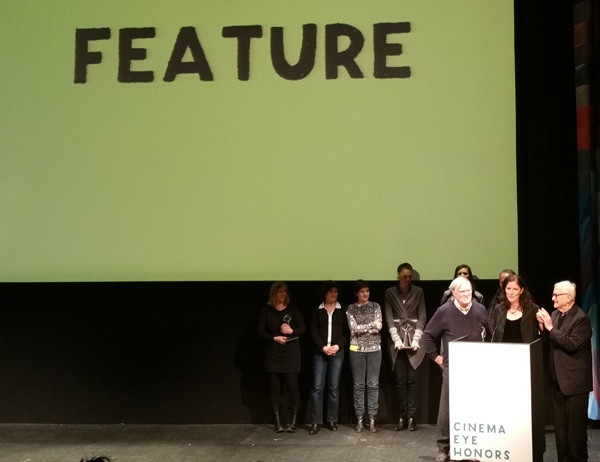 Academy Awards
While Citizenfour took home the award for best documentary of the year, Ellen Goosenberg Kent and Dana Perry's Crisis Hotline: Veterans Press 1 was given the Oscar for best short doc.
Berlin International Film Festival – Germany – February 5th – February 15th
When Darren Aronofsky and his presiding jury members announced the Berlinale winners, Patricio Guzmán's long awaited follow-up to Nostalgia For The Light, the competition entry El botón de nácar (see featured still above) was awarded a pair in the Prize of the Ecumenical Jury, and oddly, the Silver Berlin Bear  for best script. Francesco Clerici's Hand Gestures, screening as part of the took home the Berlinale Forum, won the FIPRESCI Award, while in the Berlinale Panorama program, The New Man by Aldo Garay won the Teddy Award for Best Documentary/Essay Film, Jim Chuchu's Stories of Our Lives (see trailer below) won the Teddy Jury Award, and Samir's Iraqi Odyssey took the 3rd Place Panorama Audience Award.
Big Sky Documentary Film Festival – USA – February 6th – February 16th After ten days of non-fiction nirvana in the valleys surrounding Missoula, Montana, Dave Jannetta's supreme Hot Docs preemed small town mystery Love and Terror on the Howling Plains of Nowhere (see trailer below) won the Big Sky Award for honoring the character, history, tradition and imagination of the American West. The top prize for doc feature went to a Norwegian film about a golden aged brother and sister titled Siblings are Forever, directed by Frode Fimland, while Andrew Renzi's Fishtail received the Artistic Vision Award for presenting "a quiet nostalgic beauty for a way of life that has drifted from mainstream consciousness."
British Academy Film & Television Awards
Unsurprisingly, director Laura Poitras, editor Mathilde Bonnefoy and producer Dirk Wilutzky accepted the award for Best Documentary for the their film, Citizenfour.
Film Independent Spirit Awards
It may have been more productive to list the awards that Citizenfour didn't win. Poitras and the team once again took home the honors for Best Documentary (see her acceptance speech below), foreshadowing her Oscar win the following night.
Hot Docs Film Festival – Canada – April 23rd – May 3rd
Midway through the month, Hot Docs announcd a selection of 17 films primed to screen as part of their Special Presentations program come late April. Along with a pair of world premieres in Robert Cohen's Being Canadian and Violeta Ayala's The Bolivian Case are various festival circuit imports, including the Ross Brothers' Western, Tom Roberts's Every Last Child and Camilla Nielsson's Democrats.
MoMA's Documentary Fortnight – USA – February 13th – February 27th
Started back in 2001, this NY non-fiction staple has been bringing cream of the crop docs from around the world to domestic soil. This year the series played host to 21 feature films and seven short films, a performance lecture, an archival film program, and a flat-screen installation, among them was Storm Children, Book One, the latest by slow cinema master Lav Diaz, Around the World in 50 Concerts (see trailer below) by Peruvian-born Dutch director Heddy Honigmann and Arash Lahooti's Iranian born Trucker and the Fox.
New Directors/New Films – USA – March 18th – March 29th
On February 23rd, the complete lineup of the 44th edition of ND/NF was announced, which includes a handful of docs, including the 2014 Locarno Film Festival's Best Emerging Director prize winner, Simone Rapisarda Casanova's hybrid feature, The Creation of Meaning, as well as Stevan Riley's Sundance preemed Listen To Me Marlon.
SXSW – USA – March 13th – March 21st
With each passing year this Austin based fest seems to leave a bigger footprint in the doc landscape. Boasting of big names and big titles like Alex Gibney's Steve Jobs: The Man in the Machine, Alex Winter's Deep Web and Ondi Timoner's BRAND: A Second Coming, unearthed retro gems in Les Blank's 1972 unreleased film A Poem Is A Naked Person and so much more, SXSW announced their lineup this past month.
True/False Fest – USA – March 5th – March 8th
Being that I'll be attending this non-fiction haven later this week, I couldn't have been more overjoyed by the news of the lineup announcements that dropped mid-February. Playing like a greatest hits of the last half year, the fest is screening critically lauded docs from all around the world, including big names from Sundance like Brett Morgen's Kurt Cobain: Montage of Heck and Morgan Neville and Robert Gordon's Best of Enemies, but a variety of littler known films like Tonje Hessen Schei's Drone (see trailer below) and Abner Benaim's Invasion.
http://youtu.be/i43vSC-dTC0
ZagrebDox – Croatia – February 22nd – March 1st
The 11th edition of Croatia's premier doc fest handed out their awards last Saturday, honoring Orlando von Einsiedel and his film Virunga with the Big Stamp for Best Film in International Competition, while Virpi Suutari's Garden Lovers and Hanna Polak's Something Better To Come both received special mentions. Winner of the Big Stamp for Best Film in Regional Competition was Cain's Children by Marcell Gerö, while Damir Ibrahimović's Russian received a special mention.