Reviews
The Second Best Exotic Marigold Hotel | Review
The First Best Loser: Madden's Wholly Unnecessary Sequel an Exercise in Nothingness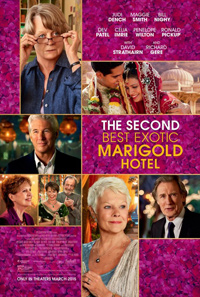 Pandering is the word that best describes the tone of The Second Best Exotic Marigold Hotel, John Madden's follow-up to the 2011 surprise hit The Best Exotic Marigold Hotel. Whereas the first film was adapted from the bestselling novel by Deborah Moggach, screenwriter Ol Parker is left to his own sugary devices with this next chapter, volleying most of the respectable returning cast members through a series of utterly vapid subplots that are either forgettable or just plain embarrassing considering the seasoned talents. Some may argue that the chance to see so many exemplary performers of a certain age in a film that will reach mainstream platforms should be appreciated for merely existing, but that's no excuse for doffing us with such second rate material.
Many of the mainstays from the last film have stuck around for permanent residence in the Best Exotic Marigold Hotel, still run by the bumbling Sonny Kapoor (Dev Patel), with the assistance of the gruff and persnickety Muriel Donnelly (Maggie Smith). Their successful venture has them branching out, and the film opens on Muriel and Sonny seeking additional funding for expansion in the United States with a suave businessman (David Strathairn). Otherwise, the additional members have begun to settle into their new lives, Madge Hardcastle (Celia Imrie) has two Indian suitors vying for her hand in marriage, while Carol's (Diana Hardcastle) romance with Norman (Ronald Pickup) is tempered by the fact that he believes he may have inadvertently put out a hit on his new girlfriend's head.
Upon returning to the hotel, Sonny is in the midst of preparing to marry Sunaina (Tina Desai), but is irritated to find a nemesis from his youth, the perennially successful Kushal (Shazad Latif) hired to choreograph their dance for the ceremony. Meanwhile, two new visitors come to check into the hotel on the same day, a frumpy British woman, Lavinia (Tamsin Greig), and a handsome American, Guy (Richard Gere). Their American counterpart had mentioned he would be sending along someone to inspect the hotel properties, and Sonny believes this is the man. Guy just so happens to become immediately enamored with Sonny's mother, (Lillete Dubey). Lastly, Douglas (Bill Nighy) has been unable to consummate his relationship with Evelyn (Judi Dench), busy with the new position she has been offered with a fabric supplier.
Somehow, Maggie Smith manages to usher the film into a somber eulogy by the final frames, a small wonder considering a rather clunky re-introduction finds her Muriel in battle axe mode as she takes an admin worker to task during a silly tirade about how Americans don't seem to understand the process of making tea. As her other ungainly counterpart, Dev Patel's caricature feels even more cancerous for the sequel. Forced into an endless whirl of exaggerated stereotypes, Patel's hyperbolic ethnic shtick is at the level of Maurice Chevalier's personification of all things French to the Americans, or, vice versa, the fascination of Jerry Lewis for the French. His assigned melodrama revolves around feelings of ineptitude as he approaches marriage, gracelessly spliced with his scheme to acquire another building for the second best structure mentioned in the title.
Enter the film's fresh blood, courtesy of Grieg and Gere, both with a secret, though Gere's immediate salivation at the sight of Dubey is the blunt romance meant to replace the stalled relationship of Nighy and Dench, both utterly wasted here (but Penelope Wilton makes an appearance so we don't forget how xenophobic and miserable some of those Brits can be).
Worst is the subplot involving Ronald Pickup's Norman, who somehow manages to miraculously locate the same taxi driver in the teeming city of Jaipur, a tangent that feels embarrassing and demeaning for all involved. Hokey music and predictable hijinks abound at every corner, and somehow, Madden makes Hallstrom's similar pillaging of a more 'exotic' culture in The Hundred Foot Journey seem massively appealing by comparison.
★/☆☆☆☆☆