Features
What's Up Doc?: Kent Jones, Asif Kapadia & Luc Jacquet Head to Cannes
It should come as no surprise that Cannes Film Festival will play host to Kent Jones's doc on the touchstone of filmmaking interview tomes, Hitchcock/Truffaut (see photo above). The film has been floating near the top of this list since it was announced last year as in development, while Jones himself has a history with the festival, having co-written both Arnaud Desplechin's Jimmy P. and Martin Scorsese's My Voyage To Italy, both of which premiered in Cannes. The film is scheduled to screen as part of the Cannes Classics sidebar alongside the likes of Stig Björkman's Ingrid Bergman, in Her Own Words, which will play as part of the festival's tribute to the late starlet, and Gabriel Clarke and John McKenna's Steve McQueen: The Man & Le Mans (see trailer below). As someone who grew up watching road races with my dad in Watkins Glen, NY, I have a soft spot for McQueen's obsession with speed and the beauty of mechanics which is encapsulated so thrillingly in Lee H. Katzin's racing classic Le Mans.
Asif Kapadia is another filmmaker thoroughly aware of the thrills of motorsports, having made his name with Senna, a film that tells the story of Brazilian Formula One racing driver Ayrton Senna and remains, to my mind, one of the best documentaries produced in recent memory. Senna was composed solely of archival footage and audio interview overlays. His latest, Amy (see trailer below), works on the same narrative mechanics while recounting the tragic life of the singular vocal talent Amy Winehouse. The film is scheduled to premiere out of competition at Cannes and will likely roll out fairly wide over the summer.
In unlikely news, Cannes has announced that Oscar-winner Luc Jacquet's new film, Ice and the Sky (see production photo below), which surfaced in my list a couple months back, will close the festival in what the festival has called "a hymn to save the planet". Following Jacquet's monolithic Morgan Freeman-centered nature film March of the Penguins which set records for documentary box office intake back in 2005, his latest documents the scientific discoveries of 82-year-old French glaciologist Claude Lorius, an explorer who began studying the Antarctic ice in 1957 and has since been a leading force in enlightening the world to the dangers and consequences of global warming.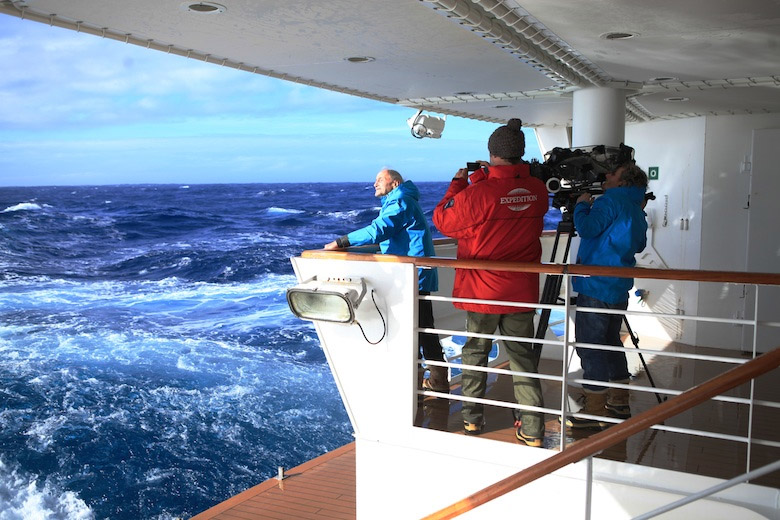 Outside the realm of Cannes and the shores of the French Riviera, director Paul Mariano has been hard at work on his humorous looking portrait of voice actors from around the world who regularly re-dub the voice of George Clooney for regional release in Being George Clooney. Mariano and his crew recently released a trailer for the film (see below) and launched a lovely new website as a tease of the comedy within and the cultural implications involved in such an endeavor after having raised a total of $92,386 with their incredible successful Kickstarter campaign. If I had to take a shot in the dark, I'd guess we'll see the film this fall for either a Telluride or Toronto world premiere.
As mentioned previously, for those attached to any of the docs mentioned below — please feel free to share any updates on the status of your projects. I can be reached at jordan [at] ioncinema dot com. Without further ado, here is our most anticipated Top 100 docs in the pipeline.
| | | | | | |
| --- | --- | --- | --- | --- | --- |
| # | Film Title  | Filmmaker(s) | Producer(s)  | Status | Last Month's Ranking |
| 1 | Hitchcock/Truffaut | Kent Jones | TBD | Cannes Preem | ⬆ #5 |
| 2 | Unlocking The Cage | DA Pennebaker & Chris Hagedus | TBD | Production | ⬆ #4 |
| 3 | Kurt Vonnegut: Unstuck in Time | Robert Weide & Don Argott | Robert Weide & Sheena M. Joyce | Production | ⬆ #8 |
| 4 | Amy | Asif Kapadia | James Gay-Rees | Cannes Preem | ⭑ New! |
| 5 | Ice and the Sky | Luc Jacquet | TBD | Cannes Preem | ⬆ #9 |
| 6 | Ingrid Bergman, in Her Own Words | Stig Björkman | Stina Gardell | Cannes Preem | ⭑ New! |
| 7 | He Named Me Malala | Davis Guggenheim | Laurie MacDonald, Walter F. Parkes | Completed | ⬆ #10 |
| 8 | In Jackson Heights | Frederick Wiseman | Frederick Wiseman | Post Production | ⬆ #18 |
| 9 | Dear John Grierson: A Postscript to The Story of Film | Mark Cousins | TBD | Production | ⬆ #16 |
| 10 | Sarah | Tracy Droz Tragos | TBD | Production | ⬆ #12 |
| 11 | Untitled Ken Loach Bio-doc | Jim Loach | TBD | Announced | ⬆ #13 |
| 12 | Diamond, Silver and Gold | Jason Kohn | Jared I. Goldman, Amanda Branson Gill | Production | ⬆ #17 |
| 13 | A Better Man | Attiya Khan & Lawrence Jackman | Sarah Polley – exec producer, Christine Kleckner | Post Production | ⬆ #20 |
| 14 | LoveTrue | Alma Har'el | Alma Har'el, Christopher Leggett, Rafael Marmor and Rhea Scott | Post Production | ⭑ New! |
| 15 | Untitled Grateful Dead Doc | Amir Bar-Lev | Martin Scorsese, Emma Tillinger Koskoff, Andrew Heller, Sanford Heller, and Rick Yorn | Post Production | ⬆ #22 |
| 16 | The Settlers | Shimon Dotan | TBD | Production | ⬆ #23 |
| 17 | Mixed Feelings | Guy Davidi | Anna Somershaf, Kristian Mosvold | Production | ⬆ #24 |
| 18 | Be Natural: The untold story of Alice Guy-Blaché | Pamela Green & Jarik van Sluijs | Robert Redford – exec producer | Post Production | ⬆ #26 |
| 19 | Beatles Touring Doc | Ron Howard | Nigel Sinclair | Production | ⬆ #27 |
| 20 | Strong Island | Yance Ford | Esther Robinson | Post Production | ⬆ #28 |
| 21 | Les Blank: A Quiet Revelation | Gina Leibrecht | Harrod Blank | Production | ⬆ #32 |
| 22 | Home Movie | Chantal Akerman | TBD | Production | ⬆ #33 |
| 23 | Steve McQueen: The Man & Le Mans | Gabriel Clarke & John McKenna | Gabriel Clarke & John McKenna | Cannes Preem | ⭑ New! |
| 24 | Rose | Ben Rivers | TBD | Production | ⬆ #35 |
| 25 | untitled Iggy Pop doc | Jim Jarmusch | TBD | Announced | ⭑ New! |
| 26 | Ring Girls | Amy Berg | TBD | Post Production | ⬆ #36 |
| 27 | Uncle Andy: The Andy Warhol Family Film | Abby Warhola & Jesse Best | TBD | Production | ⭑ New! |
| 28 | Rats NYC | Morgan Spurlock | Morgan Spurlock & Jeremy Chilnick – exec producers | Pre-Production | ⬆ #39 |
| 29 | Volcano | Werner Herzog | TBD | Pre-Production | ⬆ #40 |
| 30 | The Island and the Whales | Mike Day | TBD | Post Production | ⬆ #105 |
| 31 | Command and Control | Robert Kenner | Robert Kenner, Eric Schlosser, Melissa Robledo | Production | ⬆ #41 |
| 32 | Janis: Little Blue Girl | Amy Berg | TBD | Production | ⬆ #42 |
| 33 | Untitled Missouri Doc | Rebecca Cammisa | TBD | Production | ⬆ #44 |
| 34 | David Millar Project | Finlay Pretsell | Iain Smith, Sonja Henrici | Production | ⬆ #45 |
| 35 | Driving with Selvi | Elisa Paloschi | TBD | Post Production | ⬆ #47 |
| 36 | Mythical Creatures | David Charles | Lanette Philips | Post Production | ⬆ #48 |
| 37 | Gun Runners | Anjali Nayar | TBD | Post Production | ⬆ #49 |
| 38 | Southwest of Salem: The Story of the San Antonio Four | Deborah Esquenazi | TBD | Post Production | ⬆ #52 |
| 39 | By Sidney Lumet | Nancy Buirski | TBD | Cannes Preem | ⭑ New! |
| 40 | Pieces of a Man | Orlando Bagwell | TBD | Production | ⬆ #53 |
| 41 | Catching the Sun | Shalini Kantayya | TBD | Production | ⬆ #56 |
| 42 | Night School | Andrew Cohn | Steve Bannatyne, Jason Orans, Zachary Shields, Louis Venezia | Production | ⬆ #57 |
| 43 | Mudflow | Cynthia Wade & Sasha Friedlander | Cynthia Wade, Sasha Friedlander, Tracie Holder (Co-Producer) | Production | ⬆ #58 |
| 44 | Logs of War | Anjali Nayar & Hawa Essuman | Steven Markovitz, Anjali Nayar, Jonathan Stack (Executive Producer), Edward Zwick (Executive Producer) | Production | ⬆ #59 |
| 45 | The Prison in Twelve Landscapes | Brett Story | TBD | Production | ⬆ #61 |
| 46 | On the Outside: The Year After Prison | Matthew O'Neill | TJohn Kennedy, Cynthia Farrar, Jon Alpert, Shannon Sonenstein Sonrouille, Reina Higashitani, Matthew O'Neill | Production | ⬆ #62 |
| 47 | Cocaine Prison | Violeta Ayala | TBD | Production | ⬆ #63 |
| 48 | Harold and Lillian: a Hollywood Love Story | Daniel Raim | TBD | Cannes Preem | ⭑ New! |
| 49 | The Murder and the Journalists | Francisco Bello | Rebecca Richman Cohen | Pre-Production | ⬆ #64 |
| 50 | Unseen Enemy | Janet Tobias & Cesar Charlone | Janet Tobias, Michael Ehrenzweig, Peter W. Klein and Rogger Lopez | Production | ⬆ #71 |
Legend:
⭑ New to Chart
⬄ No Change
⬆ Position Increase
⬇ Position Drop
| | | | | | |
| --- | --- | --- | --- | --- | --- |
| # | Film Title  | Filmmaker(s) | Producer(s)  | Status | Last Month's Ranking |
| 51 | Trapped | Dawn Porter | TBD | Production | ⬆ #70 |
| 52 | NIGHT/vision | Eva Weber | Elhum Shakerifar & Nicole Stott | | ⭑ New! |
| 53 | Phantom Cowboys | Annie P. Waldman & Daniel Carbone | Ryan Scafuro | Post Production | ⬆ #65 |
| 54 | Being George Clooney | Paul Mariano | Christine O'Malley, Rivkah Beth Medow | Production | ⬆ #68 |
| 55 | Block Seven | Jordie Montevecchi | TBD | | ⭑ New! |
| 56 | The New Missionaries | Yoav Shamir | TBD | | ⭑ New! |
| 57 | The Lovers and the Despot | Robert Cannan & Ross Adam | TBD | Announced | ⬆ #69 ⭑ New! |
| 58 | The City of Sun | Rati Oneli | Dea Kulumbegashvili | | ⭑ New! |
| 59 | Ask the Sexpert | Vaishali Sinha | TBD | Production | ⬆ #80 |
| 60 | Road to Home | Calvin Skaggs | Cal Skaggs, Ashley Panzera (Ass. Producer) | Production | ⬆ #72 |
| 61 | Dream Away | Marouan Omara & Johanna Domke | TBD | | ⬆ #76 |
| 62 | Count Me In | Ines Sommer | TBD | Production | ⬆ #73 |
| 63 | Big Sonia | Leah Warshawski & Todd Soliday | TBD | Production | ⭑ New! |
| 64 | Survivors | Banker White & Arthur Pratt | TBD | Production | ⬆ #74 |
| 65 | The Babushkas of Chernobyl | Holly Morris and Anne Bogart | TBD | Production | ⬆ #75 |
| 66 | The Return | Kelly Duane de la Vega and Katie Galloway | TBD | | ⬆ #77 |
| 67 | Death by Design | Sue Williams | Sue Williams, Hilary Steinman, Julie Goldman, Diana Barrett (EP), Victoria Wang (EP), Dan Cogan (EP) | | ⬆ #78 |
| 68 | People from Nowhere | Jaak Kilmi | Antra Gaile | Post Production | ⭑ New! |
| 69 | Cheer The F**k Up | Christy Garland | Liisa Juntunen | | ⭑ New! |
| 70 | The Brainwashing of My Dad | Jen Senko | TBD | Post Production | ⬆ #84 |
| 71 | The Holly | Julian Rubinstein | TBD | | ⬆ #82 |
| 72 | Return to Timbuktu | Michael Meredith | Alex Gibney | | ⬆ #85 |
| 73 | Down By Law | George Amponsah | TBD | Post Production | ⬆ #88 |
| 74 | Playing God | Karin Jurschick | TBD | | ⭑ New! |
| 75 | The Life, The Sea and The Space Viking | Nelly Ben Hayoun | Nelly Ben Hayoun | | ⭑ New! |
| 76 | Beyond Freightened | Rose Kowalski | Marieke van den Bersselaar | | ⭑ New! |
| 77 | Proposition for a Revolution | Khushboo Ranka & Vinay Shukla | Ruchi Bhimani, Anand Gandhi, Joris van Wijk | Post Production | ⭑ New! |
| 78 | Kè Kontan | Owsley Brown | TBD | | ⭑ New! |
| 79 | The Arrivals | Heidi Ewing | TBD | | ⬆ #86 |
| 80 | A Flickering Truth | Pietra Brettkelly | TBD | Post Production | ⬆ #87 |
| 81 | The Jazz Ambassadors | Hugo Berkeley | TBD | | ⭑ New! |
| 82 | The Alchemy Project | Sinéad McDevitt | Penny Robins | | ⭑ New! |
| 83 | Out of Mind | Kristi Jacobson | TBD | | ⬆ #89 |
| 84 | Post-Punk Disorder | Jukka Kärkkäinen & Jani-Petteri Passi | TBD | Production | ⭑ New! |
| 85 | Shout Gladi Gladi | Adam Friedman and Iain Kennedy | TBD | | ⭑ New! |
| 86 | HonestX | Topaz Adizes & Michael Knowlton | Mark Harris | | ⭑ New! |
| 87 | This is America | Amy Berg | TBD | Production | ⬆ #91 |
| 88 | Afterglow | Noemi Veronika Szakonyi | Julianna Ugrin | | ⭑ New! |
| 89 | Dreaming of Denmark | Michael Graversen | Lise Saxtrup | | ⭑ New! |
| 90 | When God Sleeps | Till Schauder | | | ⭑ New! |
| 91 | O.P.D. | Pete Nicks | TBD | | ⬆ #92 |
| 92 | Pandemics | Anne Milne | Anne Milne | | ⭑ New! |
| 93 | Like Ants for Sugar | Shirley Abraham & Amit Madheshiya | TBD | Post Production | ⬆ #93 |
| 94 | The Negotiators | Victor Buhler | TBD | Production | ⬆ #98 |
| 95 | League of Exotique Dancers | Rama Rau | Ed Barreveld | | ⬇# |
| 96 | Working on Title | Aleksandr Heifets | Eero Talvistu | | ⭑ New! |
| 97 | So Help You God | Ashley York | TBD | Post Production | ⬇#96 |
| 98 | Emergency Exit | Lieven Corthouts | Emmy Oost | | ⭑ New! |
| 99 | New Sensation | Tyler Measom & Patrick Waldrop | TBD | | ⭑ New! |
| 100 | The Bill | Ramona Diaz | TBD | | ⬇#99 |