Features
What's Up Doc?: Latest from Psihoyos & Ross Bros. Lead Sundance Charge (December 2014)
The holidays are winding down and that means we at IONCINEMA.com are gearing up for our annual pilgrimage to Park City where an A-list of documentaries is now set to premiere. Earlier this month Tabitha Jackson and the Sundance doc programming team let the cats out of the bag, unsurprisingly announcing much anticipated US Doc Competition titles such as the Ross Brothers' Western, Louie Psihoyos' Racing Extinction, Marc Silver's 3 1/2 Minutes and Lyric Cabral and David Felix Sutcliffe's (T)ERROR, along with some surprises like Bryan Carberry and Clay Tweel's bizarro Kickstarted doc Finders Keepers (see trailer below). Having been produced by the fine folks behind The King of Kong and Undefeated, the film bears all the markings of its well regarded pedigree, yet appears to be of even odder ilk, following the story that unfolded when a severed human foot was discovered in a grill bought at a North Carolina auction.
In the slew of Sundance announcements was the World Doc Competition lineup, which includes cinema-centric films Sembene! by Samba Gadjigo and Jason Silverman, profiling the beloved African director of its namesake, Listen to Me Marlon by Stevan Riley, which sketches a portrait of Marlon Brando using his own personal archive of photos and audio recordings, and Ilinca Calugareanu's Chuck Norris vs Communism (see trailer below), a doc that sees the power of film change Nicolae Ceaușescu's Romania through smuggled VHS American muscle. Having failed to raise the remainder of the funds needed to finish the film back in May of last year through an IndieGoGo campaign, it was unclear whether Calugareanu's feature debut would come to fruition or not, but judging by the production shoot photos, the film looks to be a humanistic bit of B-movie goodness that revels in recreation and first person accounts (see filmmaker Adrian Sitaru among the talking heads).
Strikingly absent from the Sundance lineup altogether is Steve Hoover's Crocodile Gennadiy, which by all accounts seemed primed for a Park City premiere. Trying to fill its shoes with a Russian veil of secrecy as its narrative tapestry, Chad Gracia's The Russian Woodpecker (see still below) seems to be its locale based replacement. Following eccentric Ukrainian artist Fedor Alexandrovich as he outlines the Russian/Ukrainian conflict while becoming obsessively paranoid about a secret Cold War weapon hidden near the Chernobyl site, the film is constructed as a wild delusional thriller that bears truth in its paranoia via on the ground documentation of the protests and riots in Kyiv and beyond.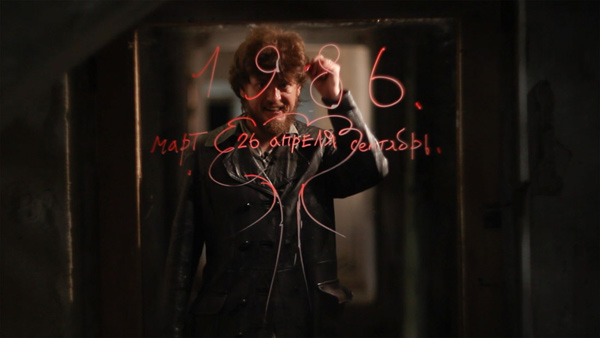 Along with appetite piquing competition titles are a hefty grouping of heavy hitters, including Alex Gibney's Going Clear: Scientology and the Prison of Belief, Kirby Dick's The Hunting Ground, Brett Morgen's Kurt Cobain: Montage of Heck, as well as surprises like Liz Garbus's Netflix property What Happened, Miss Simone? (see still at top), Rodney Ascher's follow-up to Room 237, a sleep paralysis doc titled The Nightmare and Andrew Jarecki's long-awaited return to non-fiction with The Jinx: The Life and Deaths of Robert Durst, which sees the filmmaker also revisiting the subject he fictionalized in 2010's All Good Things. Oddly, after the real life Durst saw Ryan Gosling portray him in Jarecki's film, he contacted the director wanting to expose the mysterious truth behind the three murders he was accused of. Jarecki's first documentary since his much lauded Capturing the Friedmans will run as a 6 part HBO series in 2015, but it will have its first chapter premiere initially as part of the Sundance Special Events sidebar.
As mentioned previously, for those attached to any of the docs mentioned below — please feel free to share any updates on the status of your projects. I can be reached at jordan [at] ioncinema dot com. Here is my most anticipated Top 50 docs in the pipeline.
| | | | | | |
| --- | --- | --- | --- | --- | --- |
| # | Film Title  | Filmmaker(s) | Producer(s)  | Status | Last Month's Ranking |
| 1 | Racing Extinction | Louie Psihoyos | Olivia Ahnemann & Fisher Stevens | Sundance Preem | ⬆ #2 |
| 2 | Western | Bill Ross and Turner Ross | Michael Gottwald, Bill Ross, Turner Ross | Sundance Preem | ⬆ #3 |
| 3 | What Happened, Miss Simone? | Liz Garbus | Amy Hobby, Liz Garbus, Justin Wilkes, Jayson Jackson | Sundance Preem | ⭑ New! |
| 4 | The Jinx: The Life and Deaths of Robert Durst | Andrew Jarecki | Marc Smerling, Andrew Jarecki | Sundance Preem | ⭑ New! |
| 5 | The Hunting Ground | Kirby Dick | Amy Ziering | Sundance Preem | ⬆ #6 |
| 6 | Finders Keepers | Bryan Carberry & Clay Tweel | Ed Cunningham, Seth Gordon, Adam Gibbs, Bryan Carberry | Sundance Preem | ⭑ New! |
| 7 | (T)ERROR | Lyric Cabral & David Felix Sutcliffe | Christopher St. John | Sundance Preem | ⬆ #8 |
| 8 | Welcome To Leith | Michael Beach Nichols, Christopher K. Walker | Michael Beach Nichols, Christopher K. Walker, Jenner Furst, Joey Carey, Joshua Woltermann | Sundance Preem | ⭑ New! |
| 9 | Going Clear: Scientology and the Prison of Belief | Alex Gibney | Lawrence Wright, Kristen Vaurio, Alex Gibney | Sundance Preem | ⬆ #32 |
| 10 | Being Evel | Daniel Junge | Johnny Knoxville, Jeff Tremaine, Mat Hoffman, Brendan Kiernan, Justin Moore-Lewy, Daniel Junge | Sundance Preem | ⭑ New! |
| 11 | Crocodile Gennadiy | Steve Hoover | Danny Yourd | In Post | ⬇#1 |
| 12 | The Nightmare | Rodney Ascher | Ross Dinerstein, Glen Zipper | Sundance Preem | ⭑ New! |
| 13 | Larry Kramer in Love and Anger | Jean Carlomusto | Ellin Baumel, Jean Carlomusto, Shanti Avirgan | Sundance Preem | ⭑ New! |
| 14 | Listen To Me Brando | Stevan Riley | John Battsek, RJ Cutler, George Chignell | Sundance Preem | ⭑ New! |
| 15 | The Visit | Michael Madsen | Lise Lense-Møller | Sundance Preem | ⭑ New! |
| 16 | Kurt Cobain: Montage of Heck | Brett Morgen | Sara Bernstein, Sheila Nevins, Frances Bean Cobain, Danielle Renfrew Behrens, Larry Mestel and David Byrnes. David Morrison | Sundance Preem | ⬆ #40 |
| 17 | Untitled Jackson Heights, Queens Project | Frederick Wiseman | TBD | Editing |  ⬄ #17 |
| 18 | The Amina Profile | Sophie Deraspe | Isabelle Couture, Nathalie Cloutier | Sundance Preem | ⭑ New! |
| 19 | Misery Loves Comedy | Kevin Pollak | Burton Ritchie | Sundance Preem | ⭑ New! |
| 20 | Unlocking The Cage | DA Pennebaker & Chris Hagedus | DA Pennebaker & Chris Hagedus | In Production | ⬇#4 |
| 21 | Prophet's Prey | Amy Berg | Erica Huggins, Katherine Leblond, Sam Brower | Sundance Preem | ⭑ New! |
| 22 | Chuck Norris vs Communism | Ilinca Calugareanu | Mara Adina | Sundance Preem | ⭑ New! |
| 23 | Hitchcock/Truffaut | Kent Jones | TBD | In Production | ⬇#5 |
| 24 | The Wolfpack | Crystal Moselle | Izabella Tzenkova, Crystal Moselle, Hunter Gray, Alex Orlovsky | Sundance Preem | ⭑ New! |
| 25 | The Russian Woodpecker | Chad Gracia | Mike Lerner, Ram Devineni | Sundance Preem | ⭑ New! |
| 26 | Tig | Kristina Goolsby, Ashley York | Huy Truong | Sundance Preem | #36 |
| 27 |  Dreamcatcher | Kim Longinotto | Teddy Leifer | Sundance Preem | ⭑ New! |
| 28 | I Am Belfast | Mark Cousins | TBD | In Post | ⬇#7 |
| 29 | Best of Enemies | Morgan Neville & Robert Gordon | Robert Gordon, Morgan Neville | Sundance Preem | ⭑ New! |
| 30 | 3 1/2 Minutes | Marc Silver | Carolyn Hepburn, Minette Nelson | Sundance Preem | ⬇ #24 |
| 31 | The Reagan Years | Pacho Velez | TBD | Announced | ⭑ New! |
| 32 | Sembene! | Samba Gadjigo & Jason Silverman | Samba Gadjigo, Jason Silverman | Sundance Preem | ⭑ New! |
| 33 | Drunk Stoned Brilliant Dead: The Story of the National Lampoon | Douglas Tirola | Susan Bedusa, Douglas Tirola | Sundance Preem | ⭑ New! |
| 34 | Censored Voices | Mor Loushy | Daniel Sivan, Hilla Medalia, Neta Zwebner | Sundance Preem | ⭑ New! |
| 35 | Beaver Trilogy Part IV | Brad Besser | Kelly Williams, Jonathan Duffy, Don Swaynos, Brad Besser | Sundance Preem | ⭑ New! |
| 36 | Untitled Bill Clinton Documentary | Martin Scorsese | Steve Bing | In Post | ⬇#9 |
| 37 | Most Likely To Succeed | Greg Whiteley | Greg Whiteley | Sundance Preem | ⭑ New! |
| 38 | Untitled Malala Yousafzai Project | Davis Guggenheim | Laurie MacDonald, Walter F. Parkes | Filming | ⬇#10 |
| 39 | Jia Zhang-ke by Walter Salles | Walter Salles | TBD | In Post | ⭑ New! |
| 40 | Untitled Frank Sinatra Portrait | Alex Gibney | Nancy Sinatra, Jeff Pollack | Pre-Production | ⬇#12 |
| 41 | The Black Panthers: Vanguard of the Revolution | Stanley Nelson | Stanley Nelson, Laurens Grant | Sundance Preem | ⭑ New! |
| 42 | Diamond, Silver and Gold | Jason Kohn | Jared I. Goldman, Amanda Branson Gill | In Production | ⬇#13 |
| 43 | Sarah | Tracy Droz Tragos | Tracy Droz Tragos | Financing | ⭑ New! |
| 44 | Untitled Ken Loach Bio-doc | Jim Loach | TBD | Announced | ⭑ New! |
| 45 | The Mask You Live In | Jennifer Siebel Newsom | TBD | Sundance Preem | ⭑ New! |
| 46 | Cartel Land | Matthew Heineman | Matthew Heineman, Tom Yellin | Sundance Preem | ⭑ New! |
| 47 | Dear John Grierson: A Postscript to The Story of Film | Mark Cousins | TBD | Announced | ⬇#15 |
| 48 | Meru | Jimmy Chin & E. Chai Vasarhelyi | E. Chai Vasarhelyi, Jimmy Chin, Shannon Ethridge | Sundance Preem | ⭑ New! |
| 49 | A Better Man | Attiya Khan & Lawrence Jackman | Sarah Polley – exec producer, Christine Kleckner | Filming | ⬇#19 |
| 50 | Untitled Grateful Dead Doc | Amir Bar-Lev | Martin Scorsese, Emma Tillinger Koskoff, Andrew Heller, Sanford Heller, and Rick Yorn | Unknown | ⬇#14 |
Legend:
⭑ New to Chart
⬄ No Change
⬆ Position Increase
⬇ Position Drop