Reviews
A Most Violent Year | Review
Year of Living Stressfully: Chandor Returns with Slow-Boil Scald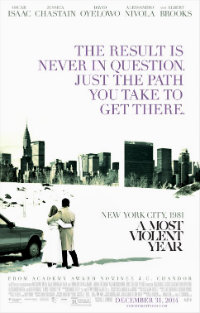 Baby, it may be cold outside, but the climate's sure changing in J.C. Chandor's flashback to 1981 New York City in A Most Violent Year, the director's third and most iniquitous portrayal yet of humans struggling for survival or ascension among the ranks. Following the success of his talky yet effective 2011 debut, Margin Call, a slick examination of the viperous tendencies amongst Wall Street's elite and the 2008 crash, and 2013's Robert Redford against the elements flick All Is Lost, Chandor extends his dexterity to a period piece that's already drawn comparison to the heyday of Lumet and the underrated familial dramas of James Gray. With a little luck, Chandor's title won't be treated to the same ambivalence as Gray's films tend to be, but in line with his previous two titles, it's an equally difficult, utterly compelling hard sell.
With crime at an all-time high sweeping the city, Abel Morales (Oscar Isaac) has many more pressing issues to contend with as he makes an important step in expanding his growing heating-company, a business he inherited from his father-in-law (Albert Brooks). However, goons assumedly working for a competitor have been systematically hijacking oil from Morales' trucks because he doesn't believe in illegally equipping his drivers with weapons. Conversations with his wife Anna (Jessica Chastain) make it clear that her 'family' has deeper, more devious connections that could solve this problem more simply, if violently.
Warring familial techniques amidst a particular place and period strongly recalls the brothers played by Joaquin Phoenix and Mark Wahlberg in Gray's 1988 set film, We Own the Night (2007), on opposite sides of the law with different beliefs concerning conflict resolution. Here, husband and wife are at odds as concerns these same issues, desperately trying to shed lower class tendencies in exchange for the yuppie aesthetic, as evidenced by wardrobe, hair, and language. Chandor's script is filled with delicious clues as to the much deeper desperation coursing violently beneath the Morales' cool, hard edged exterior, evidenced in Abel's handling of Elyes Gabel's Julian, insisting on the driver's use of second language in English, clearly a reason why he won't be graduating from driver to salesman anytime soon.
Likewise, the formidable wife played by Chastain may be a force to reckon with but there's an unpolished side to her. "That went good," she comments to her husband after a meeting with bank managers, or another moment of barely concealed rage with Oyelowo's DA when he visits her house with a search warrant. They're a perfect match of aspiring piranhas, but she's more accustomed to using her teeth. As excellent as Chastain is in a role that finally gives her something to chew on, the film belongs to Isaac's suave, mostly well-intentioned businessman. In a late conversation, much is revealed in an exchange where he conveys that there is always a "most right" path—and that's always the one to take. Training in some new salespeople, he stands wholly behind a tactic of direct, prolonged eye contact, which will unnerve and make the client uneasy and uncomfortable. It seems to be a similar tactic used by Chandor.
Albert Brooks returns once more to the affable dark side akin to his memorable stint in 2011's Drive. He gets less of a showy arena here, but he also provides the film with its most droll moments. A series of other familiar faces pad out a handsome cast, with Oyelowo joined by Alessandro Nivola, Peter Gerety, and Catalina Sandeno Moreno. But beyond a pair of memorable leads with Isaac and Chastain, Chandor's greatest asset is DoP Bradford Young (whose work on titles like Pariah, Middle of Nowhere, Mother of George and Ain't Them Bodies Saints makes him well overdue for an Oscar nod) who washes early 80s Manhattan in an amber glow that sometimes takes on a sickly, yellowed pallor. Interiors are lit exquisitely for the period, such as the pains taken to paint the dank and subterranean office of the DA, for instance.
Intelligent and confidently adult, A Most Violent Year tends to seem like an origin story for a monsterish, corporate entity, with a new opportunity baptized in blood by the final frames, oil oozing out of the wound.
Reviewed on November 6 at the 2014 AFI Film Festival – Opening Night Film. 125 Min.
★★★½/☆☆☆☆☆