Features
What's Up Doc?: Pennebaker/Hegedus & Malick Voyage to the Top in November
It's been a couple months since the last edition of What's Up Doc? placed Michael Moore's surprise world premiere of Where To Invade Next at the top of this list and in the meantime much shuffling has taken place and much time has been spent on various new endeavors (namely my Buffalo-based film series, Cultivate Cinema Circle). Finally taking its rightful place at the top, D.A. Pennebaker and Chris Hagedus' Unlocking the Cage is in the midst of being scored by composer James Lavino, according to Lavino's own personal site. Though the project has been taking shape at its own leisurely pace, I'd expect to see the film making its festival debut in early 2016.
Right behind, the American direct cinema masters is a Texan soon to make his non-fiction debut with Voyage of Time. Just two weeks ago indieWIRE reported that Ennio Morricone, who scored Terrence Malick's Days of Heaven way back in 1978, would be reteaming with the elusive filmmaker for his long in the works doc on the creation of the universe. Additionally, it now seems there will be two versions of the film: "a 40-minute IMAX version narrated by Brad Pitt which will be delivered first, and a feature length edit narrated by Cate Blanchett." If this doesn't turn out to be another Malick masterpiece, I'll at least be looking forward to the eventual making-of doc featuring lawsuits and all.
A handful of films made a splash onto the list after my fairly recent discovery of Dogwoof's in-production site, including what looks to be shaping up as an impressive feature debut by Heather Lenz on the life and career of the Japanese outsider artist Yayoi Kusama. Utilizing a wealth of beautiful archival materials and key curatorial interviewees like Frances Morris of the Tate Modern to tell the story of Kusama's journey from pop art fame (rivaling Andy Warhol at the time) through the halls of a Tokyo mental institution and back again, KUSAMA: Princess of Polka Dots (see clip and still above) looks to be nearing its completion, having taken part in Film Independent's documentary lab back in 2013. Also on Dogwoof's slate is Werner Herzog's volcano doc Into The Inferno (see still of Herzog in production below), which we've been keeping tabs on, has made its way to the #3 spot on this list and is tentatively scheduled for a 2016 release.
Looking further down the list at new additions, directors Bob Hercules and Rita Coburn Whack recently launched an ambitious Kickstarter campaign to raise capital for the production of their new film on the life of Dr. Maya Angelou, simply titled, The Maya Angelou Documentary (see clip above). With the support of executive producers Michael Kantor, Reuben Cannon and Marquetta Glass, who has successfully worked on previous Angelou projects, the film looks to have all the makings of a lavish and moving bio-docs about a most deserving African American woman who helped to forge a path in writing and filmmaking. With several weeks to go, the campaign still seeks more than half of its $150,000 goal, but I expect them to surpass the finish line with flying colors.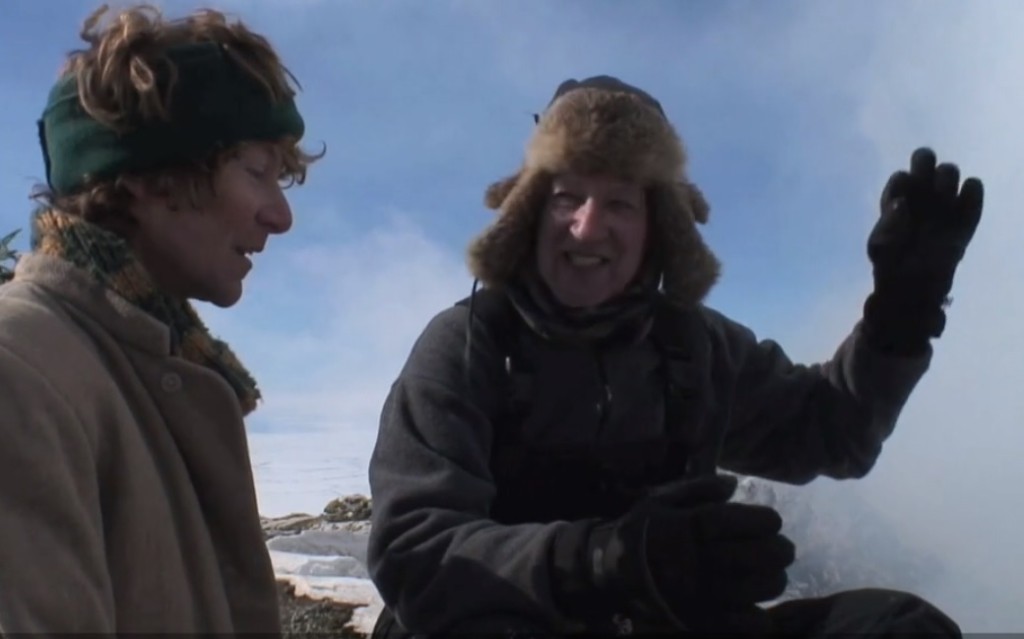 And while films like The Maya Angelou Documentary are just getting started, others like Katy Grannan's The Nine are nearing completion. Just a few weeks ago Grannan and her team screened the film's gorgeously poetic trailer (see below) at Rooftop Films in New York City after having taken part in the Independent Filmmaker Project's (IFP) 2015 Documentary Labs. After four years in production the film, which according to the IFP press doc labs press release, "depicts a fallen Neverland where ruined lives exist in parallel with the sublime, and the lines blur between the fantasy of one woman's imagination and the brutal reality she cannot escape," recently reached picture lock and should be submitting to winter and spring festivals right about now.
As mentioned previously, for those attached to any of the docs mentioned below — please feel free to share any updates on the status of your projects. I can be reached at jordan [at] ioncinema dot com. Here is our most anticipated Top 100 docs in the pipeline.
| | | | | | |
| --- | --- | --- | --- | --- | --- |
| # | Film Title  | Filmmaker(s) | Producer(s)  | Status | Last Month's Ranking |
| 1 | Unlocking the Cage | DA Pennebaker & Chris Hagedus | Frazer Pennebaker and Rosadel Varela | Post Production | ⬆ #3 |
| 2 | Voyage of Time | Terrence Malick | Dede Gardner, Nicolas Gonda, Sarah Green, Grant Hill, Brad Pitt, Bill Pohlad, Andreas Roald, Sophokles Tasioulis | Post Production | ⬆ #8 |
| 3 | Into The Inferno | Werner Herzog | André Singer EP: Lucki Stipetić, Vanessa Dylyn | Production | ⬆#7 |
| 4 | Kurt Vonnegut: Unstuck in Time | Robert Weide & Don Argott | Robert Weide | Production | – |
| 5 | LoveTrue | Alma Har'el | Alma Har'el, Christopher Leggett, Rafael Marmor, Rhea Scott | Post Production | ⬆#6 |
| 6 | Dear John Grierson: A Postscript to The Story of Film | Mark Cousins | TBD | Production | ⬇#5 |
| 7 | Ronaldo | Anthony Wonke | Paul Martin. EP: James Gay-Rees & Asif Kapadia | Nov 9th Preem | ⬆#85 |
| 8 | Untitled Iggy Pop doc | Jim Jarmusch | TBD | Post Production | ⬆#20 |
| 9 | Contemporary Color | Bill & Turner Ross | Bill & Turner Ross | Post Production | ⭑New! |
| 10 | Amazing Grace | Sydney Pollack | Alan Elliott. EP: Joey Carey, Stefan Nowicki | Completed | ⭑New! |
| 11 | Untitled Justin Timberlake concert docu | Jonathan Demme | TBD | Production | ⭑New! |
| 12 | Beatles Touring Doc | Ron Howard | Nigel Sinclair | Production | ⬇#10 |
| 13 | Ken Loach: Untitled | Louise Osmond | Rebecca O'Brien | Production | ⬇#9 |
| 14 | Shanghai Youth | Wang Bing | Eugenio Renzi, Sonia Buchman, Nicolas R. De La Mothe | Production | ⭑New! |
| 15 | Untitled Grateful Dead Doc | Amir Bar-Lev | Martin Scorsese, Emma Tillinger Koskoff, Andrew Heller, Sanford Heller, Rick Yorn | Post Production | ⬇#13 |
| 16 | Mixed Feelings | Guy Davidi | Anna Somershaf, Kristian Mosvold | Production | ⬆#15 |
| 17 | Holy Cow | Imam Hasanov | Veronika Janatkova/Andra Popescu | IDFA Preem | ⬆#96 |
| 18 | Kate Plays Christine | Robert Greene | Douglas Tirola, Susan Bedusa | Post Production | ⭑New! |
| 19 | The Return | Kelly Duane de la Vega & Katie Galloway | Ariella Ben-Dov | Production | ⬆#87 |
| 20 | Becoming Zlatan | Fredrik Gertten, Magnus Gertten | TBD | IDFA Preem | ⭑New! |
| 21 | Be Natural: The untold story of Alice Guy-Blaché | Pamela Green & Jarik van Sluijs | EP: Robert Redford | Post Production | ⬇#16 |
| 22 | Once And For All | Michael Epstein, Dyllan McGee | Sara Wolitzky | DOC NYC Preem | ⭑New! |
| 23 | Strong Island | Yance Ford | Esther Robinson | Post Production | ⬇#18 |
| 24 | All Rise | Jay Shapiro, Jeffrey Saunders | Jeffrey Saunders | DOC NYC Preem | ⭑New! |
| 25 | Sarah | Tracy Droz Tragos | TBD | Production | ⬇#11 |
| 26 | Getting Personal | Doug Block | Doug Block | Production | ⭑New! |
| 27 | The Ties That Bind | Thom Zimny | Bruce Springsteen, Jon Landau, Barbara Carr, Thom Zimny, Zachary Russo, Glen Zipper | DOC NYC Preem | ⭑New! |
| 28 | Bluespace | Ian Cheney | Ian Cheney | DOC NYC Preem | ⭑New! |
| 29 | The Dying of the Light | Peter Flynn | Peter Flynn | DOC NYC Preem | ⭑New! |
| 30 | Les Blank: A Quiet Revelation | Gina Leibrecht, Harrod Blank | Harrod Blank | Production | ⬇#22 |
| 31 | Checks and Balances | Malek Bensmaïl | Malek Bensmaïl | IDFA Preem | ⭑New! |
| 32 | Buena Vista Social Club: Adios | Lucy Walker | Christine Cowin, Zak Kilberg. EP: Wim Wenders | Pre-Production | ⬆#52 |
| 33 | The Sunshine Maker | Cosmo Feilding Mellen | George Chignel, Nicole Stott, Connie Littlefield | DOC NYC Preem | ⭑New! |
| 34 | The Settlers | Shimon Dotan | TBD | Production | ⬇#14 |
| 35 | Bo66y the Movie | Ron Scalpello | Matt Lorenzo and Bennett McGhee | Production | ⭑New! |
| 36 | Ask the Sexpert | Vaishali Sinha | TBD | Production | ⬆#45 |
| 37 | Unseen Enemy | Janet Tobias & Cesar Charlone | Janet Tobias, Michael Ehrenzweig, Peter W. Klein and Rogger Lopez | Production | ⬆#59 |
| 38 | Dick Gregory: How to Survive in America | Andre Gaines | TBD | Production | ⭑New! |
| 39 | Trapped | Dawn Porter | Marilyn Ness, Summer Damon | Post Production | ⬆#23 |
| 40 | Sky Line | Miguel Drake-McLaughlin, Jonny Leahan | Robert Wood | DOC NYC Preem | ⭑New! |
| 41 | Uncle Andy: The Andy Warhol Family Film | Abby Warhola & Jesse Best | TBD | Production | ⬇#25 |
| 42 | David Millar Project | Finlay Pretsell | Iain Smith, Sonja Henrici | Production | ⬇#26 |
| 43 | Rats NYC | Morgan Spurlock | EP: Morgan Spurlock & Jeremy Chilnick | Pre-Production | ⬇#27 |
| 44 | The Reagan Years | Pacho Velez | Sierra Pettengill | Post Production | ⬇#28 |
| 45 | A Better Man | Attiya Khan & Lawrence Jackman | Christine Kleckner, EP: Sarah Polley | Post Production | ⬇#19 |
| 46 | Sour Grapes | Jerry Rothwell and Reuben Atlas | TBD | Production | ⭑New! |
| 47 | A Family Affair | Tom Fassaert | Wout Conijn | IDFA Preem | ⭑New! |
| 48 | The Anthropologist | Seth Kramer, Daniel A. Miller, Jeremy Newberger | Seth Kramer, Daniel A. Miller, Jeremy Newberger | DOC NYC Preem | ⭑New! |
| 49 | Command and Control | Robert Kenner | Robert Kenner, Eric Schlosser, Melissa Robledo | Production | ⬇#30 |
| 50 | Kusama: Life in Polka Dots | Heather Lenz | Dan Braun, Karen Johnson, David Koh, Heather Lenz | Post Production | ⭑New! |
Legend:
⭑ New to Chart
⬄ No Change
⬆ Position Increase
⬇ Position Drop
| | | | | | |
| --- | --- | --- | --- | --- | --- |
| # | Film Title  | Filmmaker(s) | Producer(s)  | Status | Last Month's Ranking |
| 51 | Southwest of Salem: The Story of the San Antonio Four | Deborah Esquenazi | Deborah Esquenazi and Sam Tabet | Post Production | ⬇#47 |
| 52 | Ring Girls | Amy Berg | TBD | Post Production | ⬇#50 |
| 53 | Ukrainian Sheriffs | Roman Bondarchuk | Uldis Cekulis, Darya Averchenko, Tanja Georgieva | IDFA Preem | ⬆#180 |
| 54 | Diamond, Silver and Gold | Jason Kohn | Jared I. Goldman, Amanda Branson Gill | Production | ⬇#12 |
| 55 | Cheer Up | Christy Garland | Liisa Juntunen | Production | ⬆#92 |
| 56 | The Lovers and the Despot | Robert Cannan & Ross Adam | Sandra Whipham | Post Production | ⬇#34 |
| 57 | Hispaniola | Michele Stephenson & Joe Brewster | Lea Marin | Production | ⬆#58 |
| 58 | The Bad Kids | Keith Fulton, Lou Pepe | Keith Fulton, Lou Pepe, Molly O'Brien | Post Production | ⬆#98 |
| 59 | Can We Take a Joke? | Ted Balaker | Courtney Balaker, Ted Balaker, Zach Weissmueller | DOC NYC Preem | ⭑New! |
| 60 | Mudflow | Cynthia Wade and Sasha Friedlander | Cynthia Wade, Sasha Friedlander. Co-Prod: Tracie Holder | Production | ⬇#55 |
| 61 | The Island and the Whales | Mike Day | TBD | Post Production | ⬇#27 |
| 62 | The Maya Angelou Documentary | Bob Hercules, Rita Coburn Whack | Chris Gardner, Raymond Lambert | Post Production | ⭑New! |
| 63 | My Own Private River | Gus Vant Sant, James Franco | Unknown | Unknown | ⭑New! |
| 64 | Big Sonia | Leah Warshawski, Todd Soliday | TBD | Post Production | ⬇#60 |
| 65 | The Prison in Twelve Landscapes | Brett Story | TBD | Post Production | ⬇#37 |
| 66 | Vivienne Westwood: Get a Life | Lorna Tucker | TBD | Production | ⬇#37 |
| 67 | The Corridors of Power | Dror Moreh | TBD | Production | ⭑New! |
| 68 | So Help You God | Ashley York | TBD | Post Production | ⬇#46 |
| 69 | To the Amazon | Clare Weiskopf | Nicolas Van Hemelryck | Production | ⬆#75 |
| 70 | Night School | Andrew Cohn | Steve Bannatyne, Jason Orans, Zachary Shields, Louis Venezia | Production | ⬇#53 |
| 71 | Cocaine Prison | Violeta Ayala | TBD Producer 21 | Post Production | ⬇#54 |
| 72 | My Curious Documentary | Adam Low | TBD | Production | ⭑New! |
| 73 | Stolen Innocence | Chris Davis | Casey Allred | Production | ⬆#143 |
| 74 | Gun Runners | Anjali Nayar | Annette Clarke, Kat Baulu | Post Production | ⬇#44 |
| 75 | What Tomorrow Brings | Beth Murphy | Beth Murphy | Post Production | ⬇#67 |
| 76 | Untitled Frank Zappa Docu | Alex Winter | Alex Winter, Glen Zipper | Announced | ⭑New! |
| 77 | Fixing Dad | Ian and Anthony Whitington | TBD | Completed | ⬇#43 |
| 78 | Young | Magnus Gertten, Fredrik Gertten | TBD | Production | ⭑New! |
| 79 | The Arrivals | Heidi Ewing | TBD | Production | ⬆#95 |
| 80 | League of Exotique Dancers | Rama Rau | Ed Barreveld | Post Production | ⬆#132 |
| 81 | Untitled Missouri Doc | Rebecca Cammisa | TBD | Production | ⬇#32 |
| 82 | Out of Mind | Kristi Jacobson | TBD | Post Production | ⬆#113 |
| 83 | The Earth Moves | John Walter | Lianne Halfon, John Malkovich, Russell Smith | Production | ⬇#78 |
| 84 | For the Love of Spock | Adam Nimoy | David Zappone, Kevin Layne, Joseph Kornbrodt | Pre-Production | ⬇#66 |
| 85 | The Immortal Diana Kennedy | Elizabeth Carrol | TBD | Production | ⭑New! |
| 86 | The Marion Stokes Project | Matt Wolf | Kyle Martin | Production | ⬇#57 |
| 87 | The Nine | Katy Grannan | TBD | Post Production | ⬆#108 |
| 88 | This is America | Amy Berg | TBD | Production | ⬆#138 |
| 89 | Mythical Creatures | David Charles | Lanette Philips | Post Production | ⬇#35 |
| 90 | Dense City | Michael Bernard & Gavin Froome | Leah Mallen | Production | ⬆#163 |
| 91 | Chris Burden: Double Bind | Tim Marrinan, Richard Dewey | TBD | Production | ⭑New! |
| 92 | Mammoth | Chad Gracia | Mike Lerner | Pre-Production | ⭑New! |
| 93 | The Road from Hainan | Nanfu Wang | Nanfu Wang | Post Production | ⬆#128 |
| 94 | Forgiveness | Elizabeth Stopford | TBD | Production | ⭑New! |
| 95 | Raising Bertie | Margaret Byrne | Margaret Byrne, Jon Stuyvesant | Post Production | ⬆#134 |
| 96 | This is Congo | Daniel McCabe | Geoff McLean | Post Production | ⭑New! |
| 97 | The Bill Nye Film | David Alvarado, Jason Sussberg | Seth Gordon, Nick Pampenella | Production | ⭑New! |
| 98 | Selling Our Daughters | Josie Swantek & Dave Adams | TBD | Post Production | ⬆#162 |
| 99 | Notfilm | Ross Lipman | Amy Heller, Dennis Doros | Post Production | ⭑New! |
| 100 | The Oakland Police Project | Peter Nicks | TBD | Production | ⬇#69 |