Hollow's Eve: Hardy's Creature Feature Debut Has Superficial Roots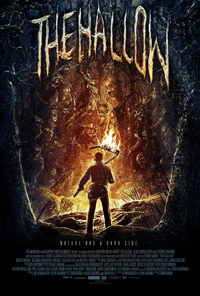 It was announced that Irish director Corin Hardy would be heading up The Crow reboot for Relativity preceding the premiere of his directorial debut The Hallow at the Sundance Film Festival, which was presumably good marketing for a film with just enough winning elements to satisfy genre aficionados. A simple, arguably derivative premise lays the eerie groundwork for what promises to be a memorable entry in a the struggling vein of modern backwoods horror narratives, though its bid to unify science with the supernatural is ultimately unsatisfactory, with a denouement that loses traction well before the predictable third act reaches an inevitable stride. Still, Hardy proves to be a devotee of vintage creature feature animations, utilizing tricks from a bygone era of special effects, acknowledging famous influences Stan Winston, Dick Smith and Ray Harryhausen in the end-credits. If only the splendid animatronics on hand were utilized to more profound effect in a less secondhand narrative.
Adam Hitchens (Joseph Mawle) moves his wife Clare (Bojana Novakovic) and infant son to rural Ireland to survey the forest for a development company, much to the chagrin of the locals. Taking over a ramshackle old millhouse, the couple is in the midst of repairing the space, but the house literally oozes a putrid black muck. Likewise, Adam discovers a malevolent zombie fungus eating away at the corpse of a dead deer. The nearest local neighbors keep showing up to harass Clare about how important it is they speak with Adam, claiming he's in danger. When something breaks into their home one night, they call the police, but no one seems surprised at their increasing difficulty. Something in those woods has no intention of letting the land be surveyed, much less taken.
Playing like Straw Dogs redone as backwoods horror story, the Hitchens are rather wanly drawn interlopers and this would have all felt more beneficial had our lead protagonists been more than mere conduits for the audience's fears. Bojana Novakovic and Joseph Mawle are serviceable in that they're both attractive and can scream quite convincingly, yet we never know anything about them other than that they're smart, overly educated city folks looking forward to nestling in the simple bosom of rural heaven. And then Michael Smiley is basically wasted in a brief moment as local law enforcement. Much time and effort is spent on instilling the final family showdown with violent self-preservation, yet this drains the action of the painstaking dread Hardy's built up, and it seems as if something is missing from the film's mid-section, something that would make us care and thus keep us frightened. A rare gesture utilizing the concept of a changeling could have been used early on and for detrimental effect, but its placement instead feels like filler.
It turns out that The Hallow seems a lot like William Friedkin's 1990 misfire, The Guardian, at least insofar as it how privileged familial units are pitted against personifications of monstrous folklore (but Hardy aims for much higher homage with notable moments that recall early Cronenberg with a bit of body horror thrown at its imperiled family, along with a nod to Winston's work on Carpenter's The Thing). While this all speaks to how well versed Hardy is, and the hallow creatures are convincingly creepy, this culminates in a disappointing thud, especially considering fans of this type of material should be very well versed with the formula.
Reviewed on January 28 at the 2015 Sundance Film Festival – Midnight Programme. 92 Mins.
★★/☆☆☆☆☆