Features
What's Up Doc?: Sheffield & AFI Docs Signal the Summer Fest Drought
Well folks, after a rather long and brutal winter (at least for me here in Buffalo), we are finally heading into the wonderful warmth of summer, but with that blast of sunshine and steamy humidity comes the mid-year drought of major film fests. After the Sheffield Doc/Fest concludes on June 10th and AFI Docs wraps on June 21st, we likely won't see any major influx in our charts until Locarno, Venice, Telluride and TIFF announce their line-ups in rapid succession. In the meantime, we can look forward to the intriguing onslaught of films making their debut in Sheffield, including Brian Hill's intriguing examination of Sweden's most notorious serial killer, The Confessions of Thomas Quick, and Sean McAllister's film for which he himself was jailed in the process of making, A Syrian Love Story, the only two films world premiering in the festival's main competition. Out of competition, we get the likes of Benedikt Erlingsson's opening night oddity The Greatest Shows on Earth: A Century of Funfairs, Circuses and Carnivals which was scored by Georg Hólm and Orri Páll Dýrason of Sigur Rós and the Head of the Pagan Church in Iceland, Hilmar Örn Hilmarsson, as well as Addicted to Sheep (see trailer below) by director Magali Pettier, a film that appears to be the aesthetic anti-thesis to Ilisa Barbash and Lucien Castaing-Taylor's Sweetgrass.
This past month we saw Cannes set ablaze with Kent Jones and Asif Kapadia's much anticipated films Hitchcock/Truffaut and Amy, respectively, yet in the midst of all the red carpet hub-bub filmmakers Werner Herzog, Ron Howard, Matt Tyrnauer and Jason Aron each quietly previewed snippets of their projects that are currently in production for potential buyers. Herzog screened a portion of his latest cinematic incapsulation of man vs the wild in Into The Inferno (see still above and festival flyer below), while Howard presented unseen footage of early performances from his still untitled Beatles' touring years doc in anticipation of hot international sales. Tyrnauer and Aron on the other hand screened segments of their films, Scotty and Back in Time, both of which focus on Hollywood history – Tyrnauer's, according to Hollywood Reporter, "An adaptation of Scotty Bowers' sex-fueled Hollywood tell-all Full Service…that recounts the sex lives of a slew of icons including Cary Grant, Vivien Leigh and Katharine Hepburn", while Aron's revisits the Back to the Future film franchise.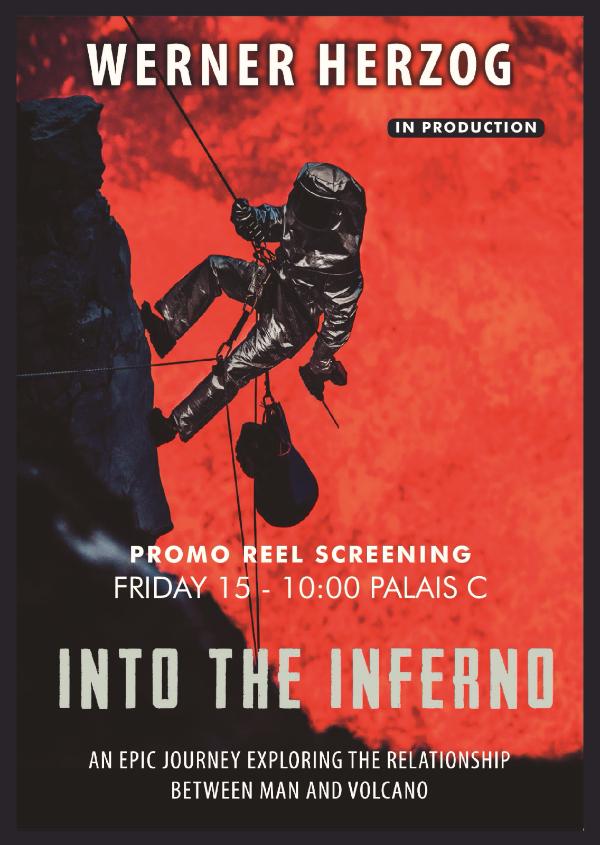 While festivals surely incite excitement about upcoming films, plenty of films on this list fly mostly under the radar, only popping up occasionally in social media or local news stories. One such film that recently resurfaced was Annie Waldman and Daniel Patrick Carbone's Phantom Cowboys, which recently received a new trailer (see below and compare it to an initial, radically different extended trailer that was released a couple years back) that seems to revel in ethereal landscape portraiture while recalling Tracy Droz Tragos and Andrew Droz Palermo's recent rural-living Sundance Grand Prize winner Rich Hill.
Playing on the same general tone and aesthetic as Waldman and Carbone's production while literally touching on the idea of scenic portraiture in the title of her film, Brett Story's The Prison in Twelve Landscapes also saw its first teaser (see below) hit the web recently. The film explores the idea of confining institutions through social observation while never actually showing an actual prison. Story was recently awarded the inaugural New Visions Award from the DOC Institute.
And finally, there are plenty of crowdfunding campaigns currently in full swing (go help finish Orson Welles' unfinished final film right now!), a pair of which have been inching up this list for some time. After securing capital from the Sundance Documentary Fund, The Catapult Film Grant and a Jerome Foundation Grant, Justin Schein (director of No Impact Man) renamed his film Left on Purpose (formally titled The Last Go Round) and set up a Kickstarter that was almost fully funded in just a matter of days and still has several weeks to go. At the same time, director Shalini Kantayya's needs the cash to cover the costs of archival clearances, composer fees, color, sound and mastering to have her film, Catching the Sun, ready for its LA Film Festival premiere next month and is still in dire need of help.
As mentioned previously, for those attached to any of the docs mentioned below — please feel free to share any updates on the status of your projects. I can be reached at jordan [at] ioncinema dot com. Here is my most anticipated Top 100 docs in the pipeline.
| | | | | | |
| --- | --- | --- | --- | --- | --- |
| # | Film Title  | Filmmaker(s) | Producer(s)  | Status | Last Month's Ranking |
| 1 | Unlocking The Cage | DA Pennebaker & Chris Hagedus | TBD | Production | ⬆ #2 |
| 2 | Kurt Vonnegut: Unstuck in Time | Robert Weide & Don Argott | Robert Weide | Production | ⬆ #3 |
| 3 | The Greatest Shows on Earth: A Century of Funfairs, Circuses and Carnivals | Benedikt Erlingsson | Vanessa Toulmin, Heather Croall, Mark Atkin, Margret Jonasdottir | Sheffield Doc/Fest Preem | ⭑ New! |
| 4 | He Named Me Malala | Davis Guggenheim | Laurie MacDonald, Walter F. Parkes | Completed | ⬆ #7 |
| 5 | In Jackson Heights | Frederick Wiseman | Frederick Wiseman | Post Production | ⬆ #8 |
| 6 | Dear John Grierson: A Postscript to The Story of Film | Mark Cousins | TBD | Production | ⬆ #9 |
| 7 | LoveTrue | Alma Har'el | Alma Har'el, Christopher Leggett, Rafael Marmor and Rhea Scott | Post Production | ⬆ #14 |
| 8 | The Confessions of Thomas Quick | Brian Hill | Katie Bailiff | Sheffield Doc/Fest Preem | ⭑ New! |
| 9 | Into the Inferno | Werner Herzog | TBD | Production | ⬆ #29 |
| 10 | License to Krill | David Sington | Heather Walsh | Sheffield Doc/Fest Preem | New! |
| 11 | Sarah | Tracy Droz Tragos | TBD | Production | ⬇#10 |
| 12 | The Babushkas of Chernobyl | Holly Morris & Anne Bogart | Holly Morris & Anne Bogart | LA Film Fest Preem | ⬆ #65 |
| 13 | The Promise of My Brother's Keeper | Dawn Porter | TBD | AFI Docs Preem | ⭑ New! |
| 14 | Addicted to Sheep | Magali Pettier | Jan Cawood, Magali Pettier | Sheffield Doc/Fest Preem | ⭑ New! |
| 15 | The Flickering Flame | Jim Loach | TBD | Production | ⬇#11 |
| 16 | Salam Neighbor | Zach Ingrasci, Chris Temple | Salam Darwaza, Zach Ingrasci, Mohab Khattab, Chris Temple | AFI Docs Preem | ⭑ New! |
| 17 | Diamond, Silver and Gold | Jason Kohn | Jared I. Goldman, Amanda Branson Gill | Production |  ⬇#12 |
| 18 | Untitled Grateful Dead Doc | Amir Bar-Lev | Martin Scorsese, Emma Tillinger Koskoff, Andrew Heller, Sanford Heller, and Rick Yorn | Post Production | ⬇#15 |
| 19 | A Syrian Love Story | Sean McAllister | Elhum Shakerifar, Sean McAllister | Sheffield Doc/Fest Preem | ⭑ New! |
| 20 | The Settlers | Shimon Dotan | TBD | Production | ⬇#16 |
| 21 | Beatles Touring Doc | Ron Howard | Nigel Sinclair | Post Production | ⬇#19 |
| 22 | Hustlers Convention | Mike Todd | Quenell Jones, Lathan Hodge, Mike Todd, Geseth Garcia | Sheffield Doc/Fest Preem | ⭑ New! |
| 23 | Mixed Feelings | Guy Davidi | Anna Somershaf, Kristian Mosvold | Production | ⭑ New! |
| 24 | Catching the Sun | Shalini Kantayya | TBD | LA Film Fest Preem | ⬆ #41 |
| 25 | Be Natural: The Untold Story of Alice Guy-Blaché | Pamela Green & Jarik van Sluijs | Robert Redford – exec producer | Post Production | ⬇#18 |
| 26 | Strong Island | Yance Ford | Esther Robinson | Post Production | ⬇#20 |
| 27 | A Better Man | Attiya Khan & Lawrence Jackman | Sarah Polley – exec producer, Christine Kleckner | Post Production | ⬇#13 |
| 28 | Untitled Iggy Pop doc | Jim Jarmusch | TBD | Production | ⬇#25 |
| 29 | Being George Clooney | Paul Mariano | Christine O'Malley, Rivkah Beth Medow | Completed | ⬆ #54 |
| 30 | Les Blank: A Quiet Revelation | Gina Leibrecht | Harrod Blank | Production | ⬇#21 |
| 31 | Home Movie | Chantal Akerman | TBD | Production | ⬇#22 |
| 32 | Rose | Ben Rivers | TBD | Production | ⬇#24 |
| 33 | Uncle Andy: The Andy Warhol Family Film | Abby Warhola & Jesse Best | TBD | Production | ⬇#27 |
| 34 | Rats NYC | Morgan Spurlock | Morgan Spurlock & Jeremy Chilnick – exec producers | Pre-Production | ⬇#28 |
| 35 | The Island and the Whales | Mike Day | TBD | Post Production | ⬇#30 |
| 36 | Command and Control | Robert Kenner | Robert Kenner, Eric Schlosser, Melissa Robledo | Production | ⬇#31 |
| 37 | Ring Girls | Amy Berg | TBD | Post Production | ⬇#26 |
| 38 | Untitled Missouri Doc | Rebecca Cammisa | TBD | Production | ⬇#33 |
| 39 | Mythical Creatures | David Charles | Lanette Philips | Post Production | ⬇#36 |
| 40 | The Three Hikers | Natalie Avital | Natalie Avital, Denise Bohdan, Bobby Field, Christian Johnston, Sara McCabe, Jeremy W. Ward | AFI Docs Preem | ⭑ New! |
| 41 | Trapped | Dawn Porter | TBD | Production | ⬆ #51 |
| 42 | David Millar Project | Finlay Pretsell | Iain Smith, Sonja Henrici | Production | ⬇#34 |
| 43 | Driving with Selvi | Elisa Paloschi | TBD | Post Production | ⬇#35 |
| 44 | Janis: Little Blue Girl | Amy Berg | TBD | Production | ⬇#32 |
| 45 | Gun Runners | Anjali Nayar | Annette Clarke, Kat Baulu | Post Production | ⬇#37 |
| 46 | Left on Purpose | Justin Schein | Eden Wurmfeld | Post Production | ⬆ #109 |
| 47 | Ask the Sexpert | Vaishali Sinha | TBD | Production | ⬆ #59 |
| 48 | The Prison in Twelve Landscapes | Brett Story | TBD | Production | ⬇#45 |
| 49 | So Help You God | Ashley York | TBD | Post Production | ⬆ #97 |
| 50 | Southwest of Salem: The Story of the San Antonio Four | Deborah Esquenazi | TBD | Post Production | ⬇#38 |
Legend:
⭑ New to Chart
⬄ No Change
⬆ Position Increase
⬇ Position Drop
| | | | | | |
| --- | --- | --- | --- | --- | --- |
| # | Film Title  | Filmmaker(s) | Producer(s)  | Status | Last Month's Ranking |
| 51 | Pieces of a Man | Orlando Bagwell | TBD | Production | ⬇#40 |
| 52 | The Lovers and the Despot | Robert Cannan & Ross Adam | TBD | Pre-Production | ⬆ #57 |
| 53 | Night School | Andrew Cohn | Steve Bannatyne, Jason Orans, Zachary Shields, Louis Venezia | Production | ⬇#42 |
| 54 | Mudflow | Cynthia Wade and Sasha Friedlander | Cynthia Wade, Sasha Friedlander, Tracie Holder (Co-Producer) | Production | ⬇#43 |
| 55 | Logs of War | Anjali Nayar and Hawa Essuman | Steven Markovitz, Anjali Nayar, Jonathan Stack (Executive Producer), Edward Zwick (Executive Producer) | Production | ⬇#44 |
| 56 | On the Outside: The Year After Prison | Matthew O'Neill | John Kennedy, Cynthia Farrar, Jon Alpert, Shannon Sonenstein Sonrouille, Reina Higashitani, Matthew O'Neill | Production | ⬇#46 |
| 57 | 52: The Search for the Loneliest Whale in the World | Joshua Zeman | TBD | Production | ⬆ #113 |
| 58 | Buena Vistasocial Club – Adios | Lucy Walker | Christine Cowin and Zak Kilberg | Announced | ⭑ New! |
| 59 | Cocaine Prison | Violeta Ayala | TBD | Production | ⬇#47 |
| 60 | El Poeta | Katie Galloway and Kelly Duane de la Vega | TBD | Post Production | ⬆ #136 |
| 61 | Hispaniola | Michele Stephenson & Joe Brewster | Lea Marin | Pre-Production | ⭑ New! |
| 62 | Unseen Enemy | Janet Tobias & Cesar Charlone | Janet Tobias, Michael Ehrenzweig, Peter W. Klein and Rogger Lopez | Production | ⬇#50 |
| 63 | The Murder and the Journalists | Francisco Bello | Rebecca Richman Cohen | Pre-Production | ⬇#49 |
| 64 | The Marion Stokes Project | Matt Wolf | TBD | Production | ⭑ New! |
| 65 | Dream Away | Marouan Omara & Johanna Domke | TBD | Production | ⬇#61 |
| 66 | NIGHT/vision | Eva Weber | Elhum Shakerifar & Nicole Stott | Production | ⬇#52 |
| 67 | Phantom Cowboys | Annie P. Waldman & Daniel Carbone | Ryan Scafuro | Post-Production |  ⬇#53 |
| 68 | Block Seven | Jordie Montevecchi | TBD | Production | ⬇#55 |
| 69 | The New Missionaries | Yoav Shamir | TBD | Production | ⬇#56 |
| 70 | Big Sonia | Leah Warshawski & Todd Soliday | TBD | Post Production | ⬇#63 |
| 71 | Road to Home | Calvin Skaggs | Cal Skaggs, Ashley Panzera (Associate Producer) | Production | ⬇#60 |
| 72 | The Life, The Sea and The Space Viking | Nelly Ben Hayoun | Nelly Ben Hayoun | Production | ⬆ #75 |
| 73 | Scotty | Matt Tyrnauer | Josh Braun | Production | ⭑ New! |
| 74 | Count Me In | Ines Sommer | TBD | Production | ⬇#62 |
| 75 | Survivors | Banker White & Arthur Pratt | TBD | Production | ⬇#64 |
| 76 | Paris to Pyongyang | Helen Lee | Anita Lee | Pre-Production | ⭑ New! |
| 77 | The Return | Kelly Duane de la Vega & Katie Galloway | TBD | Production | ⬇#66 |
| 78 | Death by Design | Sue Williams | Sue Williams, Hilary Steinman, Julie Goldman, Diana Barrett (Executive Producer), Victoria Wang (Executive Producer), Dan Cogan (Executive Producer) | Production | ⬇#67 |
| 79 | Untitled composer Ennio Morricone doc | Giuseppe Tornatore | Bobby Păunescu, Dragoṣ Săvulescu, George Shu and Serena Menarini | Announced | ⭑ New! |
| 80 | This Changes Everything | Avi Lewis | TBD | Post Production | ⬆ #130 |
| 81 | People from Nowhere | Jaak Kilmi | Antra Gaile | Post Production | ⬇#68 |
| 82 | What Tomorrow Brings | Beth Murphy | TBD | Post Production | ⬆ #133 |
| 83 | Cheer The F**k Up | Christy Garland | Liisa Juntunen | Production | ⬇#69 |
| 84 | Les habitants | Raymond Depardon | TBD | Production | ⭑ New! |
| 85 | The Oakland Police Project | Peter Nicks | TBD | Production | ⭑ New! |
| 86 | Beyond Freightened | Rose Kowalski | Marieke van den Bersselaar | Production | ⬇#76 |
| 87 | The Brainwashing of My Dad | Jen Senko | TBD | Post Production | ⬇#70 |
| 88 | The Holly | Julian Rubinstein | TBD | Production | ⬇#71 |
| 89 | Whistle Blower | German Gutierrez | Kat Baulu | Pre-Production | ⭑ New! |
| 90 | Afterglow | Noemi Veronika Szakonyi | Julianna Ugrin | Production | ⬇#88 |
| 91 | Return to Timbuktu | Michael Meredith | Alex Gibney | Production | ⬇#72 |
| 92 | Theatre of Life | Peter Svatek | Annette Clarke | Pre-Production | ⭑ New! |
| 93 | Down By Law | George Amponsah | TBD | Post Production | ⬇#73 |
| 94 | Miller's Justice League Mortal | Ryan Unicomb | Aaron Cater, Steven Caldwell | Announced | ⭑ New! |
| 95 | Playing God | Karin Jurschick | TBD | Production | ⬇#74 |
| 96 | Proposition for a Revolution | Khushboo Ranka & Vinay Shukla | Ruchi Bhimani, Anand Gandhi, Joris van Wijk | Post Production | ⬇#77 |
| 97 | The Skin of the Sky is Burning | Tom Radford | Bonnie Thompson | Pre-Production | ⭑ New! |
| 98 | The Jazz Ambassadors | Hugo Berkeley | TBD | Production | ⬇#81 |
| 99 | Grassroots In Drylands | Helene Klodawsky | Kat Baulu | Production | ⭑ New! |
| 100 | Learning to Forget | Kaspar Astrup Schröder | Katherine Sahlstrom | Production | ⭑ New! |