Interviews
2015 Sundance Trading Card Series: #6. Daniel Garcia (H.)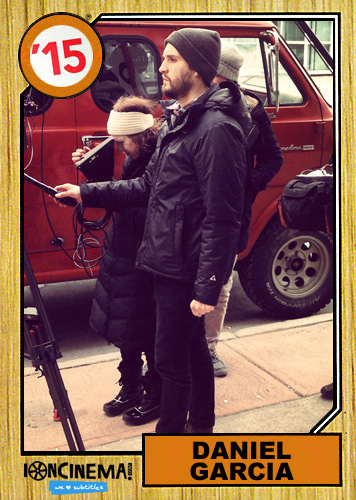 Eric Lavallee: Name me three of your favorite "2014 discoveries" …
Daniel Garcia: Putting my iPhone in a cup or bowl or something to amplify the sound was a big thing this year, for some reason. In 2015 Rania got me a Bluetooth speaker thing, and it's pretty cool too. I haven't put it in a cup or a bowl yet, but we'll see what happens. Thermal underwear made a big comeback in my life in '14, on account of shooting H. in Troy, New York, in March, in one of the coldest winters on record. It was, interesting. While definitely useful, at some point, at some temperatures, they start to only seem to add just another layer of cold. Jeez. Spelling the word 'word' — as in 'all right' or 'cool' at the end of an email or text — 'werd' was also big this last twelve months. I don't know where it came from, but I think I like it.
Lavallee: What visual ideas/references did you have for the look of H.?
Garcia: I wouldn't be able to pinpoint any clear examples or references specifically, but I think there would definitely be some Kubrick in there, maybe some of Carpenter's Halloween, Godard's Contempt, some internet glitch art, and probably some Gregory Crewdson photography. We basically just knew that we wanted the film to have a clean, sophisticated look, and then went from there.
Lavallee: How are the directing duties shared between you and Rania?
Garcia: It really just depends. Some scenes are different than others. But on any occasion, it would not be unlikely for each of us to be talking to the actor at the same time, saying two different, sometimes opposite, things. Generally, sometimes I have more ideas on a scene, sometimes Rania does, and sometimes we both do. When there are conflicts of opinion, we argue it out for a bit, at times brutally, until one of us convinces the other, or we simply just resign to try both ideas and figure it out later.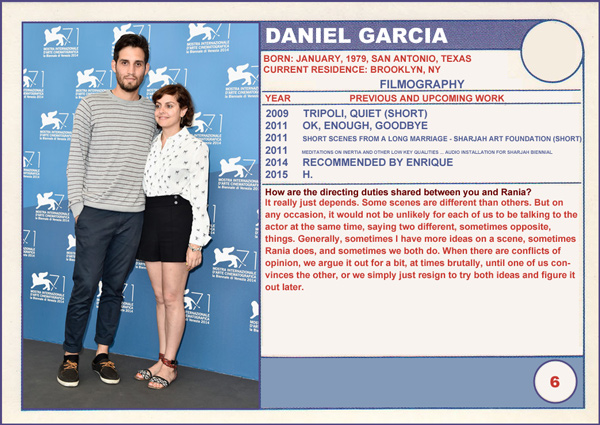 Lavallee: H. and last year's Memphis are Sundance films that participated in Venice Fest's Biennale College. Could you detail how H. fits in the Biennale criteria…
Garcia: The Biennale College-Cinema is an intensive writing and producing workshop for the production of a micro-budget feature film. 12 projects are selected for an initial writing workshop, and the teams then pitch their films to a selection committee. Two weeks later a script is submitted, and then 3 winning projects are selected for a micro-budget production grant to make their film. For us, it was extremely exciting to work at this new budget level, as, even though it was a 'micro' budget, it was still by far our biggest to date (literally 100 times bigger than our first film). We welcomed the challenge to try and push ourselves and to push boundaries of micro-budget filmmaking, to try and exploit the ways in which we could stretch our money, the way we had done before on our even smaller budgets. For us it was not a challenge of making a film with a micro-budget. We had done that before, albeit on a much smaller scale. For us the challenge was to try and make a film that looked and felt bigger than a micro-budget, with a micro-budget.