Interviews
2015 Sundance Trading Card Series: #5. Rania Attieh (H.)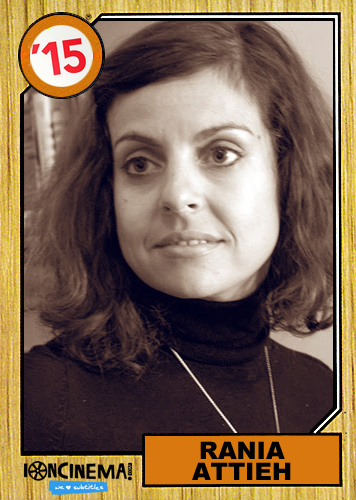 Eric Lavallee: Name me three of your favorite "2014 discoveries"…
Rania Attieh: At the request of a good friend, I downloaded the iPhone game called Monument Valley and was completely blown away and mesmerized by the beauty of the world and the graphics. I burned through the levels like butter on toast. It was fantastic. Cinematically speaking, the Cronenberg film 'Maps to the Stars' was a real and unexpected treat. Experiences such as this are always enjoyed. This year the 19 year old wunderkind musician King Krule (formerly Zoo Kid) also really grew on me. His deep, soulful music that seemed mature beyond his years definitely put spins in my dizzy, and I'd love to be able to put him in a film at some point, as his look is one to remember. KK if you're reading this, let's talk.
Lavallee: I was wondering if you could detail how H. came about — was the basic kernel of the idea tied to Greek mythology from the getgo?
Rania Attieh: We don't' really see the film as being tied to Greek mythology, so much as very lightly sprinkled with it, and Greek mythology was definitely not something that sparked the idea of the film. Basically, a couple of years ago, while traveling in South America, I found myself in a toy store specializing in antique collectibles and rarities, and happened upon a strange sight: in the window was what looked like a real, living, newborn baby. I approached the window and was amazed to realize that it was in fact a doll. After some research, I opened up into the world of "reborn doll" culture — wherein women take care of these realistic looking infant baby dolls as if they are living babies — and was completely fascinated. I then shared this finding with Daniel, and he was equally as interested. Soon we were hooked on the idea of somehow building a character in a film on one of the women that participates in this culture. We began writing, and soon realized that we wanted to have a film with TWO women protagonists, so we began developing a somewhat parallel story involving a second woman and decided to have her dealing with 'motherhood' in a separate way. Around this time, a simple, concise image, or rather, a scene, a situation, if you will, popped into our heads: something falls out of the sky. And then the idea just grew and morphed and dissolved into itself and solidified again, until we eventually used it to make a film.
Lavallee: With three features in, could you briefly describe how the writing process is shared.
Attieh: All three features so far came from very different inspirations and experiences. Our first "Ok Enough Goodbye" was shot in Tripoli, Lebanon my hometown, and where Daniel had spent a lot of time there after we had met, and so it was a narrative that for us was born from the location, a narrative that mixed the opposite experiences and relation to Tripoli we each had. But ultimately the 'writing' process was more of an outlining than a scripting ordeal. We chose specifically to use all non-actors, all from the city of Tripoli, so for us the idea of handing anyone a proper script to read and learn lines was ridiculous. So ideas and scenes were crafted out much more organically, and the film evolved as we were filming it.
"Recommended by Enrique", our second film, was somewhat of a similar process, with us again opting for outlining over scripting, but with the exception that we had decided to explore improvisation a bit more with respect to acting and scene selection. In some respects, we wanted the film to be much more of an impressionistic narrative than our previous film, and we wanted dreams and folklore and whimsy to bleed from it. The film was shot in South Texas, this time a town that Daniel had somewhat grown up in, and was was based on a specific shared experience we had together on a film set when we first met. Again, here, the narrative was from and for the town, and again we used a mostly non-actor cast, with the exception of one actress, who we casually and haphazardly found on YouTube.
H., on the other hand, was a completely different process for us. We crafted an actual script over the course of two months during the Venice Biennale College Cinema writing workshop, and then made the film that next March — this time with trained, professional actors, and actual lines and pages and stuff. But ultimately the 'writing' process was still the same — a general outlining, followed by an organic refining of the idea. In this case, perhaps, the only difference is that the process was extended over the course of five or so months, and quite intensively at that. We each had ideas about the general themes and characters and we wanted to make something mythical based on observations and mutual obsessions. It's always a conversation or an argument that by the end of it, we really can't tell who came up with what.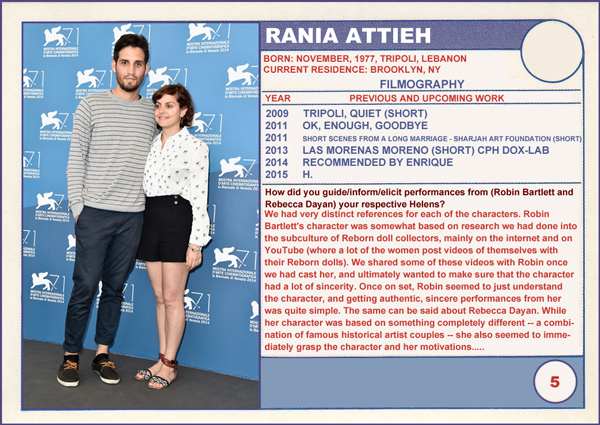 Lavallee: How did you guide/inform/elicit performances from (Robin Bartlett and Rebecca Dayan) your respective Helens?
Attieh: We had very distinct references for each of the characters. Robin Bartlett's character was somewhat based on research we had done into the subculture of Reborn doll collectors, mainly on the internet and on YouTube (where a lot of the women post videos of themselves with their Reborn dolls). We shared some of these videos with Robin once we had cast her, and ultimately wanted to make sure that the character had a lot of sincerity. Once on set, Robin seemed to just understand the character, and getting authentic, sincere performances from her was quite simple. The same can be said about Rebecca Dayan. While her character was based on something completely different — a combination of famous historical artist couples — she also seemed to immediately grasp the character and her motivations, and this made collaborating on the direction of the character much easier. Overall, we tried to make sure that both Robin and Rebecca felt comfortable with the written characters, and encouraged each of them to inform us whenever they felt their lines or motivations were were unclear or confusing.