Interviews
2016 Sundance Trading Card Series: #15. Andre Hyland (The 4th)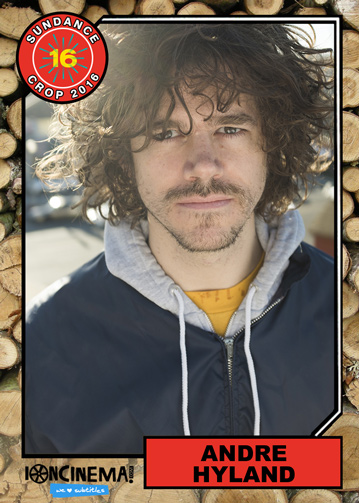 Eric Lavallee: Name me three of your favorite "2015 discoveries".
Andre Hyland: 1. NORMAN GUNSTON, funny and weird Australian talk show host from the 70′-90s that I discovered via youtube… the dude was ahead of his time. If you like Tom Green, Eric Andre…you'll appreciate Gunston.
2. 2WET CREW, my favorite youtube series…super funny! (full disclosure, I'm in a couple eps..but I'd love it even if I had no involvement).
3. The Dolly Parton Song "Jolene".
Lavallee: Visual, situational, the mundane and the absurd, if we had to categorize your brand of humor based on your Sundance short Funnel we could say it's a mix of all of the above. Was wondering for The 4th, how you move from inspiration into the writing – how does that process work.
Hyland: Lots of my work is sort of a "Best of" compilation of annoying absurd situations I find myself in my daily life. Which for better or for worse these situations constantly keep happening, so it all starts to find it's way back in to what I write and create. The trick is to create a story and context that will allow for these situations to fall into naturally with out being forced or coming off too hammy.
Lavallee: You play the goal oriented Jamie — how many degrees of separation are there between you and this character?
Hyland: His demeanor is about 90% me..his choices are sort of a compilation of me at my worst with a mix of bits and ways of going about life that I've pulled from other roommates and people I know.