Interviews
2016 Sundance Trading Card Series: #8. Camille Rutherford (Jacqueline Argentine)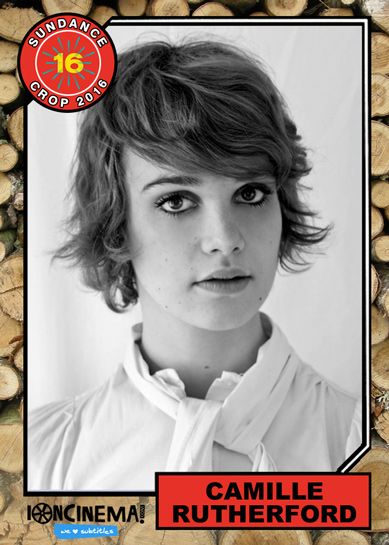 Eric Lavallee: Name me three of your favorite "2015 discoveries".
This year I discovered Extras, the series Ricky Gervais did after The Office. It's so funny. This guy is insane. I want his talent and his brain.
I go the cinema all the time, I think one movie that really impressed me was Foxcatcher. The script is incredible, the ideas, the atmosphere.
I want to buy the dvd. The last thing that comes to mind right now is David Bowie. All his songs. I can't stop listening to him. Ashes to ashes. Heroes. Woew. He was wonderful. I also can't stop listening to a Pink Floyd song at the moment, Paintbox. I love the melody. I want it in my next short film but I'll never have the money for it. It must be so expensive to have Pink Floyd in a movie. Oh, I must say I loved Clouds of Sils Maria, by the french director Olivier Assayas. Kristen Stewart is beautiful in it. Her character is very interesting. It's one of the best films I've ever seen on acting. With All about Eve! And Opening Night!
And I watched again Casper the other day. With Christina Ricci. Mmmmmmm! I want to live in this haunted house. And the The King of Comedy. Sarah Bernard is one of the reasons I want to act.
Lavallee: In your short filmography you've worked with the likes of established auteurs such as Jean-Paul Civeyrac, Leos Carax and Abdellatif Kechiche — and now you've embarked on what I believe this your first American production. What qualities did you appreciate in your first read of the titular character of Jacqueline and the screenplay as a whole?
Rutherford: Bernardo is one of my closest friends now. I admire him so much. I owe him everything. Jacqueline is the best character I've had the chance to play so far. I'm not just writing this to sell the movie. I'm very hard with myself but I'm hard with what I like in cinema too. It's fun but it's work. And I think Bernardo was born to be a director. He has the right sensitivity, the doubts and the humor. He is very funny. Working with him was unique. I'm very lucky. I'm here because of him. He gave me chance. He believed in me. I'm not sure I would have gotten the part after a normal self-tape audition.
When it comes to working in the US, I didn't feel a bif difference compared to France. It's always different. Every project. A new story to tell and you start out with nothing. You have to work as a team to make the difference. I guess I was often nervous because I didn't know Bernardo's crew, they're a group of friends. A team. And they're all so funny and kind. And cool. I wanted to be as cool as them all the time, I wanted to make Bernardo happy and not disappointed. I was focused on the character really.
As a get older I gain a bit of self confidance and I know I could have done better. I wanted Jacqueline to be weird. And then I could not stop thinking Camille you're not funny enough, be simpler, you're doing to much or too little. Oh anyway. It's a lot of doubting acting. It's part of it. But I had a lot of fun. I enjoyed myself even If I was nervous. Bernardo too I think. It's essential to be insecure I think. He is a very good director. He knows exactly what he wants, he's very precise. And also free. He gived me liberty too and is not against re inventing in the moment. He does a lot. With his friends. They're all so funny. James and Martin and Sarah. The other main characters. It was great to have them. Bernardo's dialogues are so precise and funny that its often more of a gift to act them than to try and act well. I don't know if I'm making myself clear. It was incredible to be part of this. This group of friends making Bernardo's first feature film. It was emotional to be part of the gang. It was laid back and serious at the same time. Brett and Ben for example, the producers, they could have been stressed out like it is often the case on sets I think. But they're were so funny and trustful to Bernardo. At least they didn't show it if they're were nervous. I guess that's the main thing I liked on that film. No one took themselves seriously. We were working and doing our best to make the best film possible but everyone had enough humility not to be snobbish like it can be sometimes. That's the key to success! Never take yourself seriously. Laugh about yourself. Because you're not important. No one is.
Lavallee: What were some key notes that Bernardo provide you with in terms of performance? Did you have/develop a backstory to Jacqueline?
I kind of answered it before. Bernardo trusted me. That's all. He was calm'and believed in all of us. And that is rare. I've worked with stressed people and it's horrible. Not giving you the chance to propose something, your vision of the character. We talked of course, with Bernardo. During the filming. And a bit before. He mentionned Edward Snowden. But I didn't take that enough into consideration I think. I was thinking more about my own fantasy, wanting Jacqueline to be funny, than serene and sure of herself like Edward Snowden appears to be I think. It's one the things I regret. I wish I could have seen the documentary about Snowden, Citizenfour, before filming Jacqueline. To try and copy his attitude more. But as I said Bernardo is precise. A mixture of having it all ready in his head and giving himself and all of us the opportunity to to be free and invent new stuff in the moment. For example, my boyfriend came to visit. His name is Bert Haelvoet. He is a belgium actor. Very funny. And Bernardo decided that he should be in the film too. He did a scene with him. That's how I like filming. A good balance between improvisation on set and keeping the line of the story in your head. It's quite something to be able to be funny and inventive without spoiling everything. But Bernardo can do that. It's all about not taking yourself seriously and having humility and being curious. Bernardo is funny. They're all in the gang. And that's what impresses me the most. Funny people. It's the best proof of intelligence.